Cambodia lays out master plan to bring back tourists
With visitors from China, once its main market, slowing to barely a trickle, how is Cambodia planning to revive its battered tourism industry?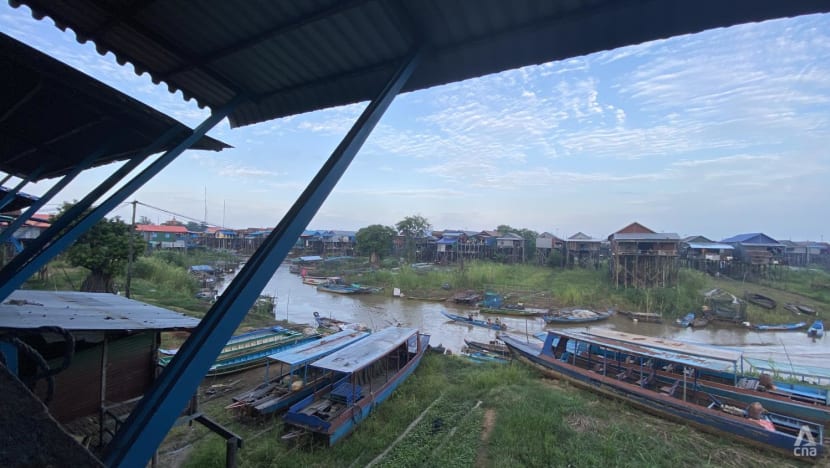 SIEM REAP, Cambodia: The water was icy cold. It smelled – and tasted – rusty. But with a day's worth of grime on me that needed a swift slough, I wasn't complaining.
The bathroom was huge, the size of a typical HDB master bedroom. But in this case, space wasn't necessarily a luxury. 
Three pails of well water stood in one corner. A pile of laundry occupied another. As a tiny toad hopped across the slimy, slippery floor, I flicked a presumably injured cricket off my left foot and got on with my bath.
It was my first night in Kampong Phluk. Around 1,000 families live here, a fishing village along Tonle Sap Lake. I had paid US$15 for an overnight homestay with my host Chun Kea. Ten families run similar businesses in the village and Chun Kea's was the first to do so in 2008.
She told me I was only her third visitor this year. Before the COVID-19 pandemic struck, there were guests at her home almost every day. 
And it's easy to see why.
By day, Kampong Phluk makes for stunning photos: Colourful sampans, dotting the banks of the Tonle Sap and houses, perched on flood-abating six-metre-high stilts. 
By night, stars sparkle at their finest, with no urban lights to detract from their luminescence.
The charms of escaping to a village as tranquil as this include peace of mind – and the food.
Simple, home-cooked meals whipped up from the freshest ingredients: Fish and shrimp from the lake, chicken and vegetables from backyard farms.
LOCALS STRUGGLING
Despite all this, Chun Kea and her neighbours struggle to make ends meet.
The pandemic began at the start of 2020 and that year, Cambodia experienced an 80 per cent plunge in tourism arrivals. In 2021, that fell by a further 85 per cent. 
Communities that once depended on tourism had to diversify. For instance, Chun Kea opened a small shop selling sundries to make up for the loss of her once-steady income.
Even those who do not depend primarily on tourism are feeling the pinch. Every year, for four months starting in June, fishermen on the Tonle Sap Lake have their catches curtailed because of restrictions put in to prevent overfishing.
They have to use much smaller nets measuring 40m by 100m, compared to the usual 300m by 400m ones.
"During those four months, we would turn to tourism and use our fishing boats to conduct tours for tourists," fisherman Eu Navy said. "But since the pandemic, we haven't been able to do that."
TOURISM REBOOT
The grim outlook at Kampong Phluk is being felt across Cambodia, even at Angkor Wat, the crown jewel of the country's tourism sector.
The dark clouds of COVID-19 have cast a shadow on the world's largest religious monument which, at its peak, welcomed 8,000 visitors a day. Numbers these days are a mere quarter of that, said a spokesman for Apsara National Authority, which manages Angkor Wat.
Visitors from China used to make up 40 per cent of international tourist arrivals but Beijing's strict COVID-19 rules mean that market, once Cambodia's largest, has all but dried up.
RECOVERY ROADMAP
During the pandemic, tourism-related businesses were boosted by varying levels of tax relief while those in the industry who lost their jobs were given US$40 in monthly payouts. 
But beyond such handouts, the government needed more solid plans to chart its recovery from the devastating effects of COVID-19. 
Enter an ambitious roadmap laid out by Cambodia's tourism ministry in 2021.
In Angkor Wat, the Apsara National Authority used the downtime to refresh parts of the temple. And all this while, everyone kept their jobs: Not a single worker out of the more than 4,000 at Angkor Wat was dismissed, said spokesperson Long Kosal. 
Instead, they were put to work. "Prior to the pandemic, we saw many visitors from all over the world, roaming around the temple. There was no time for the temple to rest," Mr Long Kosal said.
"One of the improvements we made (during the downtime) was a sprinkler system so that we can water the grass during the dry season, so it's always green."
The entrance of Angkor Wat was also cleaned up. Stalls, previously clustered near the entrance, were moved to another area.
Apsara National Authority is also looking into improving walkways and making them more wheelchair- and stroller-friendly.
On top of that, Apsara National Authority plans to jumpstart local cultural tours around Angkor Wat and in Siem Reap.
There are plans to revive ox cart tours that would ply nearby villages where tourists can see local craftsmen at work, making traditional drums out of tree trunks and wooden toy souvenirs.
Cambodia's master plan includes improving the country's linkages by speeding up the building of a new international airport in the capital Phnom Penh and constructing more roads and bridges.
When completed, it is hoped that such infrastructure can help divert tourists to the less-explored parts of Cambodia.
CALL OF THE WILD
While foreign visitors slowed to a trickle during the two-year lockdown, local tourists provided some much-needed relief for the battered industry.
For all of 2020 and 2021, around 300,000 people visited eco-tourism attractions. In 2021 alone, the figure went up to about a half million.
Cambodian Ministry of Environment Secretary of State Neth Pheaktra said he hopes locals – who have started appreciating natural sites in their own backyard – can help spread the word to the rest of the world.
"Ecotourism is very important for us because they're new destinations tapping the landscape of Cambodia," Mr Pheaktra said.
"We have forests, rice fields, community living. They can potentially attract more foreign tourists to visit while getting the locals to love their country at the same time."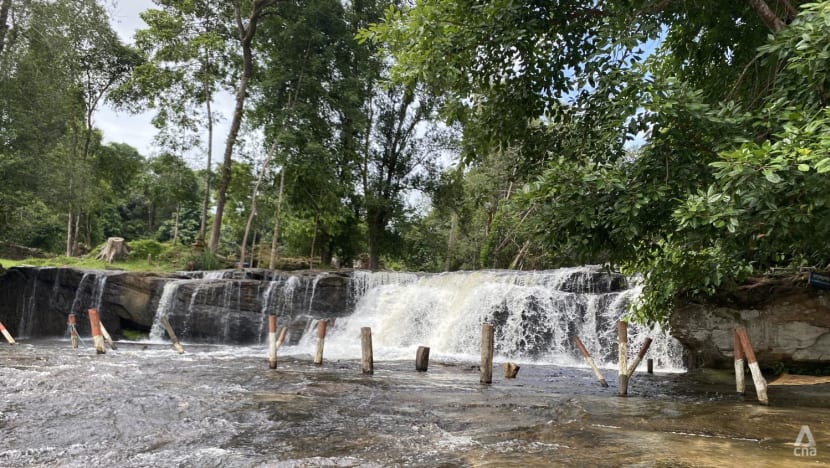 DOORS FULLY OPEN
By mid-July this year, Cambodia's doors were fully opened.
The government now allows partially or unvaccinated travellers to enter the country without quarantine, as long as they clear an on-arrival test which costs US$5.
Cambodia was one of the first to roll out the red carpet for international tourists after taking steps to manage its COVID-19 situation. To date, about 95 per cent of 16 million people in Cambodia are vaccinated – one of the world's highest rates.
So far this year, Cambodia has welcomed more than half a million foreign tourists, up by nearly four times compared to the same period last year.
The authorities have set their sights on a million visitors by the end of the year, a target they are hopeful of meeting. 
The bigger aim, however, is to bring visitor arrivals back to pre-pandemic levels of 7 million, by 2025.