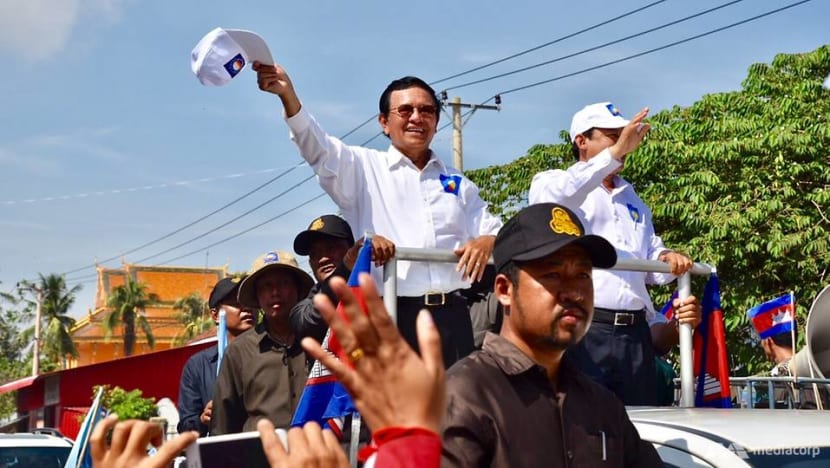 PHNOM PENH: Cambodian opposition leader Kem Sokha was denied bail on appeal on Wednesday (Aug 22), despite a string of high-profile figures being shown leniency by authorities in the aftermath of the country's general elections.
Sokha has been imprisoned since September last year and continues to await trial on treason charges, stemming from a speech he made in Australia in 2013. His pre-trial detention had last been extended by six months in March.
He and his party - the Cambodia National Rescue Party - were forcibly dissolved ahead of the national vote, in a move widely considered politically motivated. 
In the opposition's absence, the ruling Cambodian People's Party won every seat in the National Assembly.
The 65-year-old has been in poor health while being held in an isolated prison near the Vietnam border. 
His lawyer called on the court to consider Sokha's urgent need for overseas medical treatment. He was not present in court.
"We are very sorry that the court didn't decide in favour of our client," Sokha's lawyer Pheng Heng said outside the court, adding that he feared his condition could worsen.
In the days leading up to Sokha's case, Council of Ministers spokesman Phay Siphan had dismissed the appeal as fanciful.
However, there was still a sense that Sokha could be given respite amid a softened climate for opponents of the government in recent days.
On Monday, land activist Tep Vanny, both renowned and maligned, walked out of jail after two years following a surprise royal pardon by the king, at the behest of Prime Minister Hun Sen.
She was at the centre of heated and long-running demonstrations on behalf of forced evictees of the Boeung Kak Lake community in Phnom Penh.
Her charges, and those of three others, were dropped and she has appealed for more political prisoners to be released.
On Tuesday, two Radio Free Asia (RFA) journalists, Uon Chhin and Yeang Sothearin, were also released on bail after serving nine months behind bars on espionage charges. 
They were accused of running an illegal studio for the news outlet after it disbanded its operations in Cambodia last September.
They still face 15-year jail terms if convicted and have had their passports confiscated by police.
"We continue to urge the court to drop all charges against us so that we can have the freedom to return to our work," the journalists were reported as saying by RFA.