As more Chinese graduates explore rural jobs, comparisons with Mao Zedong's campaign fail to pass muster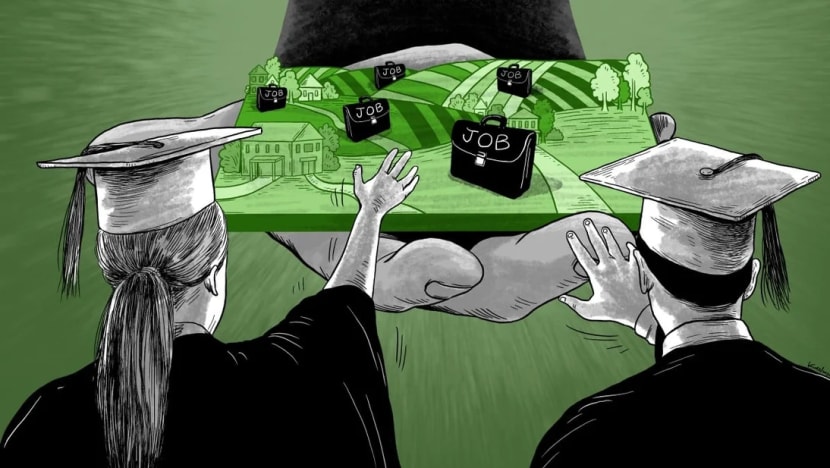 As youth unemployment hits fresh high, a record number of graduates are set to enter the job market this year
In the 1960s and 70s, millions of young people in urban areas were ordered to live and work in remote rural villages
In recent graduation seasons, Wendy Li has promoted government-backed programmes designed to encourage Chinese university graduates to work in the country's vast and underdeveloped countryside.
Such campaigns, under different names, are nothing new, but Li, an undergraduate who works for the student union at a university in Zhuhai, Guangdong province, said the number of applicants had more than tripled this year.
"They seem to have become more attractive this year," she said. "About 40 students from my school, which has 400 students, have signed up. In the past couple of years, about a dozen would do so."
The authorities have intensified efforts to encourage young people to pursue careers in China's rural areas amid mounting job pressure and President Xi Jinping's calls to "revitalise the countryside" to narrow the urban-rural development gap.
Reminiscent of the "Down to the Countryside" movement in the Mao Zedong era, modern-day initiatives include a Guangdong plan to send 300,000 university graduates to rural areas by the end of 2025.
According to an action plan issued in February, the graduates will work as grass-roots cadres, entrepreneurs or volunteers to contribute to the "return of talent, resources and projects" to the countryside.
Most other provinces have also upgraded such programmes by enlarging the number of people being sent or the range of destinations.
In Jiangsu province, an initiative that previously targeted underdeveloped areas in five relatively poor cities was expanded across the province last year, aiming to send at least 2,000 graduates to rural areas each year.
Such moves aimed to give young people more job opportunities in a tough labour market, said Peng Peng, executive chairman of the Guangdong Society of Reform, a think tank affiliated with Guangdong's provincial government.
"Young people in urban areas have encountered great difficulty in finding jobs due to the influence of the pandemic and the unprecedented number of graduates," he said.
The unemployment rate for the 16 to 24-year-old age group in China hit a record high of 20.4 per cent last month, compared with 19.6 per cent in March. Meanwhile, a record 11.58 million university graduates – about the size of Belgium's population – are set to enter the job market this year.
"The second purpose of these policies is to revive the countryside, where talent and technology are most needed," Peng said. "Rural areas are the weak link in China's road to modernisation, so they must be revitalised – something the top leadership has made a national strategy."
But he said such programmes were different from Mao's campaign in the 1960s and 70s, when millions of young people in urban areas were ordered to live and work in remote rural villages to break the class barriers between the rich and poor.
"It may lead people to remember history, but it's not a forced campaign now, it's up to you whether you go," he said. "Also, rural areas are just one option for young people. It's not the same as in the past, when people were forced to go to designated regions."
Back then, such destinations included Yunnan province and Beidahuang – the great northern wilderness – a vast region mostly of farmland in the north-eastern province of Heilongjiang.
In 1969, a teenaged Xi was sent to the barren Loess Plateau in rural Yanan, Shaanxi province, for seven years, with commentators later viewing his "sent-down years" as a rite of passage that helped hone his qualities as the nation's leader.
For many of today's participants, such programmes are more a transition from university to work – as finding an ideal job becomes more difficult – than a long-term commitment to the development of rural areas.
Li Qing, a 2022 graduate who has been working in a township government's rural revival programme in Yangzhou, Jiangsu province, since the start of the year, said she was preparing for civil service recruitment tests at the same time.
"I was a bit lost when I graduated last year, not knowing what I really wanted," she said. "Also, I failed the postgraduate test.
"So when I saw this opportunity, I thought it might be a good transitional option, especially as my family had suggested I become a civil servant."
With a monthly subsidy of "a few thousand yuan" to cover accommodation and transport, she said the job had so far taught her "nothing much except for the way I conduct myself and the government's rigorous work style".
"I wouldn't recommend it to those who want to continue with academic studies or those who are looking for a full-time job, because the former won't have a lot of time to study, and, for the latter, such an experience will be of little help to their future work, and neither will it make a corporate employer look at you differently during hiring," she said.
Li said most participants from her university in Zhuhai would work as teachers or volunteers at village schools, or village cadres helping to monitor the risk of people returning to poverty.
After two years of service, they could choose to stay or pursue new jobs elsewhere, she said, adding that many would choose to take the civil service exams because they earned extra points towards qualification by taking part in the campaign.
"As far as I know, few have actually stayed and settled down in those villages, as the authorities hoped they would," Li said.
Joan Huang, a second-year student at a university in Guangzhou, Guangdong's provincial capital, said she was not interested in such programmes because she saw no career prospects in rural areas.
"To be frank, I think this initiative is only getting people to do chores at entry-level positions in grass-roots government bodies," she said. "The economy in these areas is bad and it's nearly impossible for graduates to launch a start-up, except for maybe a milk tea shop.
"There might be opportunities in large infrastructure or smart agriculture, but these are not for ordinary students.
"If you enter a local company, the pay would be low and may not be enough to cover the university tuition your family has spent. If you go back to big cities after that, then you'll find the work experience in rural areas useless."
China's urban-rural income gap has remained wide despite a slight improvement in the past decade. Last year, the average disposable income of rural residents was 20,133 yuan (US$2,848), compared with 49,283 yuan for those in urban areas, according to the National Bureau of Statistics.
Stressing that China could not become a real power without strong agriculture and thriving villages, Xi has urged local governments to lure not only university students, but also entrepreneurs and former farmers who had left to find work in cities.
"We should guide graduates, capable people, migrant workers and entrepreneurs to the countryside in an orderly way, and help solve their concerns so that they can stay and start a career," he told the national rural work conference in December.
Zheng Fengtian, a professor at Renmin University's school of agricultural and rural development, said talent was one of resources needed most by less developed regions that have benefited from China's industrial transfer and poverty-elimination drive.
"In central and western areas, some industries and companies have arisen during the push to alleviate poverty, and some have been moved there from affluent areas like Shenzhen and Guangzhou," he said. "Now they need talent for further growth.
"For individuals, living in a small town may not be worse than in a metropolis – one may be able to buy a home after working there for just a couple of years. The quality of life isn't worse than in big cities."
Janice Wang, 28, returned to her home village in Anji, Zhejiang province, three years ago – lured back to the countryside by increased government investment, lower living costs and a slower pace of life.
She worked as a teacher in the city after graduating from university in 2016, but moved back home to begin running a bed-and-breakfast in 2020.
While it was hard for fresh graduates to see a future in rural villages, she said starting her own business in the countryside had become a desirable and feasible option after she accumulated some savings from working as a teacher.
"We have well-built roads, good public facilities and fresh air here," Wang said. "I meet different guests every day. It's not easy work but I feel freer and happier."
She had not had to worry about renting or buying a home, as the house she was running was her family property.
"Business is not bad, despite some negative influence from pandemic lockdowns in recent years," Wang said. "There has been an increasing number of retired people, and they have great demand for travelling and cheap accommodation.
"So overall, I have much less pressure living this way."
This article was first published on SCMP.
Source: South China Morning Post/fh