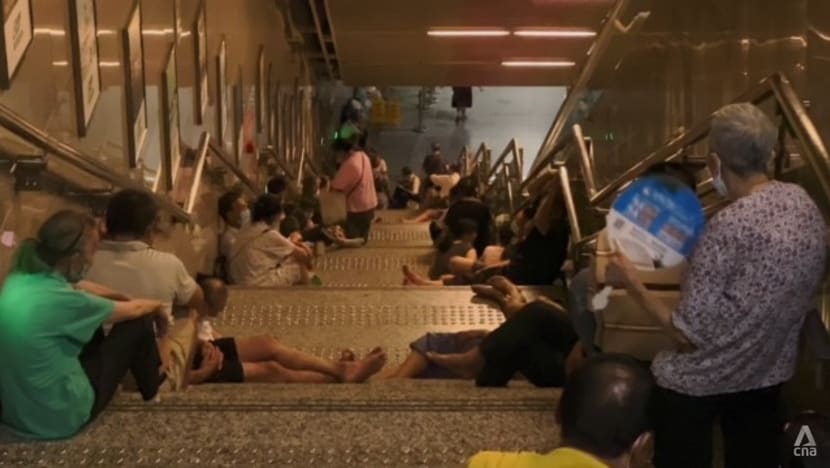 CHONGQING: Clusters of middle-aged men and women sat on stools around low portable tables, playing cards while onlookers stood by. 
A few steps away, a man was taking a nap on the cool floor. 
Several kids zoomed their toy cars on the ground. 
A young man sat silently, playing games of his mobile phone. 
This was the scene at just one of the many subway stations in China's southwestern city of Chongqing. 
Crowds of people lined the corridors and sat on steps of the staircase leading into the underground station to take advantage of the air-conditioning, as temperatures outside reached an unprecedented 45 degrees Celsius at the height of a two-month long heat wave. 
"I have air-conditioning at home. But if I switch it on, it is going to cost money. And there are too many people in the house," one of those who were at the subway station told CNA.
An unprecedented heat wave that enveloped nearly half of China has pushed up demand for air-conditioning. In Sichuan, one of the worst affected areas, peak power load set new record highs at least six times in August, going up more than 25 per cent year-on-year.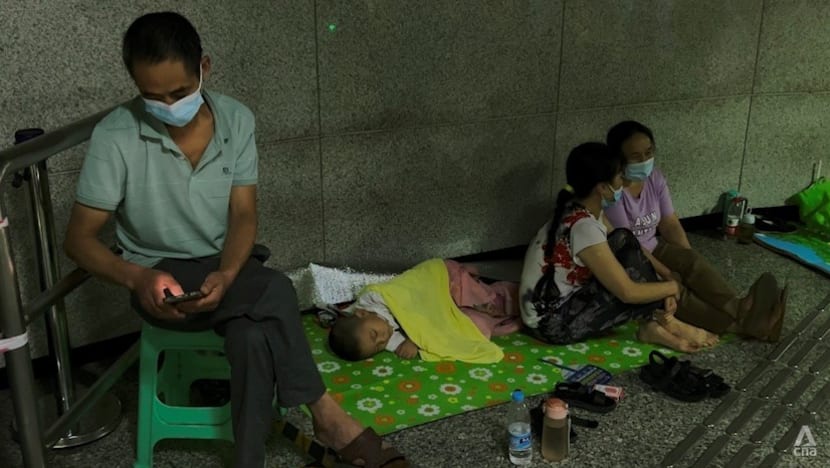 In neighbouring Chongqing municipality, temperatures were so high that 14 forest wildfires broke out within the span of a week in mid-August. The worst fire took six days to put out. 
The baking temperatures were made worse by prolonged drought. Lack of rain for weeks caused 66 rivers and 25 reservoirs to dry up in Chongqing. 
Since July, the Yangtze river basin, which stretches from coastal Shanghai to southwest Sichuan has 45 per cent less rainfall than a year ago. 
As a result, hydroelectric power generation capacity was cut by half, threatening to cripple the economy in Sichuan, which relies on hydropower for more than 80 per cent of its energy. 
With industrial production affected, the outlook appears to be bleak for China's economy.
PRIORITISING POWER FOR HOUSEHOLDS
Amid the heatwave, the government was forced to take drastic action. The Sichuan provincial government ordered factories to stop production for 11 days from Aug 15 to 25 to prioritise power for households.
In Chongqing, malls were told to open for half the day, dealing a blow to business owners who were already gutted by repeated COVID-19 lockdowns in the country. 
When CNA visited a popular mall in the heart of the city in late August, the footfall was visibly low. At least 11 stores were shuttered on one floor. 
Some restaurant operators said they have lost up to 90 per cent of their business due to the pandemic and the shortened operating hours.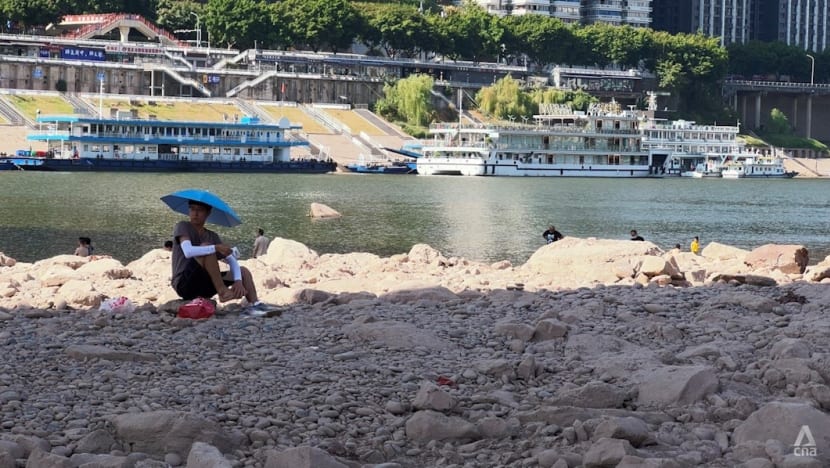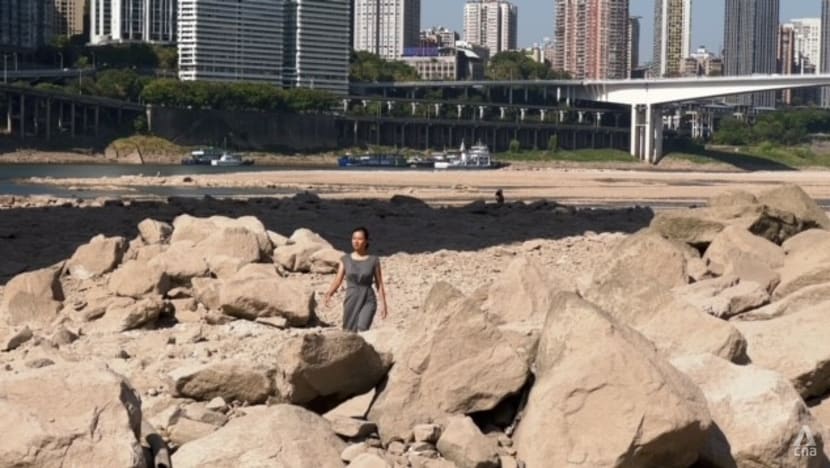 "We used to bake five rounds a day and then we can still cover our operating costs. Now we only open at 4pm. We bake just once a day and when the cakes are sold out, we go home. It has a great impact on us," said Xu Jiangui, the only baker left at a cheesecake shop on the ground floor of a mall.
Two of his colleagues, he said, had already been laid off. 
INDUSTRIAL PRODUCTION HIT
Meanwhile, industrial production was crimped by power cuts. Ironically, this happened in Sichuan, the very province where many energy intensive industries had located themselves in order to take advantage of the normally cheap and abundant hydroelectricity. 
"Big, energy intensive industries like steel, glass, fertilisers are hit the worst. This will have a huge knock-on effect on the supply chain and the total production in China, and even for larger scale production chains in Asia," said Wang Dan, the chief economist at Hang Seng bank. 
Sichuan is also home to a fifth of China's lithium production, a key raw material in solar panels and electric vehicle batteries.
 
The power cuts sent lithium prices in China soaring to record high since April and businesses say the lack of advance notice gave them little time for contingency plans. 
"The risk of China losing some of its luster is great," said Massimo Bagnasco, the vice president of the European Chamber in China, "because we have to consider this comes after the uncertainties that our business community experienced in terms of economic development, the COVID-19 situation, the travel restrictions and the worldwide geopolitical tensions."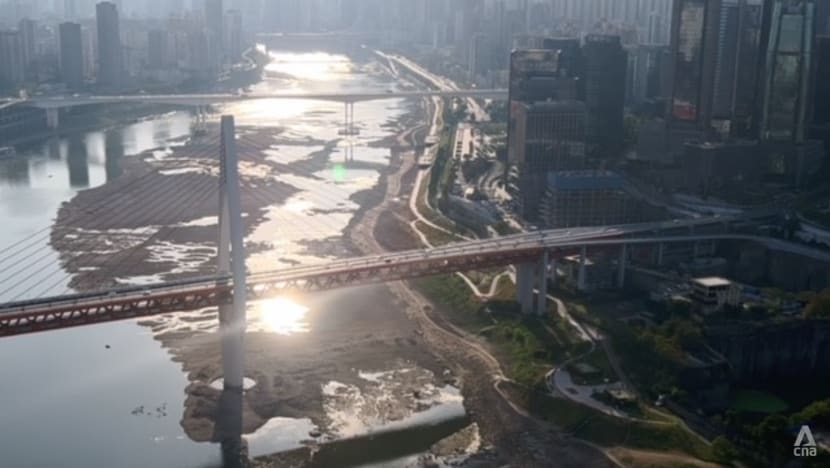 BLEAK ECONOMIC OUTLOOK
The government had accelerated the release of 500 million cubic metres of water from the Three Gorges dam to alleviate the drought, but experts say this comes at the risk of more power crunch this winter. 
"The five months between June and October are usually when Sichuan's hydropower production is at its peak," wrote Andrew Polk, Head of Economic Research at policy analysis firm Trivium China.
"But Sichuan is now at such a water deficit that it would take a meteorological miracle to reach anything approaching normal levels before for winter power production."
Meanwhile, government efforts to seed clouds had contributed to sudden torrential rains in Sichuan province, causing the government to issue flood alerts and dispatch emergency forces to the area. This led to about 119,000 people being evacuated. 
The extreme weather events, the worst that China had experienced since meteorological records began in 1961, are threatening to seriously hit China's economy.
In end-August, Beijing announced another US$146 billion worth of economic stimulus to boost sluggish growth, but analysts said it is not likely to go far enough to lift the annual growth rate, even if it might help blunt the sharp decline in government revenue now. 
Wang of Hang Seng Bank said the scale of the power cuts this summer is greater than what China experienced last winter, which was fuelled by increased energy demand for heating. 
The impact this time would be longer lasting as well. She estimated at least a one percentage point drag on national growth this year, revising her annual growth forecast down from 4 per cent to 3 per cent. 
"For China, this is the equivalent of a hard landing," she said.