'We were there to mourn': What it was like at the COVID-19 protests in Shanghai and Beijing
A deadly fire in Xinjiang sparked an outcry over harsh COVID-19 rules, sparking protests in several cities. CNA spoke to two residents in Shanghai and Beijing who were at the rare demonstrations.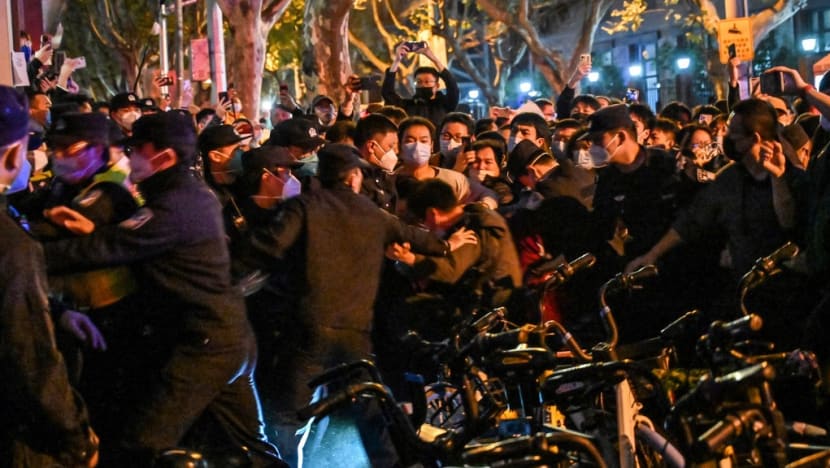 Rare protests broke out in China in various cities over the weekend as demonstrators expressed anger at harsh COVID-19 curbs and a fire in Urumqi that killed 10 people on Nov 24.
In Shanghai, at the road named after the Xinjiang capital, crowds gathered, calling for freedom and railing against China's zero-COVID policy.
CNA spoke to a Shanghai resident who was on the sidelines of the protest on Saturday (Nov 26). 
"I watched some videos (of the protests) on Saturday night before heading down at around 1am," said the 30-year-old, who requested to be known only as Sean. He added that he witnessed but did not participate in the protest. 
"I felt the situation would become more serious after I heard calls on (Xi Jinping) stepping down, so I left."
According to Sean, hundreds of people were present and the police started dispersing demonstrators sometime between 2am and 3am. 
He said the police seemed to have "exercised restraint" as they did not take physical action when the calls for Xi to step down began. "They seemed to be waiting for a certain time. They only started dispersing then arresting people (who refused to leave) from 2am to 3am," said Sean. 
"So I'm guessing that the authorities did not want to blow up the situation as well, or perhaps they did not have enough manpower to stabilise the crowd," added Sean.
Some in Shanghai have taken to social media to show their support towards the protests. Sean said some of his friends forwarded protest-related videos and images, but those have been quickly taken down on social media platforms. Others are posting images of white squares, representing the blank sheets of paper that have become a symbol of defiance.
In Beijing, a resident told CNA that the gathering he was at on Sunday (Nov 27) was relatively calm.
Chris (not his real name), 30, was at the capital's Liangma River to attend a candlelight vigil for the victims of the Urumqi fire. When he arrived at around 9.30pm, he found the place packed with around a hundred people.
"We were there to mourn for our compatriots, through ways like lighting candles and holding up paper," said Chris.
According to Chris, the police started cordoning off the area after more people began gathering by the river. "The people who came after that were stuck outside. More and more people gathered outside, more and more found out what was happening, and soon we heard people making demands," said Chris. "Slowly, we realised there were a lot of people, perhaps up to one or two thousand." 
"When I walked out, there was an impassioned girl making demands like removing PCR tests. After her speech, she led everyone in a song, and the crowd started walking towards the city," said Chris.
He added that he did not witness violence and that the police as well as those gathered were reasonable. "Most of the police officers in Beijing last night were very polite in dispersing the crowd and advising people to return home. It was something I didn't expect as well," said Chris.