Nearly 1 million in China apply to travel to Hong Kong, Macao and Taiwan since borders reopened
Many travellers are hoping for a full relaxation of pandemic measures as pre-departure tests and other paperwork remain inconvenient.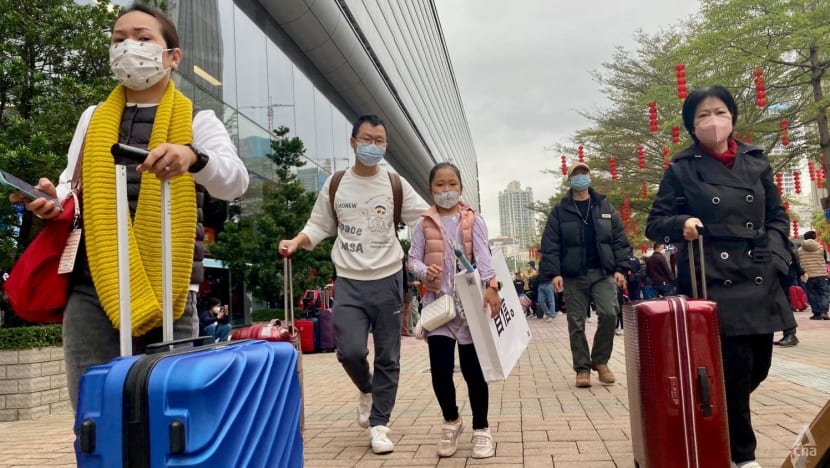 SHENZHEN: Close to a million people in China have applied for permits to travel between the mainland and Hong Kong, Macao and Taiwan since borders reopened on Jan 8.
The 998,000 applications mark a 147.6 per cent increase compared to before the easing of China's pandemic travel restrictions, which were among the toughest in the world.
Airports, ferry terminals and land checkpoints saw scenes of emotional reunions as travellers, many of whom have not seen their loved ones since the COVID-19 pandemic began, met their families.
One such traveller preparing to cross the Futian checkpoint in southern China's Shenzhen city on the first working day after the reopening was a mother of three who had not seen her husband and eldest daughter for over a year.
"I'm very excited and happy. I haven't seen them in a long time," Ms Huang Wenjing told CNA as she wiped away tears.
 
The 37-year-old, who will spend three weeks in Hong Kong, added that she took time off work to travel to Hong Kong to see her family as soon as news of the lifting of restrictions broke.
Ms Huang's eight-year-old daughter Wu Xier said the first thing she wanted to do when she reached Hong Kong, was to "find my father and tell him I miss him".
EXCITEMENT AT BORDER CROSSINGS
The Futian border crossing was one of the first to reopen between the mainland and the special administrative region after about three years of closure due to COVID-19.
Families hugged and took pictures at a banner that read "Welcome Hong Kong compatriots returning to Shenzhen", while a rabbit mascot waved a sign that said "We are family".
Among the families were Hong Kong residents Mr Ho Yun Hang and his wife Ms Xiang Huiqiong, who stepped into the mainland for the first time in three years.
"I've come to see friends and (my wife) is going back to her hometown, we are all very happy," said Mr Ho, 74. "In these three years, there have been so many changes and the pandemic has been severe."
"Coming back this time, it's like seeing the sun!"
The trip was booked by their daughter Ms Ho Ka Yi, who made immediate arrangements the moment she heard news of the reopening and the scrapping of quarantine requirements.
The 24-year-old, who studies on the mainland in Chongqing, had been in Hong Kong on her first trip back to the city since the pandemic began.
"When (my mother) opened the door and saw me, we hugged each other and stood there crying because we hadn't seen each other for a long time, for three years," said Ms Ho.
"For the Spring Festival, I plan to go back to the mainland, to my home in Shenzhen and stay there to see my family, and then go back to Hong Kong to watch a concert and find my friends there."
Some travellers, including Ms Xiang, are bringing their own medicine across the border, as worries over COVID-19 drug shortages persist in Chinese cities.
"We heard that with regard to the pandemic in Shenzhen, there is a shortage of medicine, so we brought medicine and more practical items," said Ms Xiang, a Chongqing native.
INCREASED QUOTA FOR NEW YEAR
About 490,000 trips were made in and out of China between Jan 8 and 12, after the country scrapped quarantine for inbound travellers and relaxed other travel restrictions.
Officials said the number was up 48.9 per cent compared to the period before the policy change, but is only at 26.2 per cent of pre-pandemic levels in 2019.
Of this figure, 424,000 people crossed the border by land, at 30.1 per cent compared to three years ago.
The Futian checkpoint in Shenzhen was the busiest, with 21,000 people crossing every day. CNA observed a steady stream of travellers at the checkpoint on Sunday, with constant traffic heading in both directions.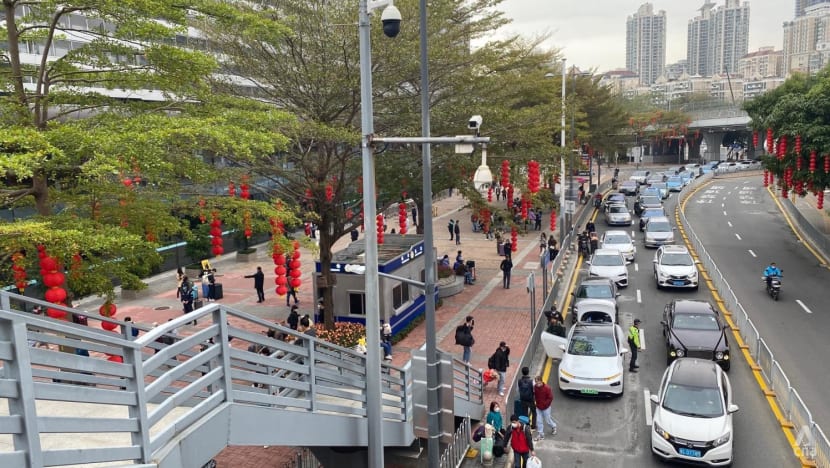 Checkpoint staff told CNA it was still possible to apply to cross the border on the spot.
Currently, there is a daily quota of 50,000 visitors allowed in either direction via the land crossings.
But both Hong Kong and the mainland are increasing the daily quota of cross-border travellers by 15,000 from Jan 18 to 21, in the four days leading up to the Chinese New Year holiday to cope with the travel surge.
Businesses, too, have welcomed the reopening, with some commuters saying that in-person meetings on either side of the border can now resume.
However, many travellers are hoping for a full relaxation of measures as pre-departure tests and other paperwork remain inconvenient. Travellers currently have to produce a negative COVID-19 test result taken within 48 hours. 
"It would be best if we could fill in less (information). Some older people or children may not know how to do this," said Mr Michael Liu, who was travelling into Hong Kong from Shenzhen.
 
"You have to fork out your own money to pay for the PCR (Polymerase Chain Reaction) tests. It's still a little bit inconvenient. So, (my trips) won't be too frequent. But it will slowly get back to normal," said Mr Jason He, who was travelling in the other direction, from Shenzhen to Hong Kong.
INTERNATIONAL TRAVEL TO TAKE FLIGHT
International flights are also expected to gradually ramp up, with Chinese authorities targeting a return to 80 per cent of pre-pandemic numbers by the end of the year.
This comes as officials said there were only 563 international flights last week, at 6 per cent of pre-COVID levels.
Amid the expected demand, experts cautioned that increasing the number of international flights and returning to normalcy will take time.
While analysts are confident that China will be able to iron out the logistics of increased travel domestically, external factors such as closed air space over Russia still pose a challenge for some carriers.
"I don't think (logistics and labour) are really issues for (China) because it's a huge country. They have the people and the skill sets to deal with it," said Shukor Yusof, founder of aviation consultancy Endau Analytics.
"However, there's a chain within the airline aviation industry that needs to be reorganised post-COVID, because nothing is the same anymore."
Mr Shukor said the opening up could also be a chance for Hong Kong to regain its position as a global aviation hub.
Cathay Pacific Airways, the region's flagship carrier, said it would gradually increase flying capacity and aims to return to pre-pandemic levels by the end of next year.
"Air China is a major shareholder in Cathay Pacific so I'm sure they are talking about how they can work together to resume flying at a pace where not just foreigners, but (also) people within China, especially the southern parts closest to Hong Kong, can benefit from that," Mr Shukor said.