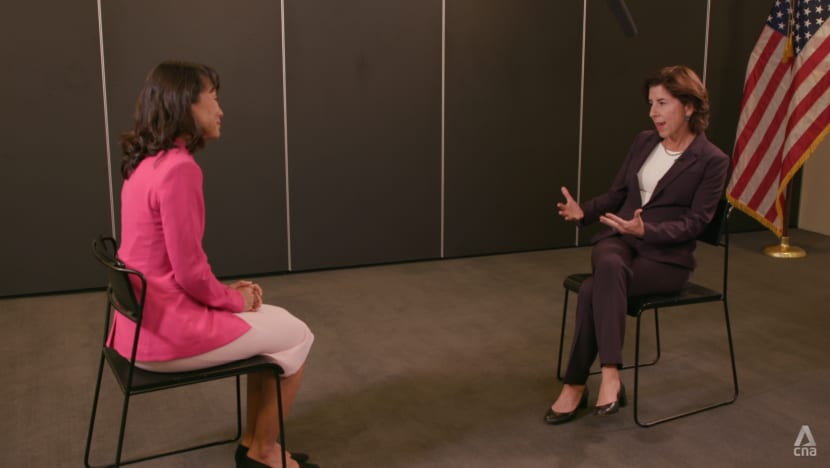 SINGAPORE: The United States is not forcing Southeast Asia to choose between China and the US even as the world's two biggest economies seek to compete with each other and as the US steps up its presence in the region.
"This is absolutely not either the US or China. Absolutely not," stressed US Commerce Secretary Gina Raimondo in an exclusive face-to-face interview with CNA. 
"My visit here, our commitment, it's not, it isn't really about China," said Raimondo. Raimondo is on her first official trip to Asia from Nov 15 to Nov 18, spending a day in Japan, two days in Singapore, and a day in Malaysia. 
Raimondo sat down for an interview with CNA in Singapore on Nov 16 – the same day as the first virtual summit between US President Joe Biden and China's President Xi Jinping.
The US commerce chief's comments also come against a backdrop of increasingly close economic ties between the 10-member Southeast Asian bloc and China.
Last year, the Association of Southeast Nations (ASEAN) became China's largest trading partner for the first time.
Referring to the Xi-Biden meeting, Raimondo echoed Biden's message of "managed cooperation and managed competition" between US and China.
"Certainly, we will look to cooperate where we can, but also, we need to protect our national security interest and the national security of our allies."
The US is seen by China and analysts to be engaging in steps to counter and contain China. The recent AUKUS nuclear-powered submarine deal between the US, UK, and Australia has been singled out as one such move.
Last week, Xi warned Asia-Pacific economies against a return to Cold War tensions.
But Raimondo argued that US diplomacy in the region is based on legacy rather than current geopolitical contests. 
"America has had decades-long economic presence and military presence in the region. And, at the time of so much growth in the region and so much technological innovation in the region, the US wants to be ever more present in the Indo-Pacific to continue those partnerships," she said.
Last month, Biden promised up to US$102 million in new initiatives to expand the US-ASEAN Strategic Partnership, announcing the development of an Indo-Pacific economic framework that Washington said is aimed at fair and open trade and investment, but which some commentators argue is the US trying to regain lost economic and strategic ground in Asia.
In an implied swipe at the previous administration of former President Donald Trump, Raimondo acknowledged that America's presence in the region has lagged in recent years: "I would say the past four years were a blip. For the past 50 years, we have had a strong presence."
Raimondo's visit is the third time a US official at the Cabinet level or higher has visited Southeast Asia this year in quick succession – Vice President Kamala Harris visited in August, while Defense Secretary Lloyd J Austin III visited in July. 
Raimondo said the US is looking to come roaring back into the region.
"I know the private sector in America is anxious to make more investments in Southeast Asia. We're looking to make infrastructure investments in the region, cooperate on technology. So, it's really as President Biden says, America is back and that is the message to the region."
Watch this exclusive interview on a special In Conversation online clip that will be released on Nov 18 evening on CNA Digital and on CNA Insider YouTube channel.