China's man-made island takes shape in Sri Lanka
China has completed its land reclamation project in the disputed South China Sea. But thousands of miles to the west, another Chinese artificial island is slowly taking shape, the largest foreign direct investment in Sri Lanka, which will add more than 500 acres of land to its capital city.
COLOMBO: The Ocean seafood restaurant at Colombo's five-star The Kingsbury was once famous for its magnificent view of the Indian Ocean. Its open-air wooden terrace that runs along the hotel's western façade used to be so close to the beautiful coastline that waves lapped the rocks, sending sprays of sea foam into the air.

Not anymore.

The once popular ocean view is now a massive construction site of what is slated to become the most modern metropolis in South Asia, the Port City.

"The project itself is a modern sustainable metropolis in the South Asia continent. It is being planned to be the most modern city in this part of the world," said Liang Thow Ming, chief sales and marketing officer of CHEC Port City Colombo, which locally operates the construction on behalf of Beijing-based firm China Communications Construction (CCCC).

Located next to the Colombo Port, the US$1.4 billion project will add about 233 hectares of reclaimed land to the capital and house luxury office buildings, apartment blocks, a golf course, a water sport area, medical facilities, education institutions, hotels, a theme park and marinas.

According to the agreement between CCCC and former President Mahinda Rajapaksa's government, 108 hectares of the real estate would be given to the Beijing firm to cover its investment and marketing promotion costs as well as profits. This includes 20 hectares on an outright basis and 88 hectares on a 99-year lease.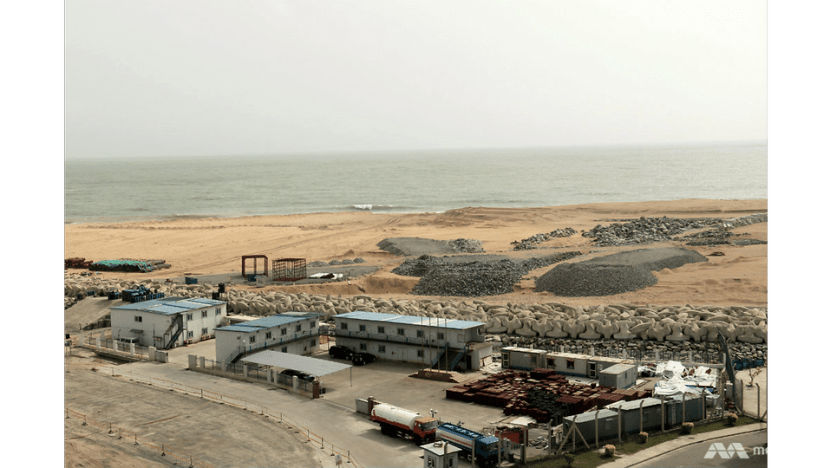 The Port City project was suspended by the Sri Lankan Government on Mar 6, 2015, following allegations of corruption and environmental concerns. (Photo: Pichayada Promchertchoo/CNA)
For many, this is China's attempt to expand its power to this part of the world, a claim denied by officials involved in the project.

"There is a lot of suspicion whether this will become some form of a military installation or some submarine park or something of that nature," said Mr Ming. "This is a commercial consent. We came into this because we felt that there is money to be made."
Still, the Port City faces serious hurdles still, centred on an ongoing investigation by the current government under President Maithripala Sirisena.
Since Mar 6, CHEC Port City Colombo has put construction on hold, following Prime Minister Ranil Wickremesinghe's announcement that a preliminary investigation had shown irregularities and that the real estate deal was carried out without transparency.

According to the World Bank, its parent company CCCC also faces a sanction under the institution's fraud and corruption policy, stirring up further controversy over the land reclamation project.

"Because of the public outcry after the last presidential election, the project has been put into review," said Deputy Minister of Highways and Investment Promotion Eran Wickramaratne.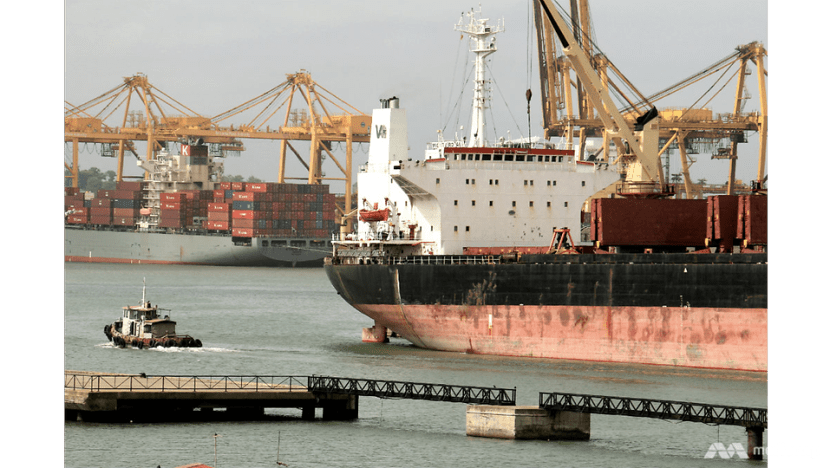 The Port of Colombo. (Photo: Pichayada Promchertchoo/CNA)
However, he insisted the government's biggest concern is the environmental impact of the project, as the real-estate deal lacks a "proper" Environmental Impact Assessment (EIA).

"A complete EIA is being done. If the EIA is satisfactory, the project will continue. For some reason, if the EIA shows there are some problems, if it is not environmentally desirable, then we will have to see if these things can be cured," Mr Wickramaratne said.

STABILITY

Since President Sirisena took office in January, a number of megaprojects approved by his predecessor have been subjected to scrutiny, driven by allegations of corruption and lack of financial feasibility. Although most of them have resumed, foreign investors' confidence remains affected.

"Any investors, internationally, what we want to look for is pro-business, pro-growth policies. What we want is consistency. And that is important because we cannot have a change of policies every other five years," said Mr Ming. "Any stop-work order that is given on 'a unilateral side' so to speak would definitely affect confidence to a certain level."
His view was echoed by the likes of Dr Nishan de Mel, economist and Executive Director of Verité Research, who warned a lack of political stability in Sri Lanka could hurt its economy.
Nishan de Mel. (Photo: Pichayada Promchertchoo/CNA)
On Aug 17, Sri Lanka will hold a parliamentary election, which could once again see a change in government and economic policy. "The policy regime kept changing quite rapidly. Every quarter, every six months, policies would be reversed, reintroduced and reversed again," he said.
"I think it is very important, going forward, to look for putting together a stable set of policies that also creates a level playing field for entrepreneurs and business investors so that they can enter the economy with confidence and not feel that their progress is going to be somehow held to ransom by bottlenecked decision-making system."

CHINA

Still, an effective system of checks and balances is crucial for developing countries such as Sri Lanka, which has just emerged from decades of brutal war against terrorist group the Liberation Tigers of Tamil Eelam (LTTE), known widely as the Tamil Tigers.

According to Dr de Mel, Sri Lanka's population has become somewhat familiar with undemocratic power used by the state against terrorism, which in turn jeopardised the country's democratic values and practices.

Since the end of the war in 2009, Sri Lanka has become one of the fastest growing economies in South Asia. Its Gross Domestic Product (GDP) per capita took a leap from US$859 in 2002 to US$3,256 in 2013. Its central bank's annual report also showed the economy expanded by 7.4 per cent last year, up from 7.2 per cent in 2013.

Growth was mainly influenced by two factors, however, including consumption of imported goods and a construction expenditure largely fuelled by the Chinese.
"China has become an alternative source of capital to the traditional source that exists. But the way that it was dispersed also creates an opportunity for corruption and corrupt practices to significantly increase in Sri Lanka," Dr de Mel said.

"The conditionality attached to how the project is managed, how contracting is done, tender procedures, etc. are absent in the Chinese lending process. And that absence creates some benefits for policy makers and the government. One of them is speed of unrolling the projects. The other is also, perhaps, the political benefit."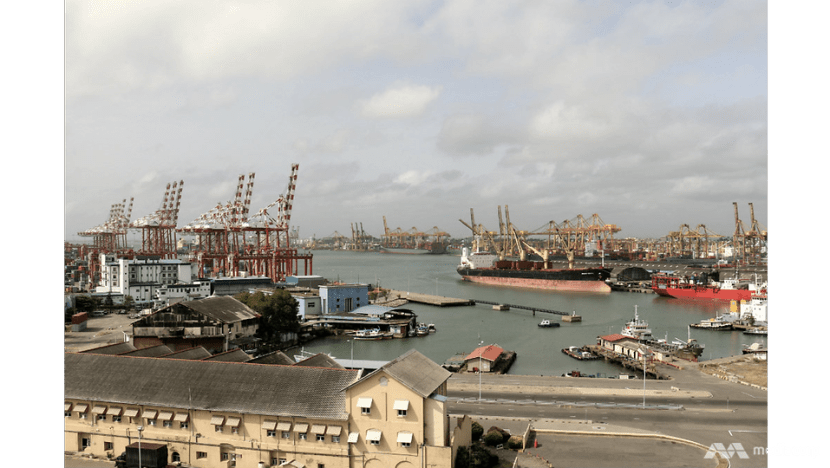 The Port of Colombo. (Photo: Pichayada Promchertchoo/CNA)
During the previous administration, President Rajapaksa awarded Beijing many infrastructure developments, from the country's first coal power plant Norochcholai to the Hambantota Port, Mahinda Rajapaksa International Airport, and a cricket stadium.

More than US$6 billion was borrowed from Chinese lenders during Mr Rajapaksa's administration, which raised concerns of members of the current government.

"There are no international flights at that airport. The port has hardly any vessels coming in. Therefore, they built infrastructure but there was no demand," said Mr Wickramaratne.

"They were funded by loans. So, the country is facing, as a result, a crunch on the international loans it has taken."

Unlike his pro-Beijing predecessor, President Sirisena has been slower on taking loans since he took office. His government is seeking alternative funding sources that offer cheaper interest rates and longer durations.

"We don't want to push the country into a debt crisis," said Mr Wickramaratne.

TRADITIONAL FRIENDS

Besides the economic front, the new government is also reshaping its foreign policy to balance its international relations.

During Mr Rajapaksa's presidency, a number of Western countries were concerned by Sri Lanka's human rights issues during and after the war against separatists, resulting in limited aid and isolation, while China became financially supportive.
"The country has been somewhat isolated internationally in the last few years. That was very unfortunate," said Mr Wickramaratne, claiming that the current government has successfully normalised its international ties "at an amazing speed".

"Our foreign policy is non-aligned but friendly and inviting anyone to come and invest in this country," he said.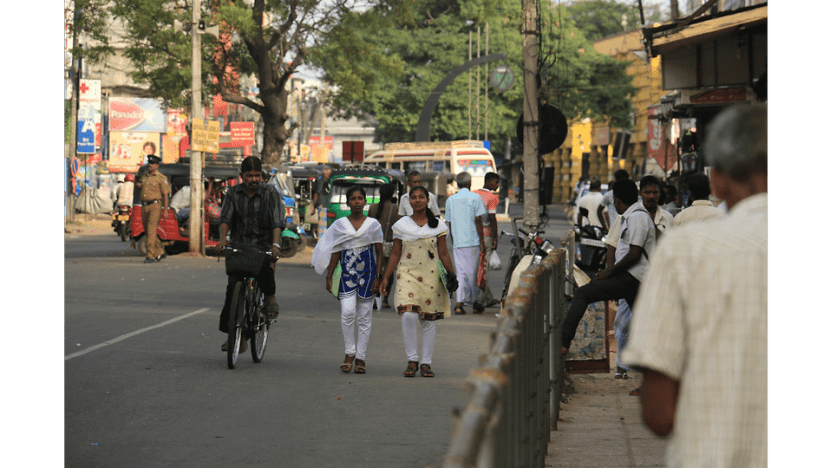 Sri Lankans are set to vote in a parliamentary election on Aug 17, 2015. (Photo: Pichayada Promchertchoo/CNA)
Earlier this year, Sri Lanka welcomed Indian Prime Minister Narendra Modi and US Secretary of State John Kerry. Discussions with Europe are also on the table.

Meanwhile, the government continues to maintain its friendly relations with China, as it treads carefully on China-funded projects.

"Like any relationship, there are tense periods when Chinese contractors and the Sri Lankan authorities have had some issues to resolve. I think the relationship between the two countries is bigger than just those commercial relationships and, therefore, this relationship between the two countries will very much be on track," he said,

For Chinese investors, however, they want fairness on all fronts.

"It will be very helpful if the government is going to be a little bit blind towards nationality. There has to be balance of interest from various international players and I think, as a Chinese company operating here, we don't expect preferential treatment. We just wanted to be treated fairly," said Mr Ming.
Reclaimed Lands: The Colombo Port City is the third part of a digital series on Sri Lanka six years after the war. The series will be released daily until Aug 17.