'Still going strong': Colourful decorations turn Melaka Portuguese settlement into Christmas wonderland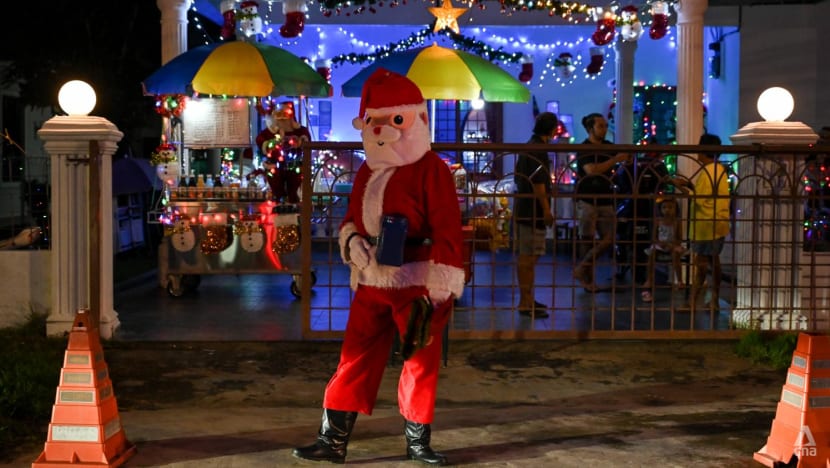 MELAKA: It is two weeks before Christmas and Simon Rodrigues was busy hanging up lights at his parents' home at the Portuguese Settlement in Melaka.  
Alongside him are several of his nephews and nieces who are helping him put up the colourful decorations and ornaments which were still in boxes on the floor.
This year, he will be going with a blue and white theme.    
"We do this every year without fail because without the lights, you don't feel the atmosphere of Christmas and the festive season. It has become a culture for us," Mr Rodrigues told CNA, while hammering a nail above a window where the words "Merry Christmas" were displayed.  
Mr Rodrigues who has been working in Singapore for the past 17-years is back for Christmas for the first time in two-years.
The COVID-19 pandemic meant that borders were closed and like many others, he couldn't celebrate Christmas with his family.     
"I feel happy and excited to be back, especially before Christmas when you are doing the decorations and really feel the spirit of Christmas. During the pandemic, it was a really sad Christmas as I was away from my family," he said, as Christmas songs were being played from his phone.
Every year during the year-end holidays, almost every home in the settlement is lit up, attracting many outsiders and tourists there.    
When CNA paid a visit to the settlement, several houses had already been decorated with coloured bulbs, bells, blinking lights, advent candles, and Christmas trees among others.   
"Until the eve of Christmas Day, you can still see people doing final touch ups and putting up the lights," said Mr Rodrigues.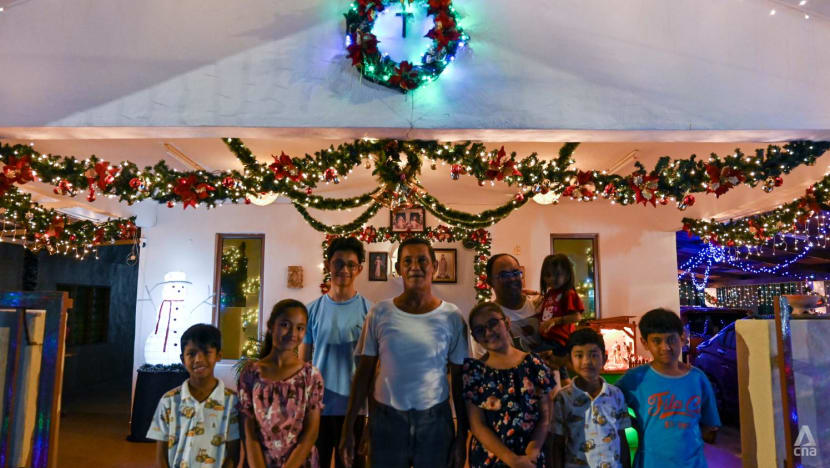 HONOURING THE BIRTH OF CHRIST
The President of the Portuguese Settlement Residents Association Marina Danker said that most of the residents in the settlement are Roman Catholics and that the preparations they do for Christmas are deeply rooted in their beliefs.   
"We are in the process of preparations to welcome our saviour Jesus Christ. This is our belief," she told CNA at the main stage located in the settlement which was also being decorated to liven up the festive atmosphere.
The settlement, established in the 1930s by two Portuguese priests who requested for a piece of land for the community which is now home to about 140 families.
Located next to the Straits of Melaka, the settlement houses several Portuguese restaurants and is a popular tourist destination throughout the year.   
During Christmas, there is more reason to visit the settlement and enjoy the wonderful festivities over there, said Mrs Danker.
"We are proud of it and enjoy it. People come here to see something unique that they cannot find anywhere else in Malaysia. If you go to any neighbourhood there might be one or two houses that are decorated but here everybody is celebrating the festivities," she said.
The decorations stay on for at least three weeks, usually brought down after the Three Kings Day, or the final day of Christmas.
During the festive season, it's a time of wonder and excitement for the children from the settlement as they will be singing their favourite carols. 
As Christmas is a time for exchanging gifts, younger children frolic about with smiles on their faces to catch the appearance of Santa Claus - an essential element of the celebration. 
For many residents here, the nativity set would be the most important decoration in their house.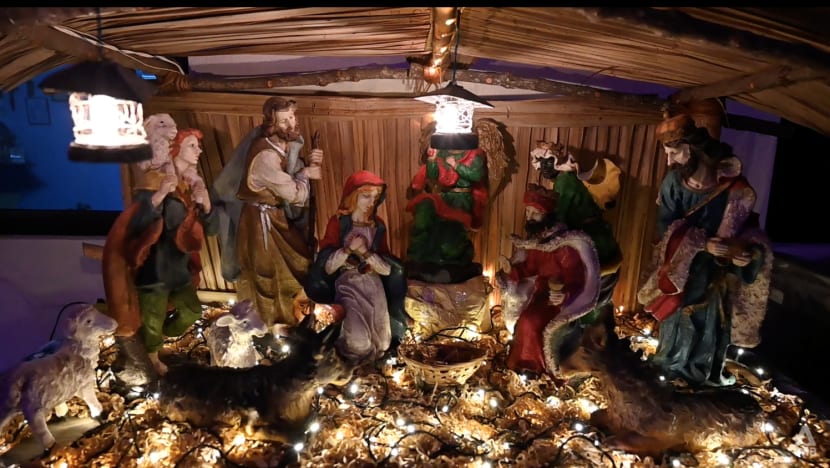 Christopher De Mello, 56, whose house was decorated since All Souls Day back in November said that Christmas signifies the coming of Jesus.   
"Christmas is about nativity...Jesus is born in the stable. It's him that we celebrate during Christmas. Some people think it's Santa Claus. But it's not, it's Jesus…He is the light, so that is why we welcome him with a lot of lights," he told CNA at his home.  
Mr De Mello who works in hotel maintenance had already prepared the wiring for the lighting. As they wished to immerse in the spirit of the season, it took him only a few days to deck out all the festive decorations together with his wife. 
On his fence were various decorations of snowmen and reindeers, while two angels stood on the gate.    
Briane Danker, 48, who was still in the process of decorating his home, also said that Christmas had no meaning without a nativity set.
He said that the baby Jesus would only be placed in the set on Dec 25. 
"That is when we start the celebrations. It's not only about the festivities or any party but also a time of reflection," he said, adding that the holiday was also about spending time with family. 
Mr Danker whose interest in artwork and handicraft grew when he started putting up Christmas decorations when he was young.  
His nativity set for example contained tree bark, branches, and leaves that he gathered from a forest.   
"If you have interest and ideas, it won't be difficult to do. You will feel happy to do it," Mr Danker said, who had spent about one week already to decorate his newly renovated home. 
ALL ABOUT FAMILY AND GRANDCHILDREN 
Mrs Danker said that the Christmas tradition was still going strong in the settlement and was in fact becoming more elaborate, especially with the new lights and decorations available. 
She said that they used their own money to come up with the decorations and that there were no sponsors to help them defray some of the costs. 
"There is no competition, but every year people tend to do something more because when they go shopping there are new products," she said, adding that each house used about 30 to 50 boxes of lights for decorations.   
She said some of the residents in the settlement were old and they had to wait for their children to come back before they could put up the lights.
"Families come back during Christmas and nowadays people tend to do it for their grandchildren," she said.   
Kenneth Fransisco Marsh, 64, whose house was fully decorated said that he remembers decorating up the house for the past 30 years although it wasn't as elaborate as now with the lights.   
Mr Marsh who just underwent heart surgery told CNA that he could not climb up the ladder anymore and had to wait for his children to help him put the decorations up.
All in all, it took about one week for the house to be fully decorated.
"It's part of our tradition to do this. We do it every year. The children and grandchildren like the festive atmosphere. If people ask me to open the gate to look at the decorations, I will welcome them in," said the pensioner with four children and ten grandchildren.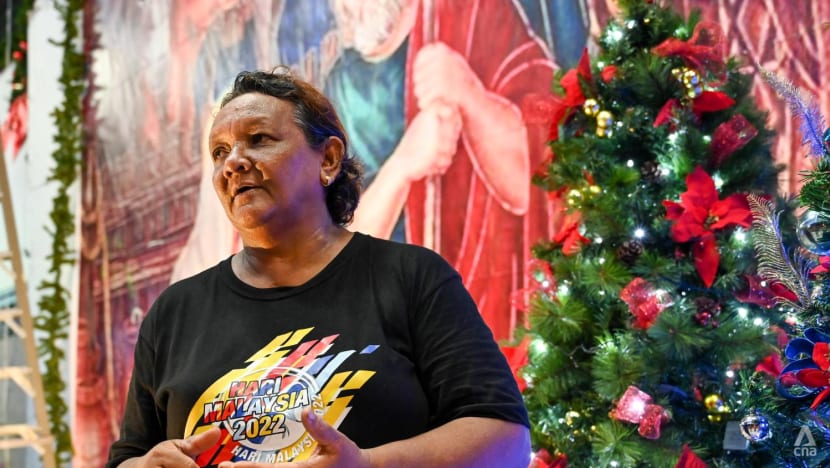 Mr Rodrigues said that he learnt to put up the decorations from his family and started to do so when he was still in primary school.  
He said it was important to continue the tradition, especially when there were children at home.
"Now it has come to a time when we have to train our nephews and nieces so that in the future when we are old, it will be their time to shine," he said.
He said that people all over Malaysia and Singapore come to Melaka during Christmas just to see the Portuguese settlement.
During the Christmas season, the settlement is packed with people, with several roads closed to traffic.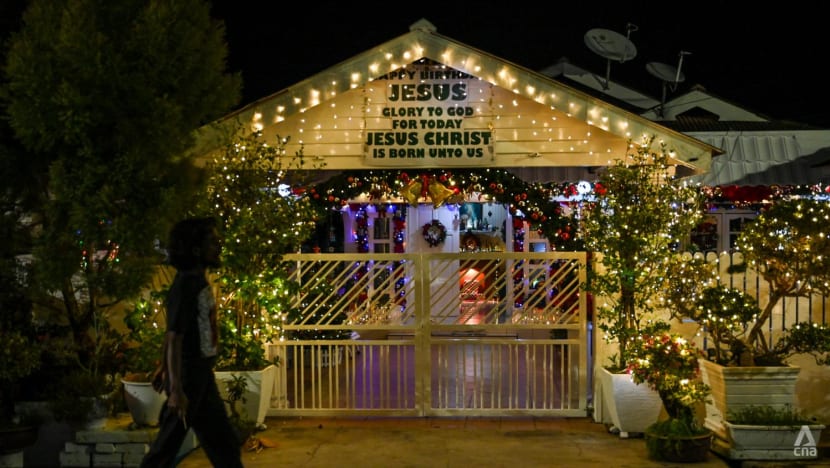 It is also common for visitors to walk into houses of people and be dazzled with the holly jolly Christmas decor and enjoy their lovely photoshoot. 
"You don't lose anything when people come in to see and speak with you," said Mr Rodrigues.
Similarly, Mr De Mello also welcomes visitors who drop by the settlement during Christmas, saying that it is nice for others to visit and learn what Christmas is all about. 
"Some of them don't know what Christmas is about. This is very important to us because (Christmas is about) Jesus coming into the world…to receive him," he said.