First maskless Christmas since COVID-19: Crowds swell at attractions as tourists return to Singapore
Businesses are taking precautions with hygiene and overcrowding as holidaymakers flock to attractions in the year-end festive season.
SINGAPORE: Attractions in Singapore have been pulling out all the stops to ensure their facilities are clean and safe, amid a surge in visitors during the year-end festive holiday period.
Most businesses that CNA spoke to said they have been seeing a much bigger crowd this year with tourists back in town, and expect even higher footfall in the lead-up to Christmas.
This marks the first year-end festive season where people are allowed to gather socially without wearing face masks, and without a limit on group size, since COVID-19 restrictions were put in place.
LARGER FESTIVE CROWD
One such establishment, the Museum of Ice Cream, said it has seen its number of patrons increase by about 50 per cent to 70 per cent since restrictions were eased earlier this year.
With the mask mandate mostly lifted, it has been easier for customers to engage with exhibits and take pictures, the Dempsey Hill attraction said.
Keeping up its reputation as a magnet for social media users, the museum recently jazzed up its exhibits and whisked up new flavours in a festive spin.
The museum said the "biggest difference" compared to 2021, is more tourists coming through its doors, as international travel gains traction following the pandemic.
The domestic crowd has not let up either, said Mr Pirakash T, head of the museum's Asia-Pacific operations, adding that demand for experiential attractions remains strong with Singaporeans.
Similarly, the Universal Studios Singapore (USS) theme park said that while ticket sales are still not at pre-pandemic levels, visitor numbers – particularly tourists from neighbouring Southeast Asian nations, as well as India and Australia – have gone up.
MORE INTERACTIVE ACTIVITIES
Attractions noted they are seeing increasing demand from visitors for more interactive and immersive elements, after over two years of pandemic-driven curbs that dramatically scaled back face-to-face interactions and physical shared experiences.
"We noticed post-pandemic that guests are looking for more interactive activities … they want immersive experiences," said Mr Markham Gannon, director of resort experience at Resorts World Sentosa, where USS is located.
Mr Gannon said that the theme park has hence put together a host of engaging activities for its visitors, including the return of its Christmas extravaganza featuring over 40 live performers.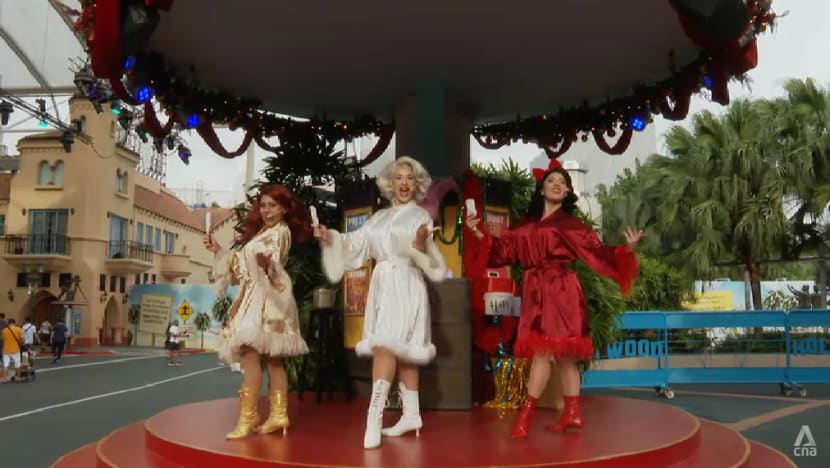 Snow City, Singapore's first indoor snow centre, has also ramped up on interactive features, many of which would not have been possible in the last two years.
An increasing number of snow seekers are donning heavy jackets, ear-muffs and gloves in sunny Singapore as they flock to the centre for cold weather activities, including bumper cars on ice and a winter shooting arena.
Mr Norazani Shaiddin, the attraction's general manager, said nightlife is flourishing as well, with the space transforming into a party venue during special events bookings.
Education programmes at the centre have also returned, with students visiting for sessions on cryogenic science – the study of the behaviour of materials at very low temperatures.
Although numbers are not yet that of pre-COVID – the snow centre used to see about 30,000 students a year – Mr Shaiddin said excursions are picking up and slowly returning to normal.
CROWD CONTROL, HYGIENE MEASURES
USS' Mr Gannon said that despite the theme park getting more crowded, social distancing since the pandemic has conditioned many to respect personal space.
"One thing we have noticed though is when (visitors) are watching shows, there seems to be a general consciousness about being respectful of people's space. There's a group consciousness that has changed since the pandemic and we're really enjoying that attitude from our guests," he said.
But even with the change in customer mindset, establishments are not taking any chances with overcrowding. Recent regional incidents have prompt businesses and event organisers to rethink and step up crowd control measures in Singapore.
Most ticketed attractions have a strict capacity, and many have maximised their space by placing activities in separate areas to avoid congestion.
"We always ensure that the crowd is within our capacity. That's our first safety factor. We always ensure that whoever wants to book Snow City … they cannot exceed the numbers allowed," said Mr Shaiddin.
He added that guests have to take turns to enter areas of the attraction and would not have to jostle for their share of the snow.
With concerns of a looming COVID-19 wave growing, businesses are also keeping up with hygiene practices.
"We've kept most of the cleanliness procedures we had during COVID, we have a high priority on ensuring sanitisation and that everything is hygienic. The safety of our customers is our utmost priority," said Mr Pirakash.