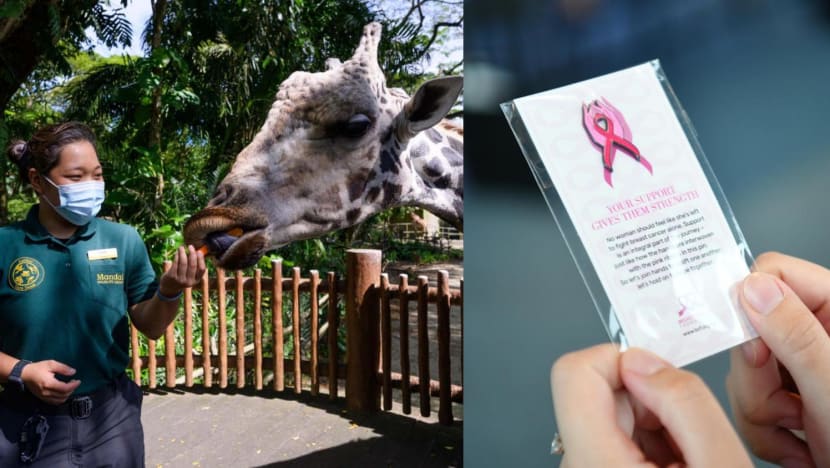 SINGAPORE: What better way to celebrate the season of giving than by giving back to vulnerable communities and those in need?
Volunteers form a significant core of manpower in the humanitarian and charity services sector, without which many activities cannot be carried out, members of the community told CNA938 on Monday (Dec 5). 
Not only does volunteering your time and energy embody this season's festive spirit, but you will also be making a big difference to those who need it most. 
From migrant workers and underprivileged children to Singapore's most beloved animals, here are seven places that need a helping hand. 
CHRISTMAS DRIVE: ITS RAINING RAINCOATS 
Its Raining Raincoats (IRR) is an initiative that aims to improve the lives of Singapore's migrant workers and facilitate their integration with the local community. 
The charity, which routinely hosts donation drives and other community programmes, is holding its fifth Christmas Giving Drive this year. 
"Singaporeans and residents from all walks of life can donate wrapped Christmas presents to migrant workers to show our collective appreciation for their hard work building the nation as well as forging strong community bonds," said the charity on its event website. 
IRR is open to receiving drop-offs from Nov 10 to Dec 31, 10am to 5pm daily at 470 Upper Paya Lebar Road. 
Members of the public can also contribute wrapping paper or help to wrap gifts. If you prefer to be out and about, sign up to be a "Christmas Santa" and help deliver gifts.
There are countless ways one can pitch in to make the workers' Christmas a jolly one. 
CHRISTMAS KETTLING: THE SALVATION ARMY
Do you have two hours to spare? Volunteer as a bell ringer with The Salvation Army to help raise funds during its Christmas Kettling activities at various shopping malls. 
Christmas Kettling is the organisation's signature event aimed at bringing joy to the needy via donations. 
Kettle pots will be at various malls from Nov 26 to Dec 22 from Mondays to Saturdays, with two-hour shifts from 11am to 9pm. 
The goal is to raise S$155,000 for The Salvation Army's various beneficiaries. 
The donations will go toward a slew of initiatives such as supporting welfare services for the elderly, counselling and intervention programmes for vulnerable children, food rations for struggling families, as well as physiotherapy and meals for malnourished migrant workers.
More information about registering as a volunteer is available on The Salvation Army's website. Those interested must be at least 16 years old, unless accompanied by a parent or guardian. 
VOLUNTEERING FOR WILDLIFE
If you love animals, volunteering your time to look after and care for them might just be the most rewarding thing you do this festive season. 
Animal shelters for cats and dogs are always in need of donations and manpower, but if you're looking to help creatures that are a little larger than your average pet, Mandai Wildlife Reserve is for you.
Volunteers are welcome at any of the four sites: Singapore Zoo, River Wonders, Night Safari or Jurong Bird Park. 
Sign up to be a Docent or a Conservation Ambassador and engage guests on wildlife conservation. The best part? You do not need prior experience as training will be provided. 
If you meet certain prerequisites, you can also sign up as a Keeper Volunteer to assist the Animal Care team with their daily tasks such as maintaining the animal dens and assisting the team during token feeding sessions. 
Aquarist Volunteer roles are open to those with valid diving certification as some of the tasks require scuba diving - you'll be able to get up close and personal with the marine exhibits during feeding and handling sessions. 
More information about the application process, time commitment, prerequisites and donation fees is available on the Mandai Wildlife Reserve website. 
YOUTH FOR SENIORS: FEI YUE COMMUNITY SERVICES
Volunteer your time and skills and make a new friend in the process. 
Fei Yue's Youth for Seniors initiative needs volunteers aged 16 to 25 to serve seniors in the community by sharing skills and knowledge. 
"Volunteers will get to actively participate and contribute ideas for workshops, facilitate sessions, as well as teach, share and interact with seniors," said Fei Yue on its website, adding that these youth volunteers will also experience "intergenerational interaction" and be part of the senior's active ageing journey. 
Register online for this initiative that runs until March 2023. About 100 openings are currently available.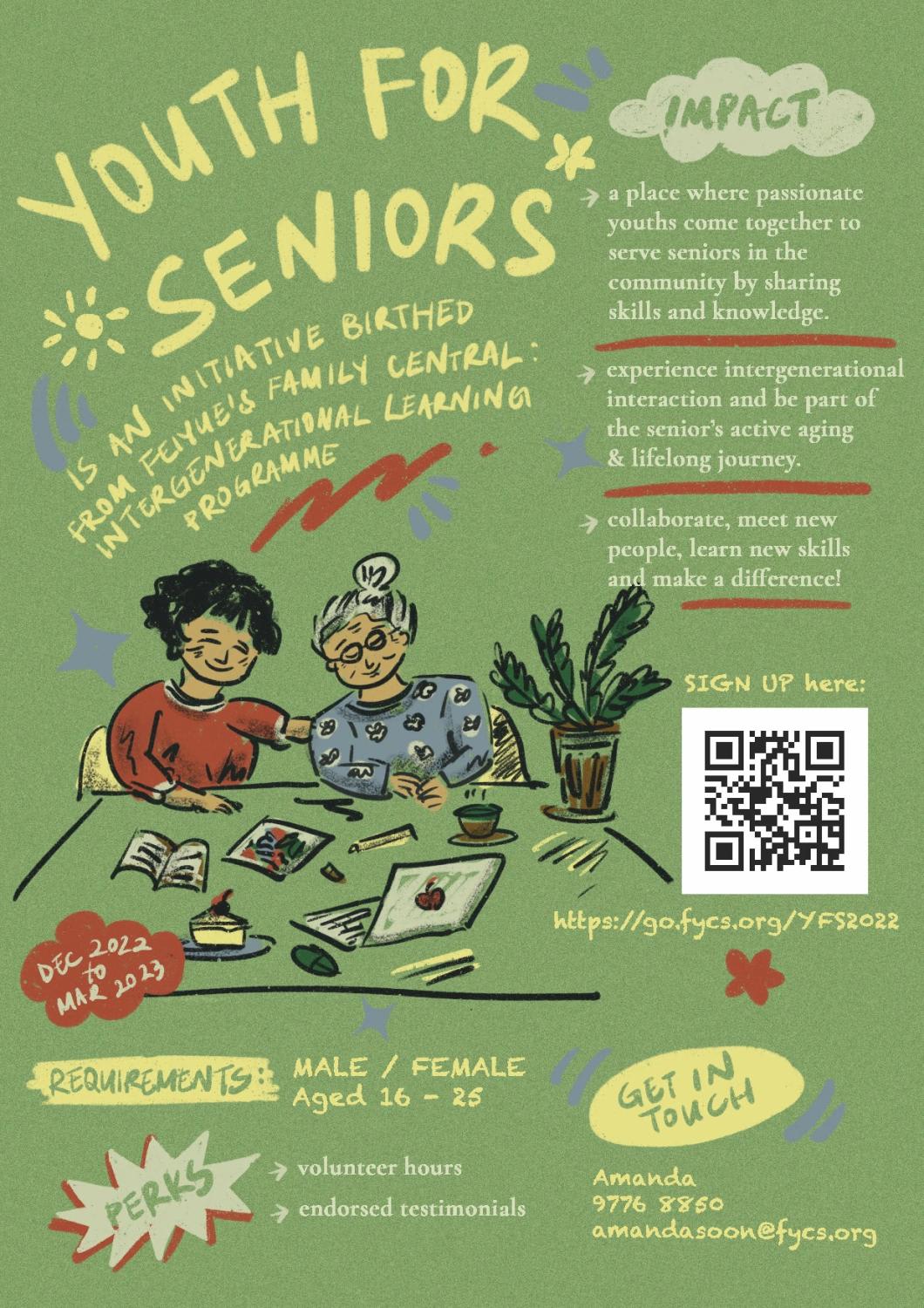 PINK BAZAAR: BREAST CANCER FOUNDATION SINGAPORE
Indulge in some festive retail therapy for a good cause at the Breast Cancer Foundation's Pink Bazaar on Dec 11.
There will be a range of cosmetics, handmade crafts, fashion accessories and other items up for grabs at the foundation's headquarters at Block 441 Sin Ming Avenue from 12pm to 5pm. 
Volunteers are needed to help run the bazaar as well. According to the event listing on the giving.sg website, the foundation is in need of volunteer ushers, sales booth and retail managers as well as an event photographer. 
It is also looking for people to run "fun booths" that offer activities such as balloon sculpting and face painting. 
MEALS ON WHEELS: TOUCH COMMUNITY SERVICES
Meals-on-Wheels, organised by TOUCH Community Services, is a meal delivery programme serving the elderly. 
The beneficiaries, who usually live alone, depend on the programme's volunteers to get their meals every day.
Distribution locations include areas around Bukit Batok, Toa Payoh, Whampoa, Bendemeer, Geylang Bahru, Potong Pasir, Bishan, Ang Mo Kio and Jurong. 
Car owners, drivers and delivery personnel are needed to keep the service going, especially volunteers that are available on weekdays. 
Further information on becoming a meal runner and the time commitment required is available on the TOUCH Community Services website.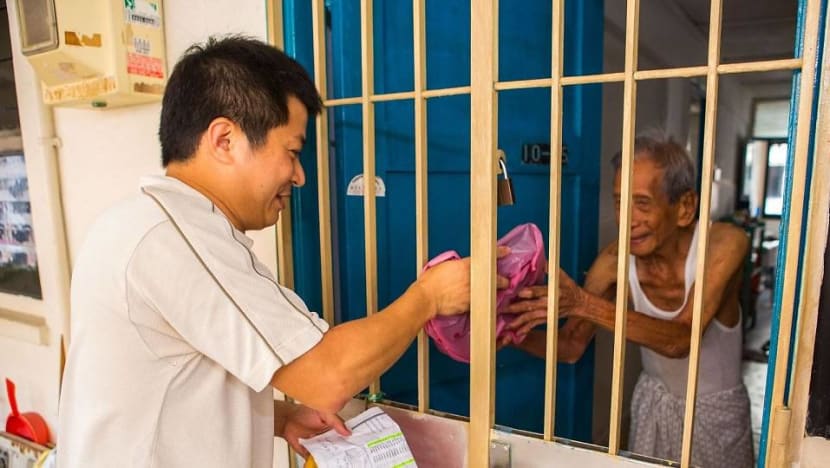 A DECEMBER TO REMEMBER: SINGAPORE CHILDREN'S SOCIETY
The Children's Society is one of the few organisations in Singapore to build its own crowdfunding platform where people can easily donate or create fundraising campaigns with just a click. 
 
This December, the society recorded its very own rendition of the 12 Days of Christmas but with a twist. The lyrics celebrate their staff members, beneficiaries and everyone who has helped the society and its children in the last few years.
Twelve versions of A December To Remember: 12 Ways to Sing and Sleigh were recorded, and each song will be progressively revealed from Dec 14. Both a celebration and a fundraiser, donate to their campaign and share in their Christmas joy. 
Singapore Children's Society also seeks volunteers all year round, in various capacities to support their work with underprivileged children. 
The latest information on the available vacancies can be found online.