CNA Explains: What you should do if you are being chased by a fake police vehicle while driving in Malaysia
An incident in which a driver was tailed by a suspected fake police vehicle in Johor made headlines recently, prompting netizens to express concern about what to do when faced with a similar situation while driving on Malaysian roads.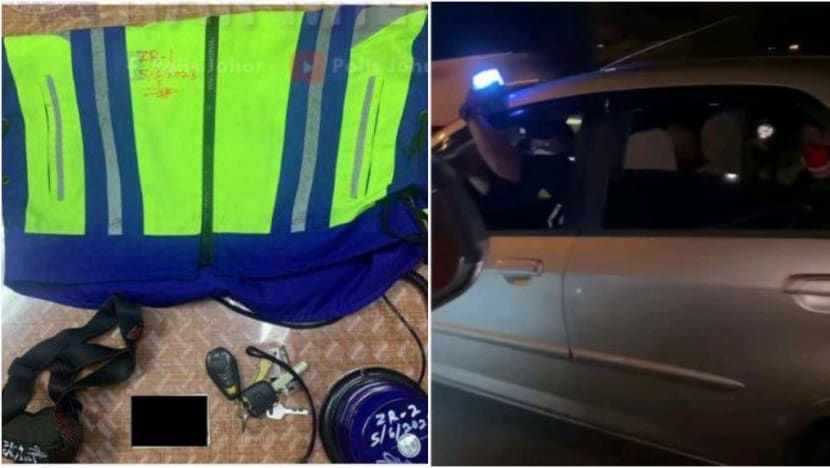 JOHOR BAHRU: Malaysia police on Tuesday (Jun 6) announced that two men were arrested for posing as police personnel and mounted an expressway car chase in which they allegedly tailed a driver who was travelling from Singapore to Genting Highlands. 
Investigations were launched after the Kulai police department received a report on Monday regarding footage of the incident that was widely shared on social media. 
The incident is believed to have taken place along the North-South Highway near the Sedenak exit in Kulai, which is in the state of Johor. 
The video of the incident - which has since gone viral - was uploaded on Facebook by user Freeman Gan WT. It showed him being chased by three men in a grey car. 
In his Facebook post, Freeman Gan WT said that he initially believed the individuals chasing him were real police officers as he observed flashing blue lights on their vehicle. The clip also showed that the three individuals chasing him were wearing reflective vests and masks.
Aside from this latest incident, there have been other cases of police impersonations. In July 2022, Malaysia police said it had seized a Nissan Skyline car which had "logo and design resembling a police vehicle". 
Some netizens have expressed concern that when faced with a similar situation, it may be difficult to discern whether they are being chased by police officers or individuals with criminal intent.
CNA finds out how motorists can ascertain whether the vehicle in pursuit is official police while driving on Malaysian roads. And what should they then do if they suspect that they are being pursued by fake cops?
TRAFFIC VIOLATIONS USUALLY ATTENDED TO BY MARKED PATROL CARS: POLICE 
In response to queries from CNA, a spokesperson from Malaysia police said that official cops use two different types of cars for operations - marked and unmarked ones. 
The spokesperson said that marked cars are patrol vehicles and they are typically recognisable by the official Royal Malaysia Police (PDRM) logo on the side of the doors and a "rectangular siren box" on top.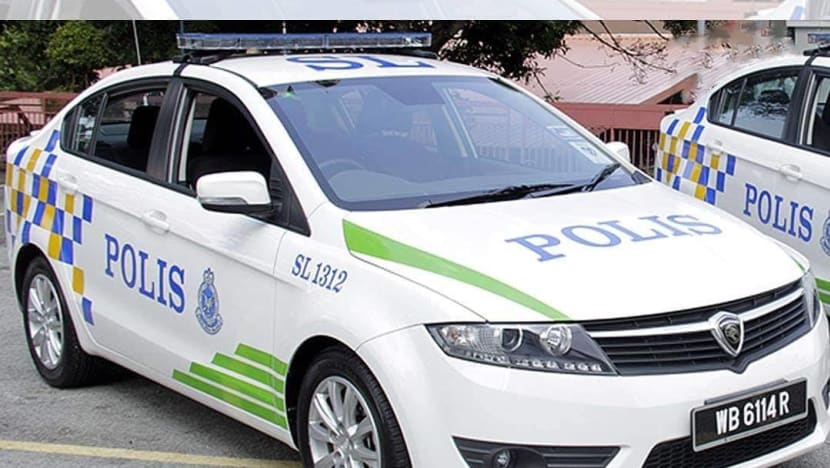 The spokesperson added that unmarked cars are indiscernible from normal cars on the road and they are typically used for covert operations. 
"However, traffic violations along highways are usually attended to by marked patrol cars," said the spokesperson.
The spokesperson added that motorists who are not the target of any specific criminal investigations are then unlikely to be stopped by unmarked police cars. 
However, Tengku Ahmad Marwan Tengku Mahmud - a road safety affiliate with the Malaysian Institute of Road Safety Research (Miros) - told CNA that there may be some occasions where police officers use their own private vehicles for investigation and this may complicate matters. 
"I have seen police officers or detectives investigating criminal cases use their own private cars and they too use portable beacon lights so I understand that it can be difficult to ascertain," said Tengku Ahmad Marwan. 
"Perhaps police should outline clearly to the public what vehicles they use for which operations so that it's clear," he added. 
WHAT SHOULD MOTORISTS DO? 
If a motorist suspects that they are being pursued by fake cops, what then should they do? 
Tengku Ahmad Marwan, who is also a member of the Selangor state road safety council, stressed that motorists faced with such a situation must maintain composure.
He said that it would be most ideal for the motorist to stop at a nearby police station. However, if this is not practical, motorists are advised to only pull over in a well lit area with crowds around. 
"Firstly, do your best to ascertain whether the car in pursuit is an official police vehicle. But once you are confident that it is a fake, you have to stay calm," he said. 
"Stop your vehicle at a place where there are crowds or members of the public around, like a petrol station or a highway rest stop. Ensure you are stopping at a well lit area with people around. This will make it less likely for you to get robbed or attacked," added Tengku Ahmad Marwan.
He also stressed that drivers remain calm to ensure that they continue to drive safely and not endanger others on the road. 
"Always ensure safety while driving. Even when placed in this situation where you are being chased by (suspected) fake police officers and have to quicken your speed to safely get away, ensure you have control of your own vehicle and do not hit other vehicles or motorists," said Tengku Ahmad Marwan. 
The state assemblyman for Senai, Mr Wong Bor Yang, echoed similar sentiments.
In a Facebook post on Monday, Mr Wong urged motorists who suspect they are being pursued by fake cops to "drive to the police station in a safe manner" and make a report, providing details such as the vehicle's licence plate as well as its make and colour. 
"If you are indeed stopped by someone claiming to be a police officer, you have the right to request for their identification and enquire why you were stopped," wrote the Democratic Action Party politician. 
He added that those who impersonate police officers may be charged under section 170 of the Penal Code.
Read this story in Bahasa Melayu here.