Contra lanes at both land checkpoints should be opened to ease traffic congestion: JB chief minister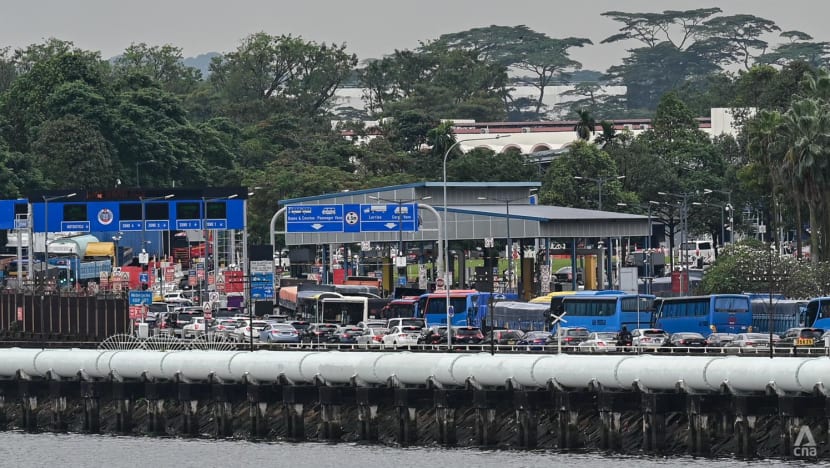 JOHOR BAHRU: The Johor state government has recommended the opening of the contra lanes at both the Sultan Iskandar Building (BSI) and the Sultan Abu Bakar Complex (KSAB) in a bid to alleviate heavy traffic congestion.
Close to 250,000 travellers departed Singapore through Woodlands and Tuas Checkpoints on Jun 1 - the highest since the reopening of the land borders, the Immigration & Checkpoints Authority (ICA) said on Friday (Jun 2).
This was due to the Vesak Day long weekend as well as the June school holidays, ICA added, leading to "continuous tailbacks". 
On the heavy traffic, Johor chief minister Onn Hafiz Ghazi said in a Facebook post on Friday night that the congestion had been "extraordinary" and the state government was working to alleviate the issue.
"To ensure that this does not happen again, I have asked the management of BSI and KSAB to consider opening the contra lanes specifically for travellers using the walkway and public transport, especially during school holidays or long holidays," he added.
"This contra lane can be activated for inbound and outbound movements from the country during certain periods, such as school holidays or festive seasons."
Mr Onn Hafiz, who was at the BSI on Friday, also said that travellers using the Causeway and the Tuas Second Link should plan their journey in advance so as not to get caught in the traffic jam.
Photos of the congestion at the BSI have been shared on social media since Friday.
Malaysian police have also advised road users, especially foreign drivers using the entry and exit routes in Johor, to abide by the country's traffic rules.
"Today (Jun 2), the main entry point into the country from Singapore was congested at the Sultan Iskandar Building (BSI) and Sultan Abu Bakar (KSAB) Complex due to an increase in the number of travellers from the republic," Johor police chief Kamarul Zaman Mamat said.
"Johor police have taken proactive measures to ensure smooth traffic flow at the premises involved."
He added that summons were issued to travellers caught jumping the queue were issued summons and they were told to turn back to Singapore to ensure smooth traffic flow at BSI and KSAB.
Mr Onn Hafiz also warned in a Facebook post on Friday that vehicles attempting to bypass the queue when entering Malaysia via the two land checkpoints will be denied entry and redirected back to Singapore.