250,000 travellers departed Singapore via Woodlands, Tuas Checkpoints on Jun 1
This is the highest departure volume since the reopening of land borders, said ICA.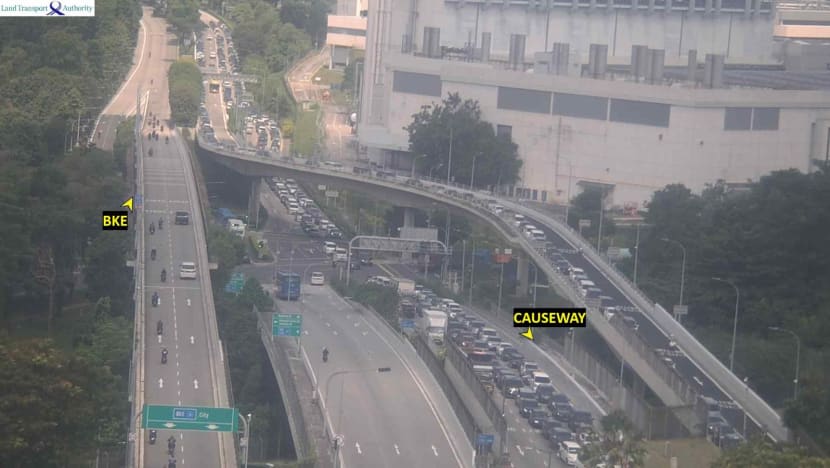 SINGAPORE: Close to 250,000 travellers departed Singapore through Woodlands and Tuas Checkpoints on Jun 1 - the highest since the reopening of the land borders, the Immigration & Checkpoints Authority (ICA) said on Friday (Jun 2).
This was due to the Vesak Day long weekend as well as the June school holidays, ICA added.
ICA said it "observed continuous tailbacks from Malaysia at Woodlands Checkpoint resulting in vehicular queues extending beyond SLE (Seletar Expressway)". 
On the traffic congestion, Johor chief minister Onn Hafiz Ghazi warned in a Facebook post on Friday that vehicles attempting to bypass the queue when entering Malaysia via the two land checkpoints will be denied entry and redirected back to Singapore.
He also thanked the Malaysian police officers who are on duty to control traffic congestion at the Sultan Abu Bakar Complex.
TRAFFIC TO REMAIN HEAVY
Traffic is expected to remain very heavy at both land checkpoints with continuous tailbacks from Malaysia's checkpoints for departing motorists, said ICA.
Those who wish to depart to Malaysia or enter Singapore via the land checkpoints by car or bus are advised to factor in additional waiting time for immigration clearance.
ICA also requested patience from travellers and that they should observe traffic rules, maintain lane discipline and cooperate with officers on-site when using the land checkpoints.
In a Facebook post on Friday afternoon, ICA said it had enforced the "no right turn" rule for drivers seeking to enter Woodlands Checkpoint from Woodlands Centre Road.
Drivers are to find alternative routes to Woodlands Checkpoint like the Bukit Timah Expressway or Woodlands Road, and are reminded to maintain lane discipline and cooperate with officers performing traffic control duties on site, it added.
Close to 1.4 million travellers crossed the land checkpoints over the Good Friday long weekend in March, with an average of about 350,000 crossings a day.