Singapore to replace passport scanning with QR codes for travellers in cars from early 2024
The Automated Passenger In-Car Clearance System will be rolled out at Singapore's land checkpoints in phases.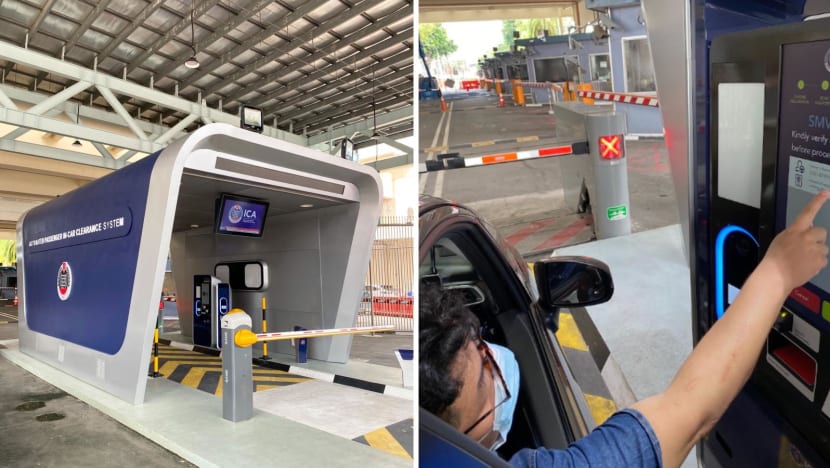 SINGAPORE: Travellers crossing Singapore's land checkpoints in cars will be able to clear immigration with QR codes instead of their passports from early 2024.
This will be rolled out at all counters for cars at Woodlands and Tuas checkpoints.
Dedicated lanes for automated in-car clearance using QR codes will then open at Tuas Checkpoint from 2026, followed by the redeveloped Woodlands Checkpoint from 2028.
The Immigration and Checkpoints Authority (ICA) made these announcements at its annual workplan seminar on Friday (May 5), where it outlined upcoming initiatives.
The Automated Passenger In-Car Clearance System (APICS) was developed by the Home Team Science and Technology Agency (HTX). Its roll-out follows live trials that started last year.
Travellers crossing Singapore's land checkpoints in cars will be able to clear immigration with QR codes instead of their passports from early 2024. This will be rolled out at all counters for cars at Woodlands and Tuas checkpoints. Marcus Tan reports.
When fully implemented, the automated system will allow travellers to perform "self-clearance" in the comfort of their cars with minimal intervention by officers, ICA said.
HOW IT WORKS
In the first phase from early 2024, the in-car clearance process will not be fully automated as officers will still be stationed at the manual counters.
Before their journey, travellers will create a profile and generate an individual or group QR code on the MyICA mobile app, using details from Singpass or their passports.
At the checkpoint, they will be able to scan the QR code themselves at the counter. They will not need to present their passports to the immigration officer.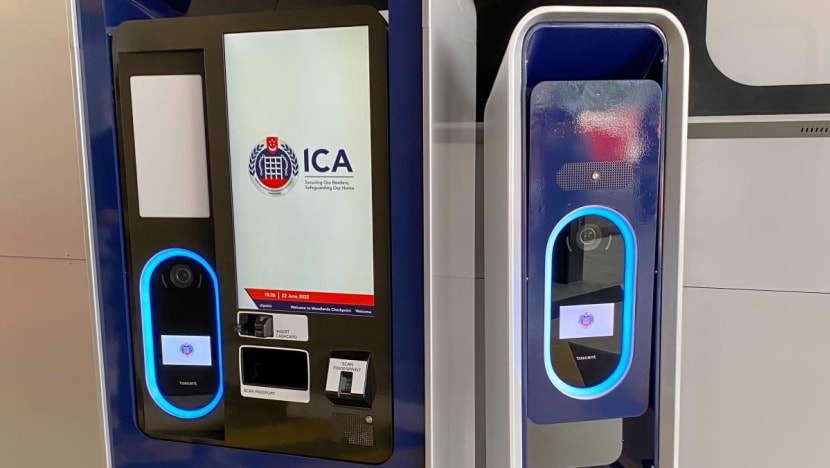 The officer will then conduct "facial image checks" of the passengers in the car using data retrieved through the QR code.
"This will allow group clearances to be completed much more quickly and reduce the overall time taken to clear immigration," said ICA.
Travellers will be able to save the profile that they have created and use it for future trips, without having to key in their details again.
"Family members travelling together, for example, will not need to regenerate the information for subsequent trips, unless there are updates to their passport details," said ICA.
When dedicated APICS lanes are subsequently rolled out at Tuas and Woodlands checkpoints, travellers will still scan the QR code generated by the MyICA app themselves.
They will then present their biometrics for identity verification through APICS' contactless biometric scanners.
"This will remove the need to station an officer at every car lane, allowing us to open more lanes," said ICA.
Trials of APICS started last year at Woodlands Checkpoint. About 94 per cent of travellers were able to clear immigration through APICS without assistance from officers.
"The majority found the process to be intuitive and faster compared to manual clearance," said ICA.
The agency added that it would work with HTX to further improve the concept of operations for APICS before its roll-out at all land checkpoints.
NO MORE MANUAL COUNTERS
From the first quarter of 2024, ICA will also progressively replace manual counters at the passenger halls of all checkpoints with about 800 new automated lanes under the Automated Border Control System (ABCS).
"Automated immigration clearance will become the norm at checkpoints," said Deputy Commissioner for Policy and Transformation Cora Chen.
The next-generation ABCS lanes will allow arriving and departing Singapore residents as well as departing visitors to enjoy contactless clearance, without having to present their passports.
"This will provide travellers with an even smoother and speedier clearance experience, while enabling ICA to cope with rising traveller volumes and limited manpower resources," said the agency.
Currently, under the Automated Clearance Initiative introduced in May 2022, passport holders from 51 jurisdictions can use selected automated lanes to clear immigration without prior enrolment. However, they must still present their passports.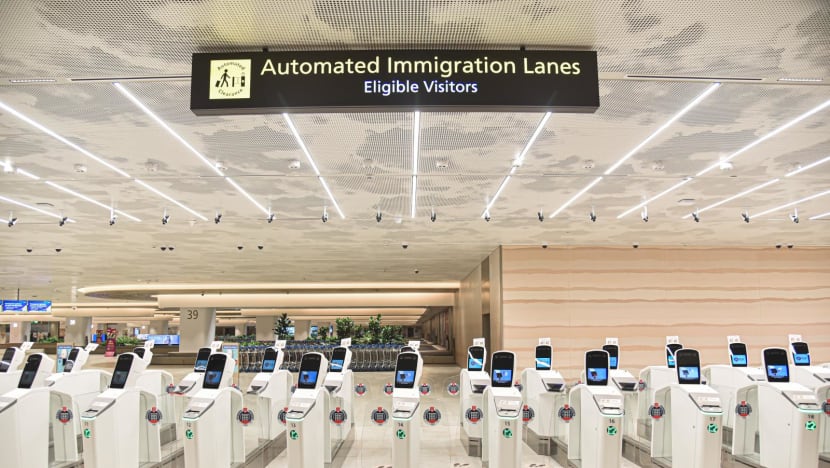 INTEGRATED SERVICE CENTRE TO OPEN IN 2024
A new integrated ICA Services Centre located next to the existing ICA Building in Lavender is expected to become operational in 2024.
ICA currently has three service centres. Individuals may have to queue up at different centres depending on the assistance required. 
The integrated ICA Services Centre will provide a "seamless, one-stop service" where people can be served at a single touchpoint even if they require different services, said the agency.
The 10-storey structure was first announced in 2019. It will feature an Integrated Smart Document Management System (iSMART) for customers to collect documents like their identity cards and passports by themselves.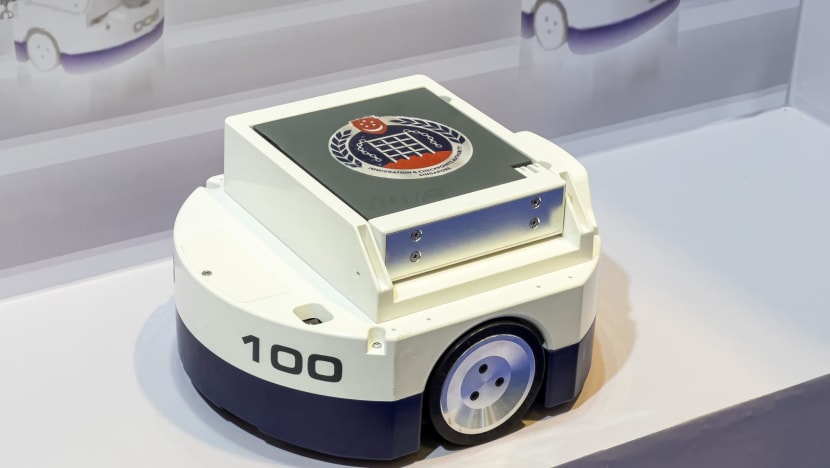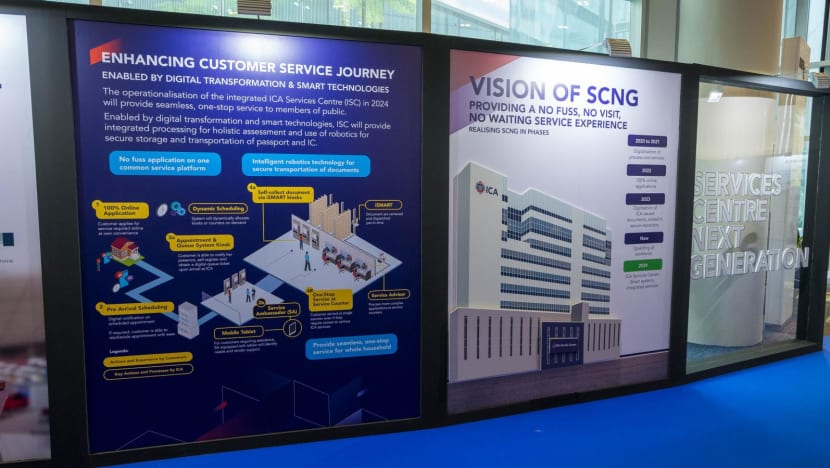 USING AI TO SCAN CARGO
ICA also announced that it is trialling the use of artificial intelligence (AI) to detect anomalies in scanned images of cargo, parcels and baggage.
Singapore has been expanding the use of automation and paperless clearance in its cargo clearance process. But officers are still needed to manually analyse radiographic images of cargo that pass through the checkpoints, said ICA.
The use of AI will strengthen Singapore's ability to detect potential threats in cargo and stop their entry, said the agency.
ICA added that as its operations transform, its officers will be trained to take on more diverse and higher-value roles to safeguard Singapore's borders.
With automated immigration clearance, officers will undertake a wider role of responsibilities as assessment and investigation officers, said ICA.
This will involve conducting real-time ground observations and identifying suspicious travellers for interviews and checks.
This year, ICA officers also took over the protective security duties that the police used to perform at land checkpoints.