JAKARTA: Indonesian Erwin, not his real name, felt his world instantly collapse last month.
The 58-year-old coffee sachet seller, who usually cycles the streets of Bandung in West Java to sell his brew, was struggling to make ends meet due to COVID-19 restrictions.
But that was not his only sorrow. 
"Our child had a fever, he couldn't eat because he had a sore throat. If he ate, he would vomit," Mr Erwin spoke of his youngest child.
"I just gave him some medicine. I didn't dare to bring him to a hospital because I didn't want to be separated from him since he was physically disabled."
After three days, his 11-year-old son started to have difficulties breathing and Mr Erwin decided to take him to a local health clinic. 
"We brought him to a health clinic and they provided intravenous (IV) infusion, and performed a polymerase chain reaction (PCR) test on him. It was positive. He only spent a night at the health clinic and then he passed away.
"I regret not taking him straight to a hospital. I didn't know it was COVID-19. At that time I was confused about whether to take him to a hospital or not, I didn't have the money. My god, I really regret this until now."
As COVID-19 drags on, children in Indonesia have not been spared. 
At least 1,065 children have died due to COVID-19 in the country since the start of the pandemic, said Professor Aman Pulungan, head of the Indonesian Paediatric Society (IDAI).
The number of fatalities has increased amid the deadly second wave of infections, with more than 100 deaths recorded per week since July, he claimed. 
"This is not a good situation of course," Prof Pulungan told CNA, adding that the fatality rate among children in Indonesia is likely the highest in the world.
He also said that at least 207,000 children have contracted the disease in Indonesia. Out of this, around 90,000 of them contracted the virus since Jul 14.
Children now make up about 12.5 per cent of the country's confirmed cases, an increase over previous months, said Prof Pulungan.
However, he pointed out that the data may not necessarily showcase the true scale of the situation, as COVID-19 testing in Indonesia is low at between 100,000 and 200,000 daily tests in the country of 270 million people.
With more than 3.6 million cases and 104,000 deaths so far, experts are worried more children will die. They have urged the authorities to take immediate actions to prevent more deaths.
HEIGHTENED RISK FOR INFANTS 
Another parent who had to endure the loss of a child is Mdm Tantien Hermawati, 35. 
Recounting the day when she lost her baby last December, the housewife from Tuban regency, East Java, said the obstetrician detected a heart defect in her fetus during the eighth month of pregnancy. 
She was advised to seek treatment in East Java's capital Surabaya but was hesitant because COVID-19 cases were raging there. 
She managed to give birth normally in Tuban, but after 1.5 months, those around her noted that her baby appeared to be "blue".
Mdm Hermawati eventually went to Surabaya and the baby underwent a cardiac catheterisation to diagnose and treat heart conditions.
It was unsuccessful and her child needed to undergo a second operation. He was swabbed and tested positive.
"My baby was isolated for about 14 days until he passed away in December 2020," she told CNA.
She did not know how he contracted the virus and she herself was negative for COVID-19.
Prof Pulungan said that about 42 per cent of child deaths in Indonesia due to COVID-19 had occurred among those aged below a year. This meant that they were born during the pandemic.
"This means our system is not okay. The monitoring system during pregnancy or post-birth," he surmised.
Prof Pulungan, who is also the executive director of the International Pediatric Association (IPA), added that comorbidity is the underlying factor for fatality involving infants under the age of one.
Common comorbidities include congenital heart disease, he said, while the fact that babies cannot wear masks also contributes to the problem.
Mr Edhie Rahmat, Indonesia's executive director at non-profit health care group Project HOPE, said that one possible reason why babies are contracting COVID-19 and subsequently pass away may be due to how people tend to visit newborns after they have been discharged.  
Loved ones visiting the babies and mothers may unconsciously spread COVID-19, he noted.
"It is heartbreaking. It is a tradition to celebrate newborns, and it is difficult for a mother and family to refuse visitors who are not complying with health protocols ... However, it's now a grave risk to take." 
MULTIPLE FACTORS CONTRIBUTE TO DEATHS
There are other factors in play as well. 
Mr Tata Sudrajat, deputy chief for programme impact and policy of non-governmental organisation Save the Children in Jakarta, said that there are at least three main reasons why children die from COVID-19. 
Lack of malnutrition, access to health care, and compliance to health protocols are the most notable ones.
"Since the start of the pandemic last year, Indonesian children are among the highest in missing routine vaccination, critical health and nutrition services, which further make them at risk of infection and death with aggregating malnutrition or underlying medical conditions in early life," said Mr Sudrajat.
The number of affected children is also dependent on how many adults are infected by COVID-19 as many of them contracted it from their parents.
He noted that if a family member is infected and self-isolating, other family members are also at risk, especially since the conditions at home are not appropriate for self-isolation, he said.
"Children infections and deaths are increasing and it seems it will keep increasing if the situation is not changed," Mr Sudrajat told CNA.
In recent weeks, the Delta variant is the main variant found in most COVID-19 cases in Indonesia, but Prof Pulungan said it is unclear whether it is the main reason why deaths among children are increasing.
He highlighted that for the past few weeks the problem is the health system is also overwhelmed due to a surge in infections.
"If at the same time everyone is ill and the health system is collapsing and there are not enough beds for children, not enough beds for babies, then what to do?"
He noted that there are about 18,000 new children infections nationwide per week.
If at the very least, 1,000 of them require intensive care unit (ICU) or neonatal intensive care unit (NICU), then the country is not well-prepared, he added, explaining that there are currently less than 1,000 ICU beds catering to children nationwide.
CALL FOR ACTION
Thus, Prof Pulungan urged the government to add more hospital beds for children, enhance testing and tracing as well as speed up vaccination for adolescents, who make up about 30 per cent of the country's population.
Dr Siti Nadia Tarmidzi, the government's spokeswoman for COVID-19 handling and vaccination noted during a July press conference that at the moment there is no vaccine suitable for children. "The only protection is a tight health policy," she said.
Mr Sudrajat of Save the Children concurred. "Without help from the international community through COVAX, the COVID-19 crisis in Indonesia will quickly spiral out of control. We hope that the international community is listening."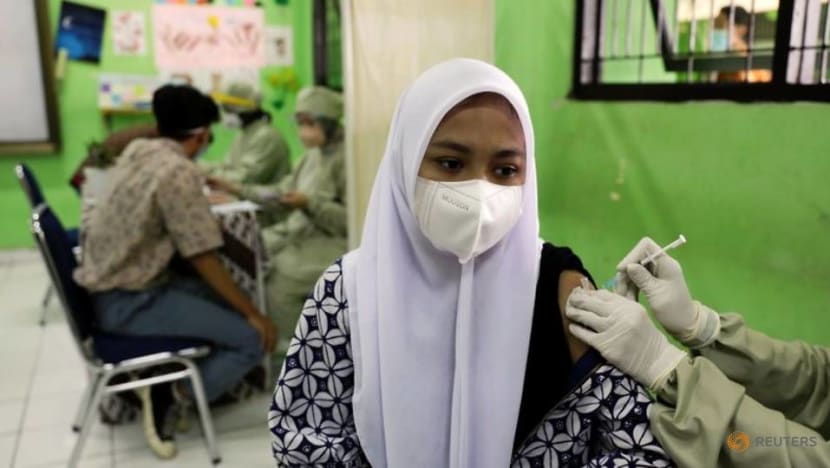 He also suggested spreading more public awareness of COVID-19 by providing information and social assistance, counselling and hotline services.
Meanwhile, Mr Erwin the coffee sachet seller is now extra vigilant.
After the death of his third child on Jul 15, the entire family was swabbed.
His wife also tested positive and had to self-isolate.
"Now I really take care of my wife, I don't want to lose another family member. I truly regret it.
"My son dreamt of becoming a soldier even though he was physically disabled. But he is dead now."
Read this story in Bahasa Indonesia here.