Malnutrition and diabetes: Lack of proper nutrition in India causing two-pronged problem
By 2045, the number of diabetes patients in the country could exceed 120 million.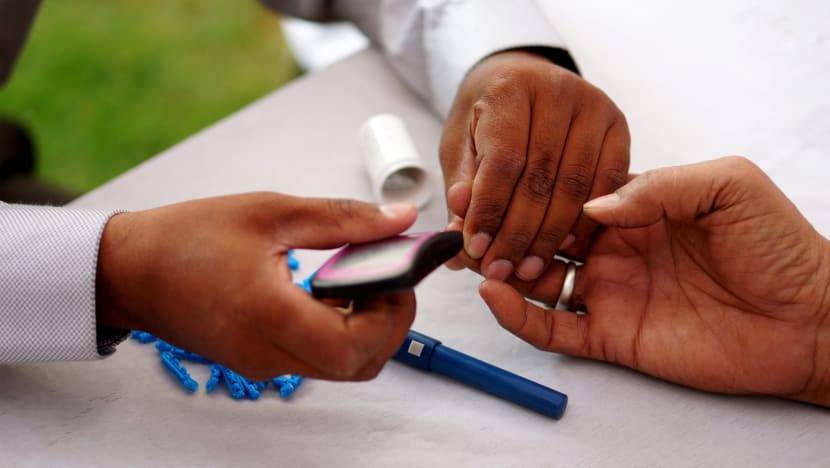 NEW DELHI: Mr Ankur Agrawal has lived with diabetes since his mid-30s, when his diet consisted mostly of processed food.
He has made big changes to his diet since then. Now, he says he is better informed about proper nutrition – something that may have helped him potentially avoid diabetes in the first place.
"If I'd known that this is something which can help me, I would have exercised more, I would have avoided sugar and fried stuff at that time. I would have stopped eating out. I would have stopped eating at irregular times," he said.
While poverty and skyrocketing inflation have put healthy food like green vegetables, nuts and lean meat out of reach for many in India, fast-food items like fried fritters are still cheap and readily available.
Unhealthy food options are popular among those who cannot afford a nutritionally-dense meal, as well as for those who are short on time, like many business owners and corporate employees.
Analysts said easy accessibility to such foods may be moving the country towards a diabetes epidemic. 
Mr Ankur is among more than 74 million diabetics in the country. The International Diabetes Association said millions more could be undiagnosed, and health experts have warned that the country is sitting on a diabetes "time bomb". 
The Indian Council of Medical Research says India has witnessed a 150 per cent increase in diabetic patients in the past three decades.
By 2045, the number of diabetes patients in the country could exceed 120 million, and this could bring with it a host of other related health problems, such as heart disease and stroke. 
FOCUS ON FOOD
Common as diabetes may be, people can begin to manage or avoid the disease by focusing on their diet, dietitians said.
About 80 per cent of the disease is related to nutrition, said Ms Amrita Sharma, a dietician at Medanta Hospital.
"Diabetes is nothing but your metabolic disorder. It's all about your lifestyle," she said. "If you're consuming too many carbohydrates, you're not exercising, then you end up getting this metabolic disorder."
On the other end of the spectrum, Ms Kajal Rekha has suffered from anaemia for nearly a decade.
Anaemia is more common among women in India than in other parts of the world, afflicting more than half of all women of childbearing age in the country.
Like many of them, Ms Kajal struggles to find the money to pay for both the right nutrition and medical support.
According to the World Health Organization, one of the main causes of this deficiency of healthy red blood cells is a diet lacking in iron, vitamin B12 and folates.
"When I was pregnant with her (her baby) my kidney wasn't functioning well. My haemoglobin level was very low. I went to the doctor, but they said it'll cost me US$125. I couldn't afford it," she told CNA.
She now receives help from charity Sukarya, which helps underprivileged women like her fight malnutrition. The charity conducts monthly check-ups at a free health camp. 
Sukarya has worked with a community of ragpickers just outside the capital of New Delhi for several years, giving them free medicine, nutritional advice and healthy food packets.
Their efforts go towards mitigating malnutrition, a nationwide problem, which has given rise to concerns that it could cost the nation its next generation.
India's recent National Family Health Survey reported that more than a third of the children in the country suffer from stunted growth.
Sukarya's founder Meera Satpathy is also seeing it among the children in the community that her charity serves.
"(If) they do not have normal weight and height, they will not have the required brain development. They will have concentration issues. So, what will happen? They cannot study properly and they cannot be fully fledged human beings, citizens," she said. 
A lack of understanding about what to eat appears to lie at the core of India's double trouble.
In 2017, India launched an initiative to battle malnutrition by providing free nutrition supplements and more nutritious school meals.
It is a step towards helping people in India eat right, which experts say along with informing the masses, could help India battle both malnutrition and diabetes in its population.