Diner in the landfill lets patrons pay for lunch with plastic waste
Residents who live around the Jatibarang landfill in Semarang are party to innovative solutions to reduce the mountain of trash – such as by tapping the methane gas to cook with.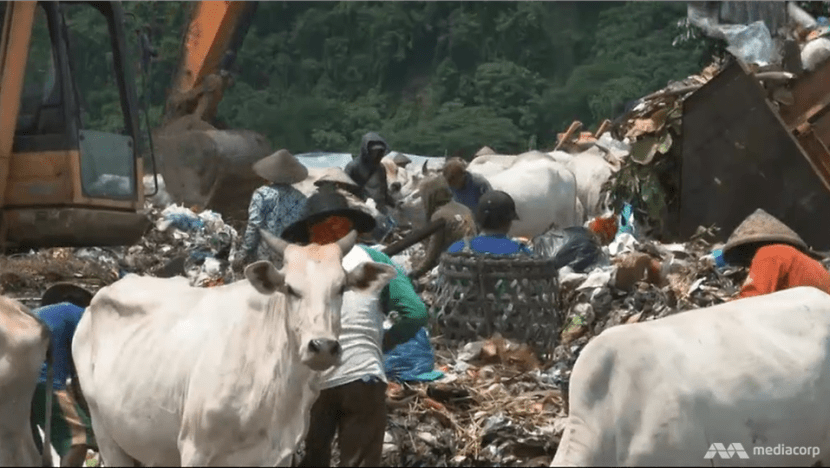 INDONESIA: The Methane Gas Canteen is an eatery like no other – it's situated right in the middle of the Jatibarang Landfill in Semarang, Central Java, surrounded by mounds of putrefying waste, household rubbish, broken glass and plastic.
Every day, while men, women and children dig through mountains of trash collecting plastic and glass bottles to sell, husband and wife team Sarimin and Suyatmi are busy cooking.
Their customers? Cash-strapped scavengers who have the option to pay for their meals with plastic waste instead of money - part of the community's novel solution to recycle the non-degradable plastic and reduce waste in the landfill.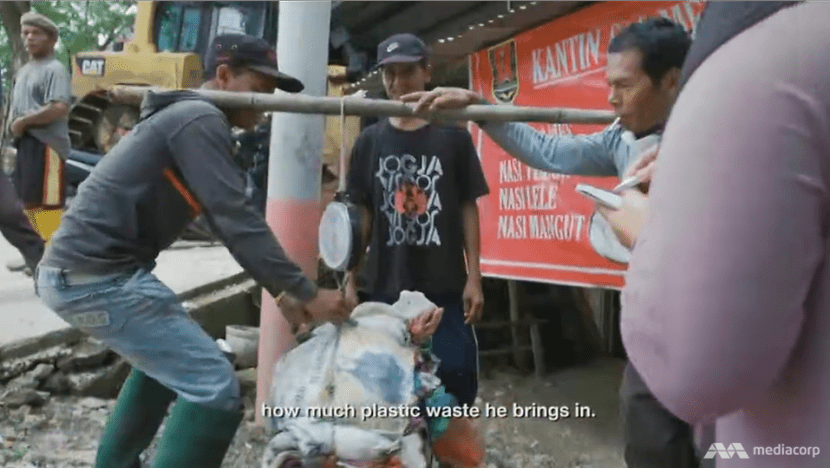 Mr Sarimin, 56, weighs the amount of plastic each customer brings to the diner and calculates how much it is worth. This value is then deducted from the cost of the meal, or any surplus value refunded to the customer.
"I think we recycle 1 tonne of plastic waste a day, which is a lot. This way, the plastic waste doesn't pile up, drift down the river and cause flooding.
"This doesn't only benefit the scavengers, it benefits everyone," said Mr Sarimin.
WATCH: How this works (2:08)
The couple were profiled in a recent episode of Indonesia's Game Changers, a series about inspiring individuals whose creativity and perseverance wrought changes around them. (Link: Watch the full episode here)
The diner, which seats about 30 people, serves dishes like mangut rice with catfish and rice with boiled egg for between US$0.40 and US$0.80 each.
Opened in January 2016, the diner was the brainchild of Mr Agus Junaedi, the former head of Jatibarang Landfill. He was tasked in 2014 by Semarang's mayor Hendrar Prihadi to reduce the amount of plastic waste in the landfill. Some 800 tonnes of waste end up in this landfill every day, and 40 per cent of it is plastic waste.
Mr Agus said that price of plastic was drastically devalued at that time, at around US$0.04 per kg. "Naturally, no one wanted to collect plastic waste. So, we thought, why don't we get the scavengers to pay for their meal with plastic waste" he said.
FREE METHANE GAS FROM TRASH
Mr Sarimin said he and his wife have doubled their daily income by opening the diner, compared to just scavenging alone. They make about US$15 a day now, half from the diner business and the other half from scavenging and selling the waste plastic that they collect.
The couple also utilises methane gas from the organic waste around them to fuel their stove, reducing their overhead costs. When waste is deposited in a landfill, it decomposes and produces methane gas.
Mr Agus said they decided to exploit the methane gas content in the landfill after a fire in 2014 destroyed almost 10 acres of land there. They realised that the methane gas content in the landfill could be a valuable commodity.
In Jatibarang Landfill, the waste is first flattened and then covered with soil to contain the gas. Holes are drilled into the ground and pipes are installed to extract the gas. This gas is distributed free to those living near the landfill, which means that residents don't have to pay for gas for their cooking anymore.
Mr Agus said: "We want to change the mindset, to see waste as a useful commodity. Hopefully, people would start recycling them and reduce the amount of waste that goes to the landfill daily."
Watch the full episode of Indonesia's Game Changers here.