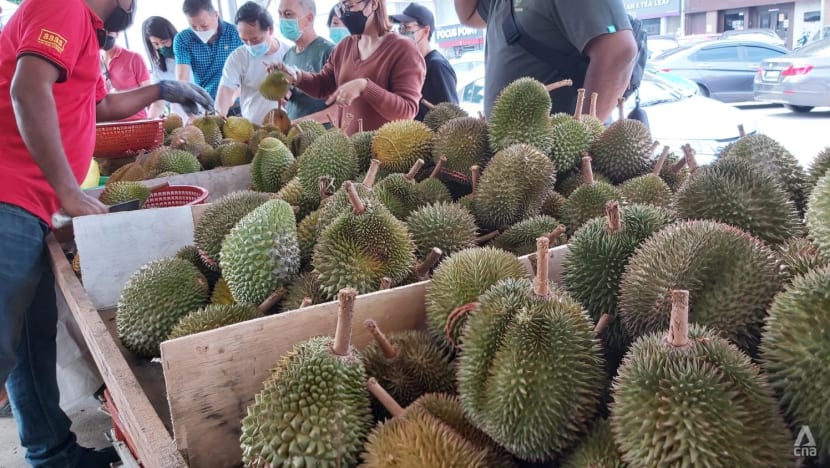 KUALA LUMPUR: Durian lovers in Singapore are rejoicing, as an abundant supply from Malaysia has led to lower prices this season.
This came as a surprise after projections last month indicated that the erratic weather has caused a slowdown in the production of the king of fruits across the causeway. 
Indeed, those interviewed by CNA noted that there has been lower yield in some producing areas. 
However, weaker demand from China as well as fruits from different states ripening at the same time have led to more fruits being exported to Singapore currently.  
CNA explores the issue from the supply-side perspective in Malaysia.
DURIANS FROM DIFFERENT REGIONS RIPENING AT THE SAME TIME
Durian consultant Lim Chin Kee said the supply from different states is usually staggered during the whole year, but Johor and Penang durians are now coming on to the market at the same time.
"The harvest is almost happening at the same time, and this is causing a higher volume now," he said.  
"It is a good time for consumers now."
Yield for the east coast state of Pahang, which is the second largest producer of durians in Malaysia, has dropped by 50 per cent because of the heavy rains and winds that washed away the flower buds of the trees, said Mr Lim who also runs his own durian farm in Raub. 
He said Johor was not as badly affected by the weather as Pahang, and that most of the durians grown there such as the IOI and kampung varieties were easier to pollinate compared to the Musang King and D24 varieties mainly found in Pahang. 
Nonetheless, durians from Pahang have also started to trickle into the market, he said. 
With many durian processing factories reaching their bottlenecks, Mr Lim said there is a need to dispose of the durians quickly as they are perishable.  
Federal Agricultural Marketing Authority (FAMA) deputy director general (operations) Rashid Bahri said the durian season would typically start in Penang, before moving to Johor and up north towards Pahang, Perak and Kelantan. 
"The season in Pahang has started earlier than expected and coincided with the season in Penang and Johor. 
"This is why there are a lot of fruits. The prices are reasonable and it is the best time for consumers to enjoy durians," he said.
Johor state executive councillor in-charge of agriculture, agro-based industries and rural development Zahari Sarip noted that there is more durian supply from the state this season compared to last year.
"Some areas in the state experienced durians falling at the same time," he added.
Mr Zahari, however, said there is no oversupply of durians and that the harvest is expected by the planters.
The southern state is the largest durian producer in the country, said Mr Lim.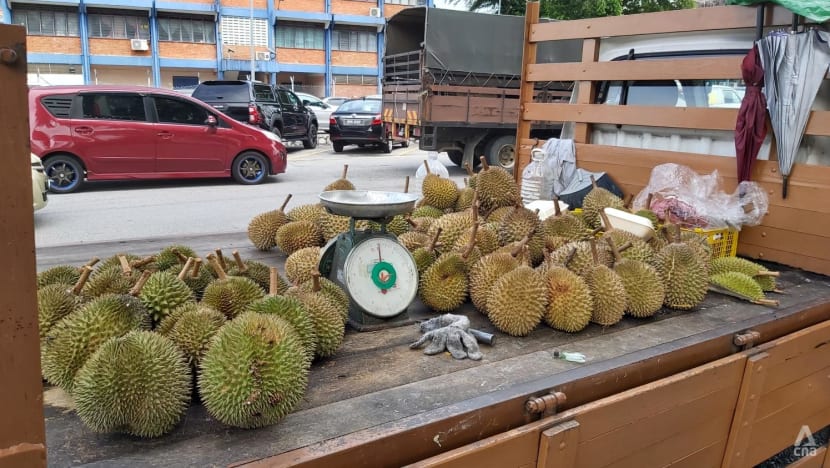 LOWER DURIAN EXPORT VOLUME TO CHINA 
Durian exporters have also noted that demand from China has fallen. Hence, more fruits are made available for Malaysia and Singapore. 
China is Malaysia's main destination for exported durians, followed by Singapore and Hong Kong.
Malaysian Durian Exporters Association president Sam Tan said demand from China has reduced by about 20 to 30 per cent because of a weaker economy. 
China also has less demand for products such as durian cakes, he added. 
Mr Tan said durians from Thailand, which are cheaper than Malaysian ones, are selling better in China at the moment. 
Thai Mon Thong durian variety, for instance, costs about RM25 per kg in China, while the Malaysian Musang King and IOI cost about RM70 per kg and RM55 per kg respectively, he said. 
"As a result, the excess fruits we have in Malaysia will be pushed for domestic use and to Singapore. Many stalls in Singapore also have a lot of stock and cannot sell it off," he said. 
Mdm Anna Teo, the CEO of Hernan Corporation, one of Malaysia's largest exporters of durians, said exporters are facing problems in terms of processing the fruit as there is a lack of nitrogen supply to freeze durians.
"Farmers cannot sell to factories (for export), so the fruit goes into the domestic market," she told CNA.   
Founder of Dking, Mr Simon Chin, concurred. Dking, which has durian plantations in Karak, Pahang, exports frozen whole durians, frozen durian pulp and other products.
"The operations have been affected because of the issues with nitrogen supply. There is nowhere for the whole fruits to go and that's why prices have come down. 
"The supply is currently more than the demand," he told CNA.
Given the above factors, durian prices are also lower than usual in Malaysia right now. 
Malaysian Durian Exporters Association's Mr Tan said that the IOI variety, for example, which used to have a farm price of about RM30, is now half the price at RM15, while kampung durians are being sold for as low as RM2 per kg on the farms.
"The prices are dropping like crazy because there are currently many fruits," said Mr Tan.
Prices at Durian House, a durian stall in SS2, Petaling Jaya, have also been reduced to the delight of its customers. 
"The price has dropped by almost half within the last few weeks because of the supply," its manager, who wished to be known as Ah Chew said in between attending to a steady stream of customers. 
The price of premium Musang King has dropped from RM78 to RM58 per kg, Ah Chew added, while the Red Prawn variety, which was RM40 per kg, is now RM29 per kg.
HOW LONG WOULD LOW PRICES LAST? 
Mr Lim, the durian consultant, said prices will increase overall again once the supply drops in July.
"The durian season has a peak of about two to three weeks. Once that is over, the prices will go up again," he said.
Mr Lim was of the opinion that the current prices were "not that low" and the RM58 per kg of premium Musang King was considered a good price for sellers.
Similarly, Mr Tan of the durian exporters association said that the season is expected to end in July, but that it will ultimately depend on whether the fruits fall according to predictions.   
"Sometimes it is difficult to predict because it depends on the trees and their flowers," Mr Tan said.