'Engineered' corruption claims? Son of Cambodian PM Hun Sen raises suspicions as election nears
Hun Many, the son of the Cambodian prime minister, told Channel NewsAsia that the timing of damning allegations against senior ruling officials was "not by accident", as the country prepares for its most one-sided election in recent history.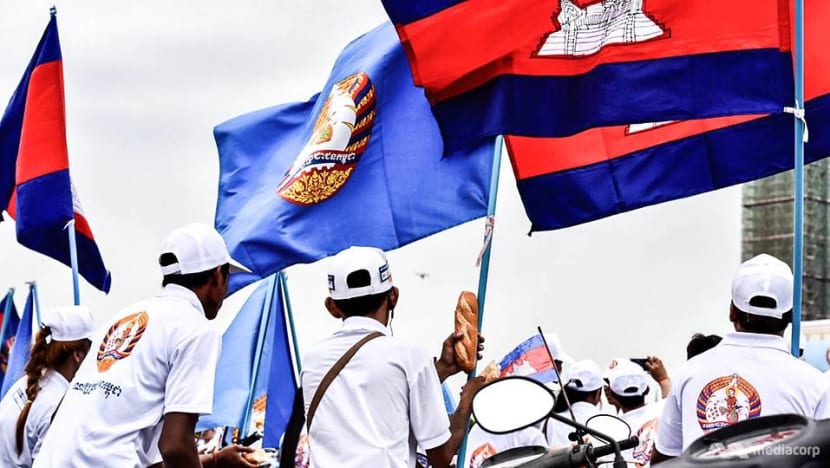 PHNOM PENH: Hun Many, the son of longtime Cambodian ruler Hun Sen and a potential future leader, has questioned the motive and timing of damning allegations of financial misconduct against one of the country's leading officials.

In recent weeks, Al Jazeera raised stunning evidence of taxation chief Kong Vibol's hidden fortunes and business impropriety in Australia, accusations being investigated by authorities there that could lead to charges and a prison sentence.
In an interview with Channel NewsAsia ahead of the general election on Jul 29, Many questioned whether those claims were "engineered" and argued that the proximity to the vote was "not by accident".
"I am just saying that it is quite surprising that it happens always every five years, a few weeks, a few months before the election," Many said.
"Whether it true or not true, it is in the capacity of the right authority to find out, to do a right and comprehensive investigation. But it always comes out right before the election every five years in Cambodia and that certainly is not by accident."
Accusations of corruption and ill-gained finances have long plagued the inner circle of Cambodia's ruling party. In 2016, Global Witness mapped out the concealed business interests, wealth and influence of the Hun family, while the Panama Papers revealed offshore accounts used by the ruling elite to hide their wealth and escape taxation.
Cambodia is ranked as one of the most corrupt nations in the world, according to Transparency International. And there have been few signs that the government is serious about reforming its own long-engrained behaviours.
"Definitely, corruption is a big issue all over the world. For us, we definitely have the political will to tackle it. We will make it better," Many said.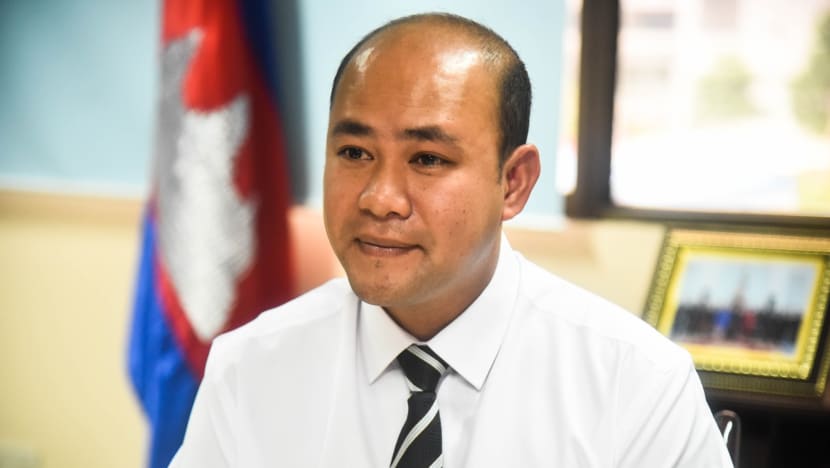 UNDER SIEGE
Sitting down to speak with any member of Cambodia's ruling elite is a rare thing, and Many presents a youthful and professional front to a government under siege from the international community.
Amid a crackdown on independent media, freedom of speech and the national opposition - now banished under newly created laws - criticism has been mounting from western partners that have dropped vast sums of aid and stimulus into the kingdom over recent decades.
Heavy sanctions are being considered to pressure the government to release jailed opposition leader Kem Sokha and loosen other restrictions on critics and environmental and human rights groups.
Many maintains a friendly disposition but is disciplined in towing the party line. He argues that the lens through which foreign powers view Cambodia fails to grasp the realities that exist in the country.
"It has to do with misunderstanding and that misunderstanding perhaps is coming from different cultures of politics," he said. "Understanding the political context now and working together to really resolve and succeed on certain realities we are facing is much better than pointing fingers at what we do wrong."
Cambodia's economic credentials and growth is this government's central rebuttal to criticisms of its performance or direction. Other concerns are peripheral to improving the daily lives of the population, Many says.
"We have achieved so many things already. The poverty line, for example, 100 per cent to under 15 per cent in 2018. You cannot deny that. A low-income country to a lower middle-income country. You cannot deny that. A 7 per cent GDP growth for the last two decades; nobody can debate."
Critics argue that economic development has been stymied by graft and that wealth has been kept centralised in the hands of a few. Infrastructure in Cambodia - much of which has been built with the help of foreign donors, namely China - is woefully behind its neighbours. For example, while nearly all of Thailand's roads are paved, only 11 per cent of Cambodia's roads are, according to an ASEAN report.
Many says the progress has been fast and efficient and blames years of conflict in the kingdom for many of the challenges that remain.
"I don't think it is surprising that we are not able to have unity, a synergy among all stakeholders, government, society, private sectors, and the individual citizens to work together moving forward for one dream and one destiny. We have a lot of work to do," he said.
He says he longs for a day when the world no longer just associates Cambodia with the Khmer Rouge and Killing Fields, a period of time when millions died under a genocidal regime. But internally in contemporary Cambodia, memories of those days of death lace the rhetoric of the prime minister, in effect holding a shadow of fear over the population.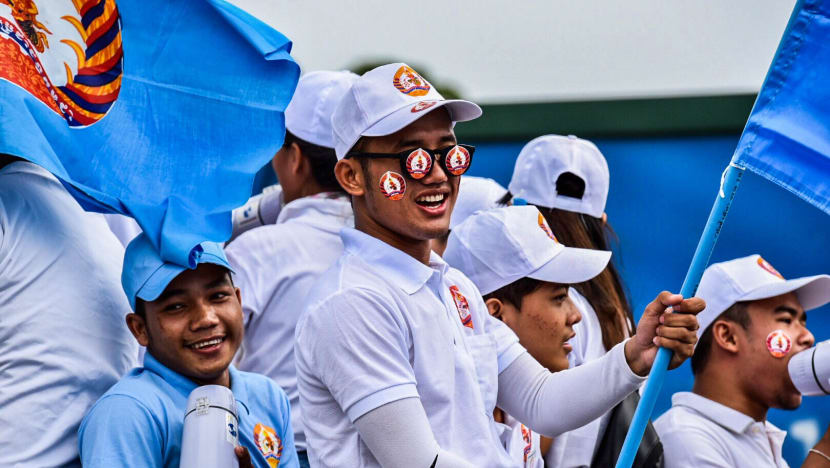 LINE TO THE THRONE
Hun Sen has speculated that in ten years he will step down as leader, ending what would be then a 43-year reign. Who his successor will be is not apparent yet, but his sons are primed to be leading candidates when the time comes.
Hun Many, the youngest of the boys, is the only one directly involved in politics as an elected official and member of the National Assembly. His language skills, education and work with the nation's leading youth movement make for an ideal resume.
Many, 35, speaks highly of the guidance he has received from his father and the place he will forever hold in the hearts of Cambodians.
"I always say that my father is more than a father to me. Of course, he is a loving father guiding us, but he is also a teacher and a leader to me," he said.
"The many things that influenced me are his ability to be humble, to be able to put the greater good first, the importance of society, never giving up and to be mentally ready at any situation to defend this country."
His detractors say Hun Sen's approach to leadership is one of a strongman - a central elevated figure with total power and an undisputed grip over the country's armed forces. His portrait can be seen hanging throughout the country and analysts say he yearns for the adoration of the population.
Asked if he expects a progression in style once a new leader ascends, Many says it is unlikely - by design. "I do believe whoever will come up, frankly speaking from my personal opinion, has to at least have his old style," he said.
He smiles bashfully when asked of his personal leadership ambitions, clarifying that his focus remains on his duties to the party and the people he represents.
It is apparent though that he has formulated a clear vision for the country's future and will be a central figure for decades to come.
'NO PRESSURE'
Consolidation of the Cambodian People's Party's (CPP) largely unchallenged rule will occur on Sunday when the nation goes to the polls. There are 20 parties competing but only one real contender.
Despite the assured result, reports have surfaced throughout the country of pressure being applied by authorities to communities to participate and cast their vote only for the CPP. A 'clean-finger' campaign being pushed by opposition figures, many of them exiled overseas, encouraging people to abstain has resulted in stern warnings and arrests.
Only last weekend, former opposition officials were sanctioned in the province of Battambang for posting photos on Facebook showing a clean finger, meant to symbolise a non-vote due to the country's use of indelible ink.
Agents from Many's youth movement - the Union of Youth Federations of Cambodia - have been accused of threatening to remove public services from villages that failed to vote correctly. He denies those reports and says anyone acting outside of the laws or electoral rules set by the National Election Committee - a non-independent body - would be punished.
"In the freedom of democracy, I would assume that people will go to vote or people will choose not to go to vote," he said. "People would express themselves in a way if they are concerned, or their different opinion.
"I do not believe that in any country it is right to pressure people to vote and it is not happening in Cambodia.
"But if you are campaigning on a certain agenda to tell people not to go to vote that is completely different."
Voter turnout rather than the number of seats won by the ruling party will be closely watched on election night. Following that, the CPP will begin another five years of ruling the country with less domestic scrutiny than ever before.
While many onlookers are concerned, Many is optimistic. "Cambodia is moving in the right direction," he said.
"Yes, certainly, there are challenges but we will carry on. We will give so much more."