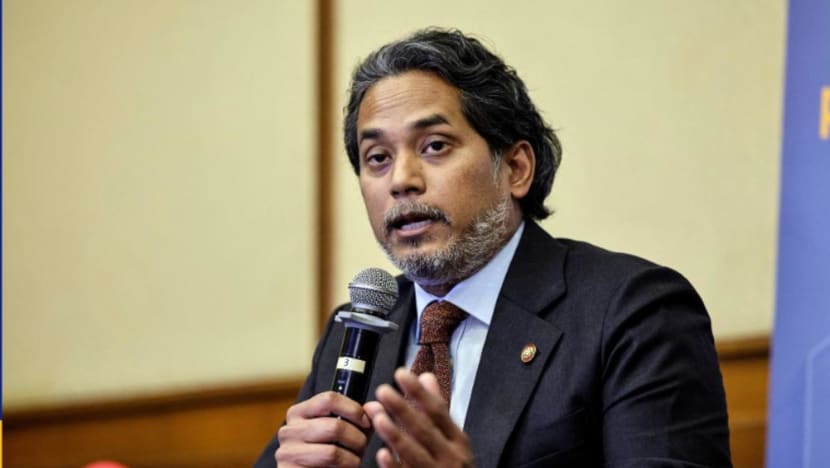 PUTRAJAYA: Malaysian Health Minister Khairy Jamaluddin said it is not conducive to hold the general election during the flood season.
Besides health considerations, his ministry is of the view that many factors, including manpower and public safety, must be taken into account, said Mr Khairy in a special media interview on Wednesday (Sep 21) to mark his one year as health minister. 
He was quoted by Bernama as saying that a lot of manpower will be needed for the election as well as to manage the people affected by the monsoon. 
"Firstly, manpower, as quite a lot would be needed for the election while many hands would be needed as well during the monsoon season to handle temporary evacuation centres to take care of people's safety, and for evacuations," he said. 
Many schools will also be needed as temporary shelters for flood victims, he said, while schools are normally used as voting centres. 
From a health point of view, Mr Khairy added that due to the weather conditions, there will be an increase in water-borne diseases as well as other illnesses such as fever and flu.  
"So, the health ministry's view is that it is not conducive to hold an election during this flood season," the Rembau MP added.
Speculation is rife that GE15 will be called soon, as the country anticipates year-end floods brought by the Northeast Monsoon, which usually starts in November and ends in March. 
On Monday, Prime Minister Ismail Sabri said the Cabinet would discuss the possibility of calling the GE15 early in its weekly meeting on Wednesday. 
He said that the Cabinet meeting would allow ministers who represent various political parties to share their views on the matter.
According to the Malaysian media, preparations for GE15 were discussed during the Cabinet weekly meeting on Wednesday but there was no apparent consensus on whether it should be held later this year.
Transport Minister Wee Ka Siong on Thursday said that the Cabinet discussed at length the preparation for the GE15.
New Straits Times quoted the Malaysian Chinese Association (MCA) president as saying that while it was not the government's intention to hold the election during floods, preparation must nevertheless be made for the possibility.
He said Malaysians must brace themselves for the possibility of going to the polls during the rainy season.
Dr Wee, however, stressed that the government is not planning for the polling day to coincide with floods.
"We are not purposely doing this. All I am saying is that we have to be ready," he said, according to New Straits Times.
Federal Territories Minister Shahidan Kassim was also quoted by the daily as saying that the Cabinet discussed GE15 and other issues. 
"We talked at length about the preparation for the floods in October, November and December," he said. 
Energy and Natural Resources Minister Takiyuddin Hassan was not in favour of holding the general election amid expected floods. 
"For us, it is better not to have GE15 now since there is already an indication that the floods are likely to occur," he was quoted as saying.
Malay daily Utusan Malaysia quoted an anonymous Cabinet minister as saying that ministers from the ruling United Malays National Organisation (UMNO) were in favour of an early election, but this was objected to by ministers from Perikatan Nasional (PN), namely Parti Pribumi Bersatu Malaysia (Bersatu) and Parti Islam Se-Malaysia (PAS).
Utusan reported that Bersatu and PAS ministers wanted the government to focus on flood management and the economy instead.
PAS minister Tuan Ibrahim Tuan Man was quoted in the report as saying that the Cabinet did not decide on an election date and only talked about flood management preparation and economic recovery.
Communications and Multimedia Minister Annuar Musa, who is from UMNO, was reported to echo Mr Tuan Ibrahim's comments.
CALL FOR GE15 NOW IF FLOODS ARE A CONCERN: ZAHID 
Previously, Mr Ismail Sabri had said that he had yet to meet with UMNO's top five leaders to discuss GE15 and that a meeting would be held "very soon".
According to UMNO secretary-general Ahmad Maslan, the "top five" meeting would be held next Friday after its initial meeting on Sep 17 was postponed.
UMNO president Ahmad Zahid Hamidi said on Monday that there should be no issue if GE15 is held during the monsoon season as it had been done before.
He accused the opposition of highlighting this in a bid to influence voters into thinking that holding the polls at this time is tantamount to exposing them to flood risks.
On Wednesday, Ahmad Zahid said in a Facebook post that the election should be held immediately if the opposition is worried about the polls coinciding with floods. 
He said their concerns about having the election during floods are just an excuse to save their political careers.
"It is time for them to 'walk the talk' and 'hit the button' so the Election Commission can set the nearest date for people to elect a new government that is stable and stronger," he said in a Facebook post.