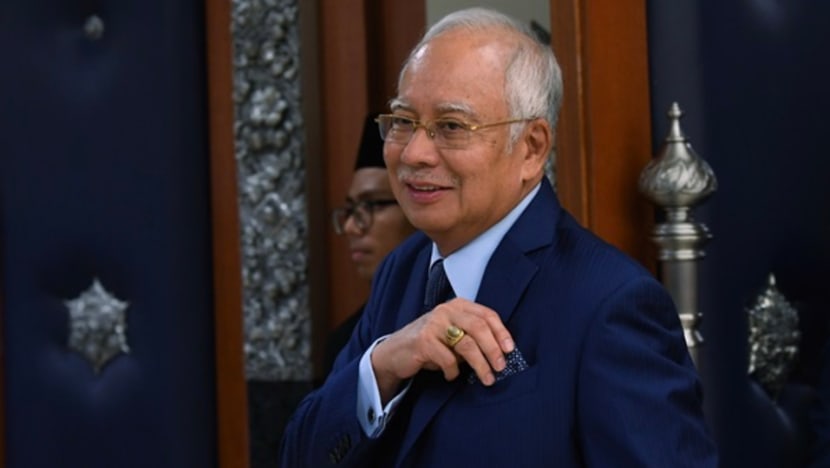 KUALA LUMPUR: Former Malaysian prime minister Najib Razak claimed he has no knowledge that the luxury yacht Equanimity was allegedly purchased with funds from 1Malaysia Development Berhad (1MDB). 
"I have no knowledge of it. I have not been on board. I did not know about it until it came out in the press," he told reporters on Tuesday (Aug 7).
He said the previous government was more interested in the full settlement with the International Petroleum Investment Company (IPIC).
"What's important is the settlement with IPIC. That is the biggest sum. That's why we didn't pursue the yacht. We wanted the big settlement to be settled first, " he said, referring to Abu Dhabi's sovereign fund.
The superyacht sailed from Indonesia and arrived at Port Klang at 12.35pm on Tuesday.

The yacht, estimated to be worth RM1 billion (US$250 million), is believed to be part of the assets purchased using funds from 1MDB. Its purported owner, businessman Low Taek Jho or Jho Low, is also being sought to assist in the investigation into 1MDB.
According to the Attorney-General's Chambers, the yacht was properly seized under the laws of Malaysia. 
Najib also called for a full inquiry into the claim that the International Republican Institute (IRI) had been working with the then Malaysian opposition, including the Pakatan Harapan coalition, since 2002.
Najib said the allegation was severe enough to prompt an inquiry as it might involve foreign interference in the Malaysian electoral process.