'Go home to vote': Malaysians, companies offer to help fellow citizens travel home to cast ballots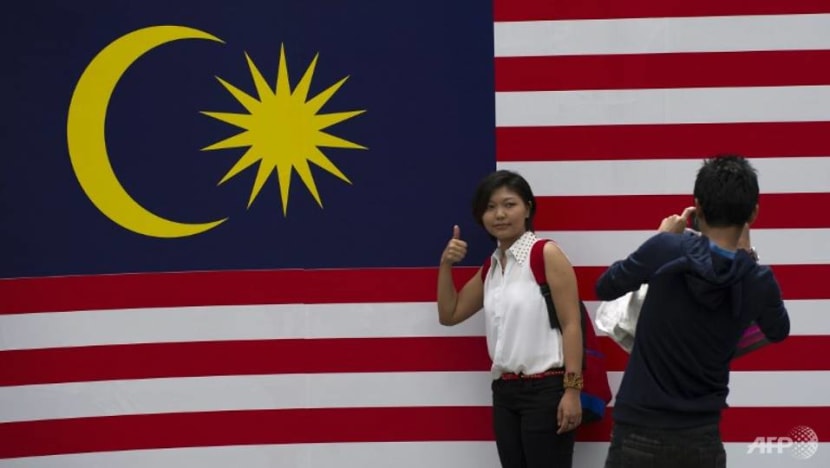 KUALA LUMPUR: With polling day for Malaysia's 14th general election falling on May 9, a Wednesday, Malaysians have taken to social media to band together and lend a helping hand to those who want to return to their hometowns to cast their ballots.
It would be Malaysia's first weekday poll in nearly two decades, prompting concerns that voter turnout would be low as a result.
On Tuesday (Apr 10), the hashtag #PulangMengundi or "Go home to vote" trended on Twitter, with Malaysians offering financial assistance and transportation to those who want to travel back to their hometowns to vote.
Several Twitter users, including Marina Mahathir, daughter of opposition leader and former prime minister Mahathir Mohamad, reached out to fellow Malaysians who need help. 
On Facebook, Malaysians also coordinated travel plans on the public group "Jom Balik Undi (Car Pool)". As of Tuesday night, the group amassed around 10,000 members with more than 200 new posts from those offering or seeking transportation.
Some voters from Singapore were looking to carpool to the state of Kedah, which is about an 8.5 hour drive from Singapore.
"OUR COUNTRY IS MORE IMPORTANT THAN ANYTHING"
Several Malaysian companies also said they would step up and help their employees return home for polling day.
Marble Emporium, which is based in the state of Selangor, said that it would be providing all of its East Malaysian staff with three days off and RM300 (US$77) travel allowance. The company will also be purchasing return air tickets for staff who are going back to their hometown.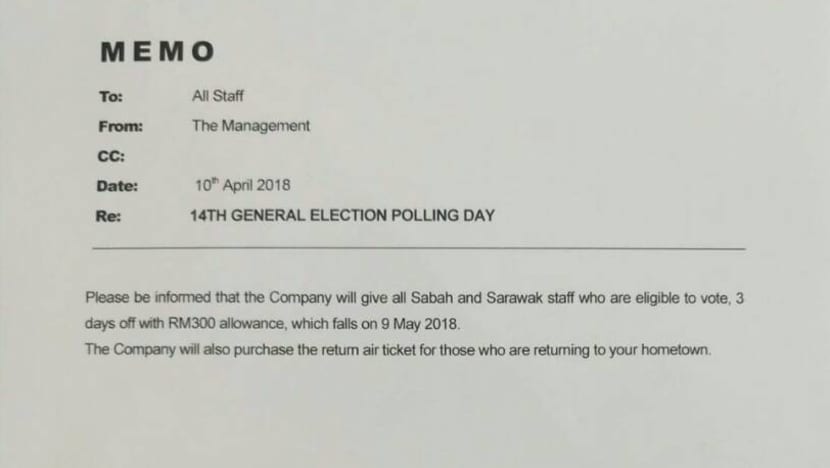 Speaking to Channel NewsAsia, founder of Marble Emporium Sim Yen Peng said that a total of 11 staff, mostly factory workers from Sabah, will receive the benefits.
"Usually companies must pay for foreign workers to go back home once a year. Why are Malaysian bosses unable to pay for local staff to go back once in five years?" he said.
Mr Sim said that it was important that other companies get the message that it is important to sponsor staff to vote: "The message is important, not our company. Our country is more important than anything."
The Sarawak native added that he hopes all companies can follow suit, including Singapore companies which he said employs many workers from East Malaysia.
Max Yong, a lawyer and consultant with Shui-Tai Advocates & Solicitors in Petaling Jaya, said the partners of the firm unanimously decided to declare May 9 a holiday for all staff so that they can cast their ballots.
Forefront International, a creative agency based in Petaling Jaya, also announced additional days off for its staff. Eligible voters who are not from Klang Valley will receive an extra day off to travel home before polling day. As an incentive, they will also get a carpool allowance of RM100 per passenger that they bring home with them. 
Meanwhile, eligible voters from East Malaysia will receive two extra days off and RM300 travel allowance per person.
Forefront said local voters based in Klang Valley may take the day off to head to the polls or "choose to return to work and share their voting experiences".
Speaking to Channel NewsAsia, CEO and founder of Forefront, Darien Mah, said the company encourages its employees to exercise their voting rights by providing additional benefits to "ensure a smooth voting process".
"This is also to motivate non-voters to register themselves as soon as they get their chance," he added.

According to a Reuters report, several other companies are also letting employees take time off to vote. Shekhinah PR, a sports public relations firm, also offered to defray travel costs.
"To lessen the financial burden of the staff, the management will meet the costs of their travel expenses (petrol and toll charges)," Chief Executive Christopher Raj said on Facebook.
Voting is not compulsory in Malaysia, although the Election Offences Act states that employers in Malaysia must allow time for their employees to vote without docking their pay.
FLIGHT CHANGE FEES WAIVED
Also pitching in was national carrier Malaysia Airlines and its sister airlines, FlyFirefly and MASwings, as well as AirAsia which all pledged to waive their flight change fees for Malaysians with existing bookings for the upcoming election.
Malaysia Airlines said on Tuesday that this was aimed at allowing Malaysians to fulfil their responsibility as voters on May 9.
PUBLIC HOLIDAY DECLARED
On Wednesday, Malaysia's federal government declared May 9 a public holiday. 
The announcement by the Prime Minister's Officer (PMO) said the public holiday was to allow all Malaysians to fulfil their responsibilities as voters.