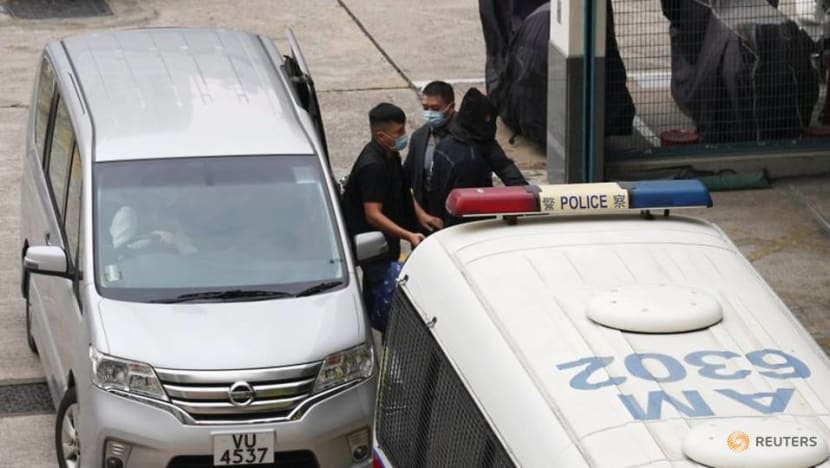 HONG KONG: Eight Hong Kong activists, jailed in China last year after being captured at sea, arrived back in the city and were immediately detained on Monday (Mar 22) in a case that has drawn international attention and concern over their treatment.
Dubbed by supporters as "The Hong Kong 12", the group was picked up by Chinese coast guard last August as they tried to make a break for nearby Taiwan.
Those on board were being prosecuted for actions linked to Hong Kong's huge and often violent protests in 2019.
The charges they faced ranged from rioting and attempted arson to possession of offensive weapons and making explosives.
They were eventually convicted by a Shenzhen court of illegally crossing the maritime border and sentenced to seven-month jail terms.
On Monday, eight of them were handed over to Hong Kong police having completed their sentences.
"They have been deported in batches on the day in accordance with the law," police in Yantian, the mainland district where the group were jailed, said in a statement.
Hong Kong police confirmed their return in a separate statement.
Images published by local media showed some of those being returned had black hoods placed over their heads as they were marched by officers into a Hong Kong police station close to the border with the mainland.
Among those returned into Hong Kong custody on Monday was Andy Li. Before he fled, he was arrested under a sweeping national security law Beijing imposed on Hong Kong last year.
More than 100 people have been arrested under the law which carries up to life in prison.
Another of the returned fugitives is a dual national with Hong Kong and Portuguese citizenship.
Two teens in the group - a 16- and 17-year old - were returned to Hong Kong last December.
The two remaining members of the group were given longer sentences for organising an illegal border crossing and remain in prison on the mainland.
Activist and barrister Chow Hang-tung, speaking on behalf of a concern group for the defendants, said she was unhappy with the handover arrangements for them.
"(Authorities) never communicated with the family about the whole arrangement so the family members are forced to come here and wait all day until now," Chow said at a press briefing outside a Hong Kong police station close to the mainland border.
"Just for the very thin hope of seeing their families, waving to them, shouting to them, even till now, they still haven't had any chance to meet their sons."
Johnny Patterson, policy director for rights group Hong Kong Watch, said the "appalling ordeal" the group faced "shines a spotlight on the draconian new normal in Hong Kong."
"It's a case of out of the frying pan, into the fire."
Beijing and Hong Kong authorities have taken a tougher stance on the city's protest movement over the past year, implementing a tough national security law aimed at cracking down on dissent.
In February, 47 activists and lawmakers were charged for subversion under the security law over their involvement in an unofficial primary election that authorities say was part of a plan to paralyse the government. Most of the city's prominent activists are currently in jail or in self-exile abroad.
Hong Kong was promised it would be allowed to maintain its separate political, economic and social systems for 50 years following the handover, including considerably greater freedoms of speech and protest than permitted in mainland China.
Critics say Chinese moves, including the imposition of the national security law, widespread arrests of critics and the impending changes to Hong Kong's electoral system, have all but nullified that pledge.