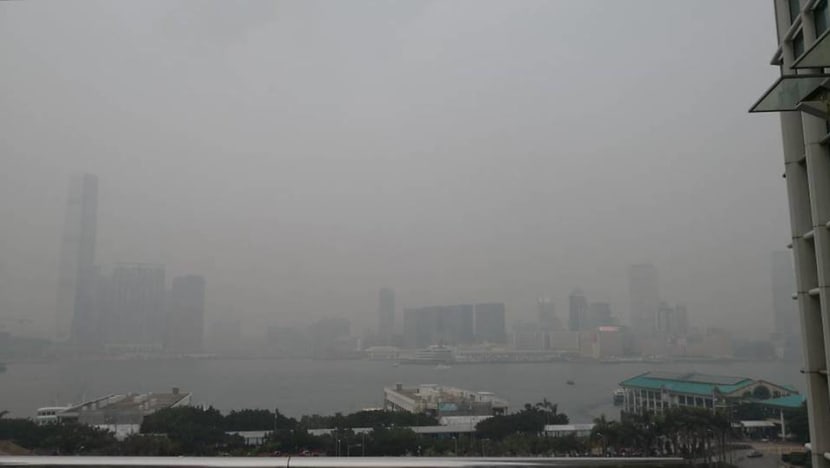 Many areas in Hong Kong experienced high levels of smog on Monday (Jan 22), five days after local media first reported heavy air pollution there.
Hong Kong's Environmental Protection Department reported on Monday that "higher than normal" pollution levels were recorded. 
As of 5pm on Monday, all 16 air-quality monitoring stations had Air Quality Health Index (AQHI) readings of seven to 10+, which pose "high", "very high" and "serious" health risks. Tung Chung, Yuen Long and Tuen Mun stations recorded air pollution readings of 10+, which indicate "serious" health risk.
Areas in the city centre - Causeway Bay and Central - had "very high" readings of nine.

Many other areas including Eastern, Kwai Chung, Tseung Kwan O and Mong Kok recorded readings of eight, also placing these areas in the "very high" category.

Kwun Tong, Sham Shui Po and Sha Tin showed readings of seven, indicating a "high" health risk.
According to the Environmental Protection Department, light winds and sun have contributed to these high air-pollution readings. The lack of wind has led to an accumulation of air pollutants, while the sun has enhanced the formation of ozone and fine particulates. The high level of ozone has also promoted the formation of nitrogen dioxide, authorities said.

"It is expected that the AQHI at some general and roadside air monitoring stations may reach the "serious" level later today (Monday)," warned the environment agency.

As the health risk readings in several places reached the "serious" category, children, elderly and people with heart or respiratory illnesses were advised to avoid physical exertion and outdoor activities.
The Education Bureau provided guidelines for teachers to reduce or completely halt physical activities when the health risk reaches the "high" level. 

Hong Kong's Centre for Health Protection has also advised members of the public to wear face masks. 
According to the Environmental Protection Department, pollution levels are set to improve when wind levels strengthen as an intense monsoon affects the south China coast this week.