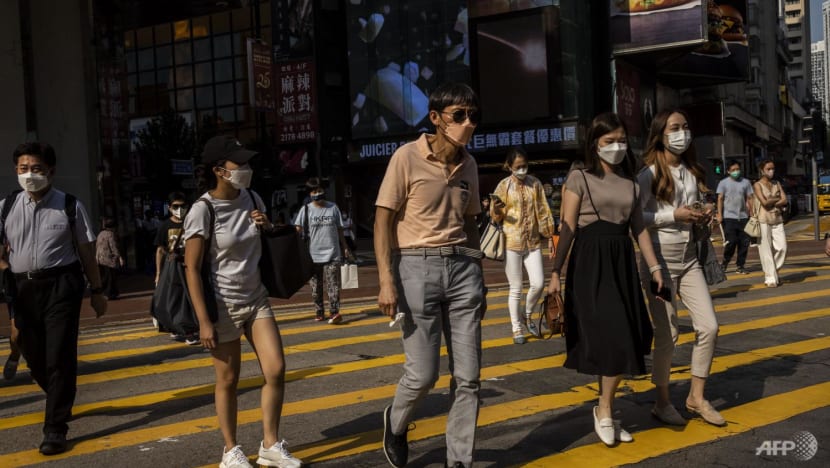 The Hong Kong government announced on Tuesday (Sep 20) that it will maintain the current social distancing measures from Sep 22 to Oct 5.
"The epidemic has stabilised and has begun to show a downward trend. The pressure on the public medical system has eased slightly. Now is a critical moment to further stabilise and control the epidemic. As such, the government has decided to continue the current social distancing measures for another 14-day cycle," it said in a statement on its website.
Residents are required to wear masks on vehicles and specified public places, and gatherings of more than four people are prohibited in public places. Those requirements remain unchanged, said the statement.
People aged 12 and above currently need to show proof of vaccination to enter restaurants, malls, supermarkets and sports facilities in Hong Kong. 
The government also reminded the public that the vaccine pass arrangement will apply to children aged five to 11 from Sep 30.
They must receive at least one dose of the new vaccine before they can enter the premises where the vaccine pass applies.
Earlier on Tuesday, Hong Kong had said it aims to make an announcement soon on its controversial COVID-19 hotel quarantine policy for all arrivals, as it wants to keep the city connected with the rest of the world and allow an "orderly opening-up".
The city's leader, John Lee, said he knows that Hong Kong needs to retain its competitiveness, adding that authorities were keen to bring back events and activities to the city.
"We know exactly where we should be heading and want to be consistent as we move in that direction. We would like to have an orderly opening-up ... because we don't want to have chaos or confusion in the process," he told reporters.
Taking its cues from China which is pursuing a zero-COVID policy, Hong Kong is one of the few places in the world to still require travellers from abroad to quarantine upon arrival although the length of quarantine has eased over time. Currently, arrivals must pay for three days in a hotel and follow that with four days of self-monitoring.
The hotel portion will now be scrapped and be replaced with seven days of self-monitoring, the South China Morning Post quoted sources as saying. Under current rules for self-monitoring, people can stay in their own homes but they do have to do tests and there are some limits on their movement.