'They should know how to behave': Bali's proposed motorbike rental ban highlights tourist misdemeanours
The provincial governor has proposed a ban on motorbike rentals for tourists. He also wants to revoke the visa-on-arrival scheme for Russians and Ukrainians.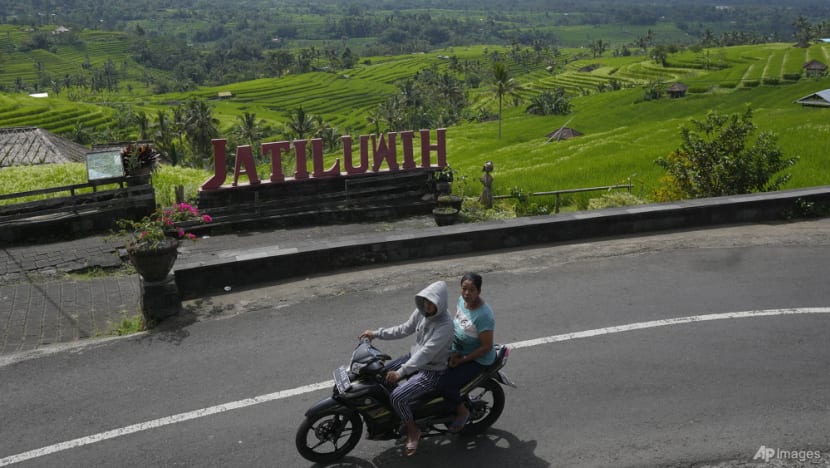 JAKARTA: Nyoman Anggraeni, 40, was driving her car in Bali to pick up her son from school earlier this week.
The lane she was travelling in was empty and traffic was smooth. But traffic from the opposite direction was congested.
Suddenly, a motorcyclist who was not wearing a helmet came from the opposite direction and swerved into her lane at full speed, almost hitting her.
"I immediately swerved my car to the other side, which was a footpath, to avoid her," Mdm Anggraeni recounted. She noticed that the rider was likely a foreigner, dressed in a bikini.
"I honked, but she just carried on with a straight face."
"I don't get angry or upset easily when driving. But this time, it really angered me as I could have hit her or even someone else," she added.
With the pandemic easing and international travellers returning to Bali, local authorities are again grappling with inconsiderate behaviour by foreigners. 
In particular, cases of traffic violations involving foreigners have prompted Bali governor Wayan Koster to take matters into his own hands. He wants to ban tourists from renting and driving motorbikes on the Island of the Gods. The proposal has sparked a debate, with some lauding the idea and others questioning if it would be effective.
At the same time, Bali is also dealing with other issues involving foreigners breaking the local laws, which the government wants to stamp out.
BIKE BAN TO TACKLE DISORDERLY BEHAVIOUR
When announcing the proposed motorbike rental ban at a press conference on Mar 12, Mr Koster explained that it was aimed at tackling disorderly behaviour among tourists.
 
"Why now? Because we are now cleaning up. During the COVID-19 pandemic, it was impossible to do because there were no tourists," he said. 
Mr Koster said the proposed provincial-level ban means that foreigners would only be allowed to drive rental cars owned by travel agents. 
"As tourists, they should act like tourists. They need to use vehicles prepared by travel agents instead of roaming around with a motorcycle, without wearing T-shirts, without clothes, a helmet, and even violating rules and also without a licence," he said. 
He added that the ban would be in force this year, without providing additional details. 
According to data released by the Bali police on Mar 12, there were 171 traffic violations by foreign nationals over the past week. Out of this, people from Russia accounted for 56 cases.
There have been several high-profile traffic incidents involving foreigners that were reported by local media over the last few months. In January, a 24-year-old Russian tourist was killed while riding a motorbike and plunging 30m into a river in Ubud. Earlier this month, two Russian nationals were arrested in Bali for running an illegal motorbike riding course.
Subsequently, Indonesia's Minister of Tourism Sandiaga Uno told journalists that there are many accidents in Bali because tourists are not adept at riding motorbikes.
Regulations are in place to ensure the safety of tourists, he said. "So if they didn't have the skills to ride a motorbike and then some got into an accident, whether they were drunk or sober, of course, this needs to be dealt with," said Mr Uno. 
Mr Putu Winastra, who heads the Bali chapter of the Indonesian Tours and Travel Agencies Association, believes that the governor's proposal is reasonable. 
"Because he wants to keep Bali a safe and good international tourist destination. If a foreigner wants to ride a bike but has never ridden one in his country, doesn't have a licence, ultimately Bali's image would be negative." 
He said that foreign visitors with valid licences and who are familiar with how to ride motorbikes should be allowed to rent from licensed operators.
On the contrary, others like Mr Nengah Sudirga, who owns a rental car and motorbike company in Bali, are against the ban.
"I disagree if it's prohibited because not all tourists in Bali disobey the rules. 
"In my opinion, it's better to give tourists who violate the rules strict sanctions," he said.
Earlier this month, a social media clip posted by a foreigner in Bali complaining about the sounds of roosters went viral. He and more than a dozen foreign tourists complained to local Bali officials about roosters crowing at dawn and disturbing their sleep.
Mr Uno, the tourism minister, responded to the complaints by saying that tourists need to respect the law and norms in Balinese society.
He even re-posted a video of one of the complaining tourists on his Instagram and wrote the Indonesian version of the proverb: "When in Rome, do as the Romans do".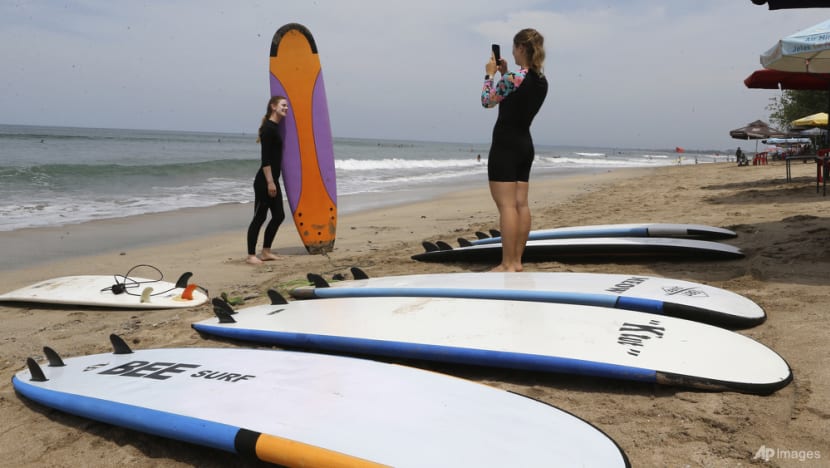 VISA-ON-ARRIVAL SCHEME UNDER SCRUTINY
It is not just recklessness on the roads that has drawn the governor's ire. Mr Koster also wants the visa-on-arrival scheme to be revoked for Russians and Ukrainians.  
Bali welcomed about 22,000 people from Russia in January, an increase of about 12 per cent compared to December last year. That month, they made up the second-largest foreign arrivals after the Australians.
Mr Kostner has asked the country's central immigration agency to revoke the visa-on-arrival policy for them amid reports that many Russians and Ukrainians were working illegally and overstaying in Bali. 
He made the proposal after receiving complaints about misbehaving tourists from the two countries. 
"Why these two countries? These two are at war, so it is unsafe in their country, and they flock to Bali. Some people don't travel for leisure, they go to Bali to find comfort, including work," he said on Mar 12, without elaborating on the purported violations. 
On Tuesday, Bali's immigration deported a Russian for working illegally. The person was said to have worked as a stand-up comedy artiste illegally and was arrested at an event on Mar 8. Last week, a Ukrainian was deported for falsifying documents to purchase an Indonesian national identity card for 31 million rupiah (US$2,017).
A Russian was also deported last week for working illegally as a photographer. He entered Bali in February with a visa on arrival in February but misused it by working as a photographer. Several other Russian nationals have also been deported for overstaying. 
EDUCATING TOURISTS, ENFORCING THE LAW
Given the wide-ranging misbehaviours involving tourists in Bali, would a motorbike rental ban and revocation of the visa-on-arrival scheme for particular groups be effective?
 
Mdm Devie Rahmawati, a social issues researcher at the University of Indonesia, believed they are good initial steps but more needs to be done.
Misbehaving tourists is a problem not just unique to Bali but it is also prominent in other destinations, she noted. According to Mdm Rahmawati, there is a tendency among travellers to head for a holiday without doing research on the local do's and don'ts. 
She urged the government to do more to educate tourists on local regulations and wisdom. "They should use digital tools, enforce the law, work more tightly with airlines and hotels to guide them on how to behave in Bali," she said.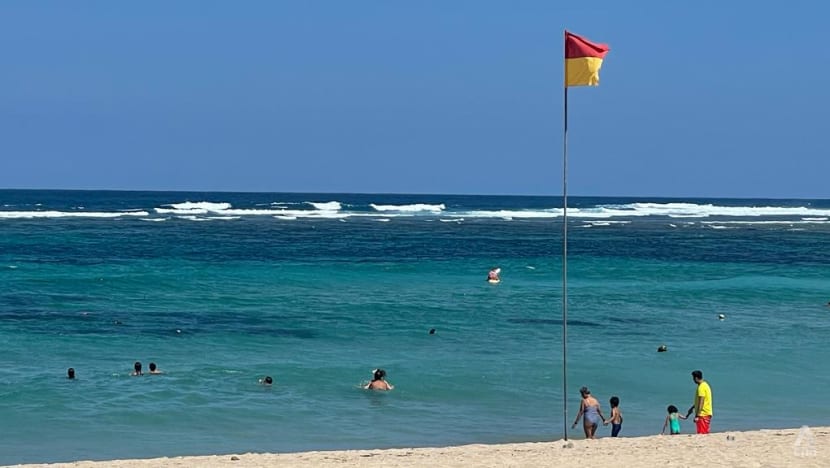 Mr I Ketut Ardana, a managing director of tour company BSM in Bali, said that the law should be strictly enforced. "The regulations should be detailed, and the law enforcers should be strict," he said.
Ultimately, Mdm Anggraeni, who nearly got into an accident with a motorcyclist, believes that not all tourists misbehave.
"We (Balinese) thank the tourists for coming. Not all of them are bad. But if they come to Bali, they should know how to behave."
Read this story in Bahasa Indonesia here.