JAKARTA: When Indonesian Made Janur Yasa encouraged villagers in his hometown of Tabanan, Bali, to collect plastic waste last year, they came back with 500kg of straws, plastic bags, plastic bottles and the like in five days. 
In return, he rewarded them with 500kg of rice. 
Yasa is the founder of Plastic Exchange, a movement that empowers communities in Bali to collect plastic in exchange for free rice. 
The 55-year-old father of three started his initiative when COVID-19 disrupted his business, and as of today has successfully collected about 50 tonnes of plastic waste while helping people put food on their tables. 
As an owner of a vegan restaurant in Bali's cultural hub Ubud, Yasa's business, like many others on the island, suffered when COVID-19 hit the globe.
"My restaurant was not immune to the pandemic. So people stopped coming and I was like: 'Wow. What to do?'
"But I always liked this phrase: inside of a challenge, there is a solution."
As a Hindu Balinese, Yasa believes in the concept of Tri Hita Karana. According to this principle, prosperity is obtained by having three harmonious relationships - between humans and God, among humans and humans with the environment.
He thought about how to turn this wisdom into action. 
"Sometimes these three elements are not balanced. Sometimes people think too much about the environment and they sacrifice humans. 
"Sometimes we think about people and profit and we don't take care of the environment," he said.
Although his income has decreased, he was aware that many Balinese fared worse than him as a result of the pandemic. 
Many on the popular tourist destination island had lost their jobs and were forced to return to their villages with little savings. 
Yasa also noted that Bali has other problems, such as plastic pollution. 
In the meantime, he felt many people relied on handouts, especially during the pandemic, without thinking they need to give back to mother Earth or society.
Hence, in May last year, he launched Plastic Exchange in his hometown in Tabanan to give people 1kg of rice in exchange for 1kg of plastic waste. 
"It was a word of mouth initiative. Nowadays, we have WhatsApp groups, so people spread the news in their groups. 
"This programme is not an obligation. If people want rice, they can collect plastic. 
"If they want to clean up their house (and clear plastic waste), we will give them a positive reward," he told CNA.
There were also some villagers who helped spread the news by putting up flyers in local food stalls.  
What started from just one village has now grown into an initiative in 200 villages across Bali. 
"BARTER SYSTEM ESTABLISHED A HUMAN CONNECTION"
Indonesia is the world's second-biggest ocean plastic polluter after China, and Bali's pristine nature spots such as its sandy beaches have often become a dumping ground for plastic. 
When Yasa was born in 1966, plastic was not a huge problem on the Island of the Gods. 
Life was simple back then, he recalled. 
"In my village, we didn't grow up with money. We lived in our village with a barter system. 
"So if we needed something like spices or rice, we would go to the neighbours and exchange with something else. The barter system established a human connection and you cannot put a value on that," Yasa said. 
The barter system he learned as a child eventually became the foundation of Plastic Exchange.
By the time Yasa was in university, he realised there was a lot of plastics on the island polluting the environment.
The problem intensified over the years and in 2019 the Balinese government banned single-use plastic.
PLASTIC AND OTHER RECYCLABLES ACCEPTED
By participating in Plastic Exchange, people feel the immediate impact - free rice and a cleaner house.   
Since it is not mandatory to join, there is no pressure, Yasa noted. 
Plastic Exchange accepts all kinds of plastics, including single-use plastic like plastic packaging as well as reusable ones like buckets.
Other recyclables - cardboards, papers, cans and beer bottles - are also welcome but villagers must sort the waste before dropping them at the village's plastic bank. 
People are encouraged to bring their waste to the trash bank once a month and in exchange, they will receive rice according to the amount and type of plastics they have. 
Initially, people would hand in 1kg of plastic waste and Yasa would give them 1kg of rice, which is enough to feed four people a day. 
As more people became interested in the programme, he decided that people must collect about 4kg of waste for 1kg of rice.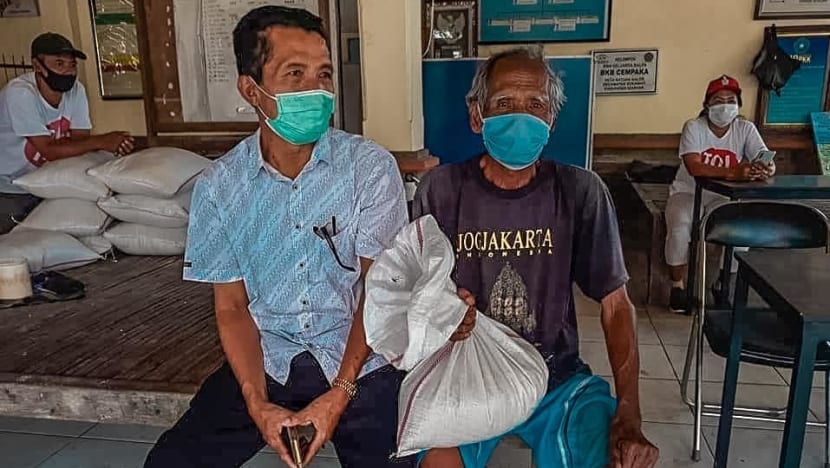 Since Bali does not yet have a recycling plant, he works with a company that collects the plastics and sends them to Java for recycling.
At the start of the initiative, Yasa had to buy the rice with his own money.
Although his business was suffering from COVID-19, he was determined to buy the rice from local farmers and only give people good quality rice.
"The rice must come from that particular village. It must be bought from the local farmer so there is a circular economy."
Nowadays, he uses donated money to buy the rice as many have heard about the initiative and want to help financially.
"But I still get the question: 'Where do I start? How do I get the plastic?' I then say: 'If you want to clean the world, clean your house. If you want to change the world, you must start with yourself.'"
BUILD HOMES WITH BRICKS MADE OF PLASTIC
For his work, Yasa has been nominated as CNN Hero of the year. The winner will be announced later this month. 
The nomination has helped to attract new donors from abroad and now about two-thirds of his donors are from Europe, Canada and Australia. 
While he hopes to win the award, Yasa said it was never his intention to receive recognition. 
His next goal is to upcycle the plastics from Bali into bricks and use them to build homes for impoverished families. 
Yasa also wants to replicate his initiative in other parts of Indonesia. 
"This programme will sustain as long as plastic exists because now people start thinking about plastic credit like carbon credit. 
"As long as there is plastic, as long as people want to see a clean environment, I think this programme will continue for the rest of my life ... because plastic will always be there.
Read this story in Bahasa Indonesia here.