Stand-off between developer and residents of Batam resort apartments amid claims of illegal repossession, eviction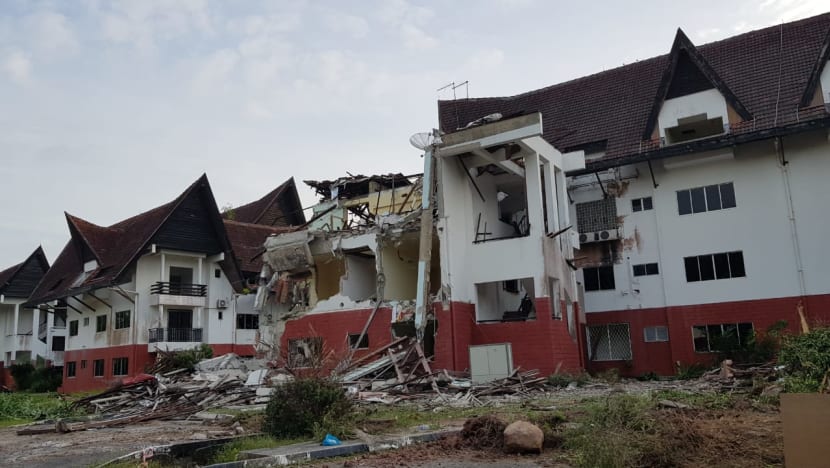 JAKARTA: There has been a stand-off between the developer and tenants of Batam's Indah Puri Golf Resort over alleged illegal repossession and forced eviction, after the land lease of the apartment complex expired three years ago.
Opened in 1993, the resort attracted hundreds of tenants in its heyday, including Singaporeans who made it their holiday homes. A small number of expatriates and locals have also made the resort their permanent residence.
The company behind the complex, PT Guthrie Jaya Indah Island Resort, is planning to dismantle the ageing four-story apartment blocks to make way for modern 10-storey towers.
Since Dec 13, the company has demolished five out of 10 apartment blocks in the complex, spurring protests from a few dozen tenants who are still occupying their units. They have accused the developer of illegal repossession and forceful eviction.
A stand-off is said to have ensued between residents and company employees as well as enforcement officers, resulting in skirmishes and even arrests, according to media reports.
The developer, however, has refuted the residents' claims.
Mr Mangara Manurung, a lawyer acting for the developer, told CNA on Wednesday (Dec 22): "We have been very lenient towards them. Out of compassion, we let them stay for three years without paying."
"We have tried to be persuasive. We have issued warnings and legal notices. We have been very generous towards people who no longer have the right to be there," he said.
DIFFERING INTERPRETATIONS OVER LEASE PERIOD
The lawyer explained that the company first obtained a 30-year land lease agreement from the government in 1988. Five years later, the resort and a golf course over the 91ha property which was built by PT Guthrie Jaya was opened.
"All the original tenants understood that their leases would expire in 2018. But over time the units changed hands and the original tenants perhaps hid this fact or neglected to convey this to the next tenants which made them think that the apartment unit is theirs to keep," he said.
"It is wrong for them to think that. Their rights to the property that they are occupying has expired."
Tenants told a different story. "We paid a lot of money for our apartments because we were promised that our 25-year lease would be extended once it expired. We were promised that we only had to pay a small fee as a lease renewal cost," one tenant who only wished to be identified as Andy told CNA.
Mr Manurung said the contracts that the tenants signed did not mention anything about a lease extension or renewal.
Furthermore, by the time the lease expired in 2018, PT Guthrie Jaya had new owners who were not keen on keeping the four-storey apartments the way they were. Instead, they planned to construct a massive apartment complex with modern facilities and amenities.
"We have been trying to communicate this to the tenants for the last three years. We have staged numerous meetings between the tenants and the new management. We have explained to them that we are trying to build a more modern resort," he said.
"We welcome them to stay and be a part of our new and improved apartment complex. But they have to pay us. They have to follow our terms and requirements because we have already paid the government to use the land for another 30 years."
PT Guthrie asked the tenants to pay 12 million rupiah (US$842) per sq m for a unit in the new development.
Tenants interviewed by CNA said that the amount was too exorbitant for an apartment located 30 minutes from the city centre of Batam that they will only get to live in until 2048.
While some tenants agreed to pay the full price or vacated the apartment voluntarily, others have refused to do either, believing that they were being cheated out of their initial agreements.
RESIDENTS ACCUSE DEVELOPER OF POOR MAINTENANCE, ILLEGAL REPOSSESSION
Tenant Dian Indriyanti said the developer has made life harder for those who chose to remain. Since 2018, the swimming pool, tennis court and other facilities have been shut.
"They even stopped mowing the lawn, stopped making repairs to leaky roofs and other maintenance work. They left the building to rot," the 26-year-old told CNA.
Those who insisted on remaining began to dwindle, especially after the COVID-19 pandemic which made travelling difficult. By early December, Ms Indriyanti said, only 30 families regularly occupied the apartment complex.
"Whenever we go out to buy groceries and food, security guards would stop us from going back into our own homes. We have to engage in a long argument with them before they would let us in," she said.
As of Thursday (Dec 23), five of Indah Puri's 10 low-rise apartment blocks have been demolished.
There are also blocks that have sections missing. "Last week, workers demolished one section of my block, even though myself and another tenant are still living in that same block," Ms Indriyanti said.
"I'm afraid of leaving my apartment. I'm afraid if I leave, I might come back to find it already demolished."
Ms Nuryati, another resident, said the developer has also tried to make life hard for them by cutting electricity and water since last week.
"We have to use emergency lights for illumination and buy mineral water or collect rainwater to wash our dishes and flush the toilet. Some of us haven't showered for days," said the 44-year-old mother of three who goes by one name.
She added that the recent demolition is part of tactics to get the remaining tenants off the property.
"They are trying to scare us so they can illegally repossess our properties. But we are not afraid. We will defend what is rightfully ours," she added.
THE DEVELOPER RESPONDS
Meanwhile, the developer insisted that it has only demolished apartment blocks which are vacant.
"We wouldn't demolish buildings which had people in them. We only demolish buildings which are no longer occupied. There were no human beings living inside of them. Not even geckos," Mr Manurung said.
He said that having obtained a 30-year lease extension, it is incumbent on the developer to redevelop the area.
"If the government sees that we are not making any progress or any construction activities, we stand to lose that permit," Mr Manurung said.
"Besides, the buildings were already dilapidated and no longer safe."
He accused some of those who remained of preventing heavy machinery from entering and operating in the complex.
"They were endangering themselves by trying to interfere with the demolition work. We had to ask the police and the military to safeguard the demolition," he said.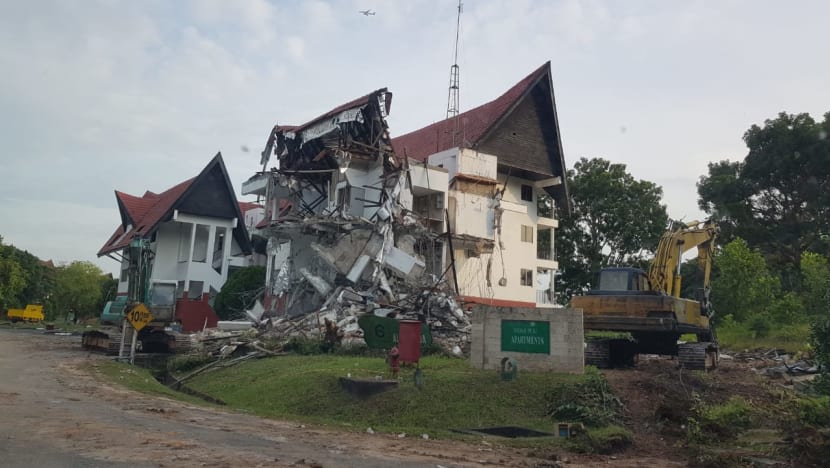 Several tenants have accused the developer of employing thugs to intimidate them. Mr Manurung denied these accusations.
"We never employed any thug," he said, adding that the civilians who were seen supporting the demolition works are permanent employees of the company.
"We have enough manpower to handle the situation. We have hundreds of caddies and maintenance workers. Why should we employ thugs?"
WHAT'S NEXT?
Several tenants have decided to take the case to the Batam District Court, hoping that the court would order a stop to the demolition or at least make PT Guthrie Jaya pay a fair compensation.
The first trial was held on Dec 10, three days before the developer began demolishing the first of Indah Puri's ten apartment blocks.
"The tenants have been taking their case to various agencies and institutions complaining about the developers' attempt to evict them from the properties that they have rightfully and legally acquired," a lawyer for the tenants, Ahmad Hambali Hutasuhut told CNA.
"Now that the case has gone to court, the developer should respect the legal procedure at hand and stop the demolition before a ruling is issued."
Mr Manurung said that his client has full respect for the court proceedings but will not stop the demolition process until the court says otherwise.
"We are ready to defend ourselves and we will respect whatever the court decisions may be," he said.