'This feels like home': Historic temple in Indonesia's Bogor a focal point for Chinese community
In the lead up to Chinese New Year, Pan Kho Bio was busy with worshipers hoping for a good Year of the Tiger.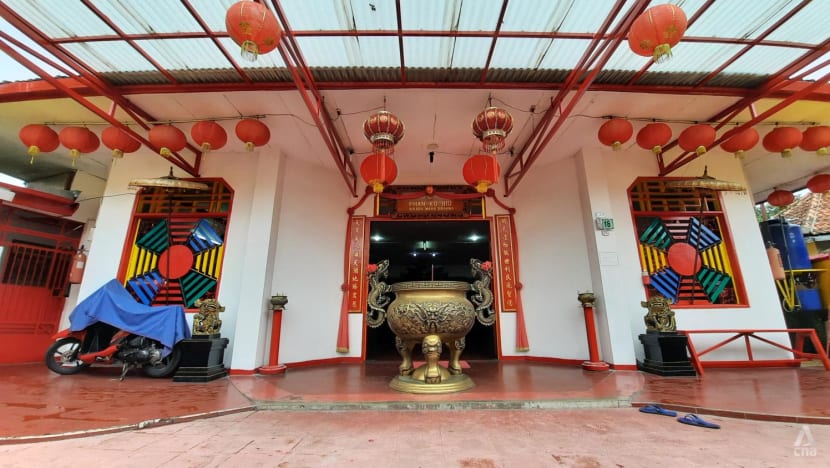 BOGOR, Indonesia: Tucked inside a densely populated neighbourhood on a tiny river island in Indonesia's Rainy City sits a small, unassuming Chinese temple accessible only through narrow, labyrinthine alleyways.
At first glance, nothing seems special about Pan Kho Bio, the oldest Chinese house of worship in Bogor, a city of one million residents located 50km south from the Indonesian capital Jakarta.
But people from all over Bogor have been visiting Pan Kho Bio, a temple dedicated to Pangu, the Chinese mythical figure believed to have separated heaven and earth. 
There are even those who drive for hours from other cities like Jakarta, Tangerang, Bekasi and Sukabumi to pray at the centuries-old temple.
Tan Soe An is one of them. Almost everyday for the past four decades, the septuagenarian has been praying at Pan Kho Bio. With her ageing knees, she makes the 800m walk from her house, past busy roads, quiet alleyways and a narrow bridge which crosses a raging river below.
"There are closer temples. But for some reason this temple feels like home," Tan told CNA.
Pan Kho Bio has been an integral part of the predominantly Hokkien Chinese community in Bogor for centuries, said Chandra Kusuma, who manages the day-to-day operations of the temple.
It is an important space where the traditional practices of the local Chinese community have been kept alive.
People come not only for worship purposes. The people of Bogor come to have their newly assembled lion dance heads blessed, particularly if they are to be used for performances during the Chap Goh Meh lantern festival – celebrated on the fifteenth day of Chinese New Year.
During the festival, sedan chairs known as jolis, which carry statues of various Chinese deities, are paraded across the city. Usually, the two jolis from Pan Kho Bio take centre stage.
Meanwhile, some members of the Chinese community in the city prefer to wash their idols and statues of Chinese deities at home with water blessed at the temple, sourced from a natural spring nearby.
Some people also come to Pan Kho Bio to bathe in the water, which is mixed with petals from seven different flowers, believing that it can cure various ailments or wash away their sins.
There are others who come to the house of worship out of curiosity, drawn by the temple's history and the various sacred rocks littering its courtyard and interior.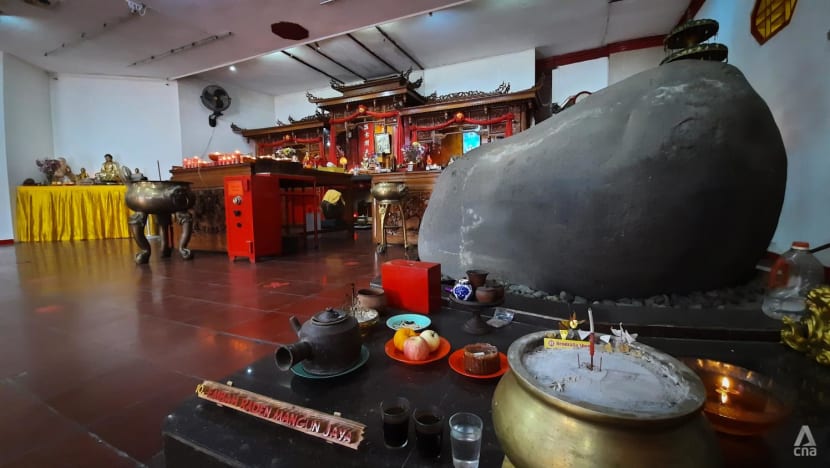 "People come here for all sorts of reasons but mainly because this temple is old and unique," Kusuma told CNA. "Whatever their reasons, for most people, once they set their foot here, they keep coming back."
STEEPED IN HISTORY
No one knows for sure when Pan Kho Bio was built.
But the temple had already existed for generations when Dutch explorers surveyed the area in 1703, suggesting that it was probably built during the 17th century.
The original temple was small, the temple's caretaker Kusuma said, surrounded by several boulders which had been considered sacred and revered by the local Sundanese community since the time of the last ruler of Bogor's Pakuan Kingdom in the 16th century.
These rocks have now become part of the temple and are put under one roof, allowing the Chinese community to pay respect not only to Chinese gods and deities, but also relics which carry historical significance to the city.
The Pulo Geulis river island, where the temple is located was also strategic, situated near Bogor's oldest market and sandwiched by the Ciliwung River, which was then a vital waterway which connected the city to Jakarta – then known as Batavia – and the Java Sea.  
"Our ancestors believed that this place was both sacred and strategic," Kusuma said of why the site was chosen by the early Chinese settlers in Bogor to be the location for their house of worship.
Kusuma said no one knows for sure why its founders decided to dedicate the temple to the mythical figure Pangu.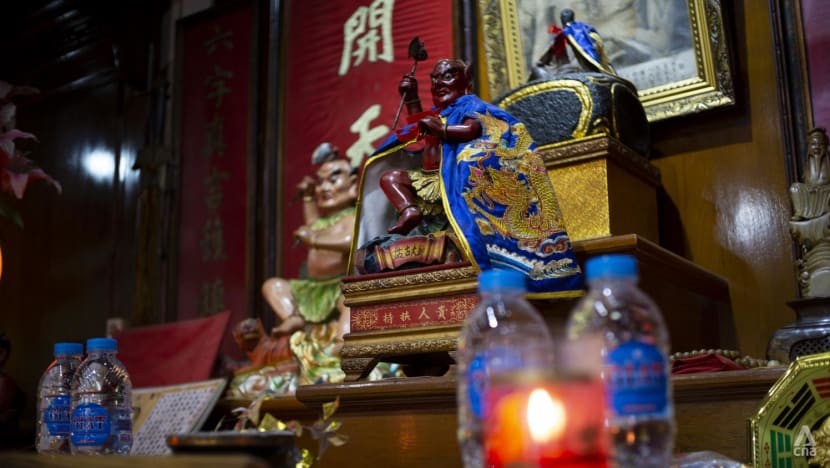 "For some reason our ancestors felt compelled to build a temple for Pan Kho," Kusuma said, referring to Pangu by his Hokkien name.
"The Chinese community usually build temples for Kwan Im (the goddess of mercy Guanyin) or Hok Tek Ceng Sin (the god of prosperity Fude Zhengshen). Having Pan Kho as the temple's main deity is what makes this temple unique and special."
"EVERYONE IS WELCOME"
Like many other Chinese temples in Indonesia, Pan Kho Bio is a house of worship for observers of Confucianism, Taoism and Buddhism, a legacy of Indonesia's New Order regime which lasted from 1965 until 1998.
During this period, Chinese celebrations were banned and the Chinese community were forced to proclaim themselves as Buddhists because Confucianism and Taoism were not recognised by the Indonesian government.
The temple, its caretaker Kusuma said, had to adapt by changing its official name to Vihara Maha Brahma.
After the fall of the New Order and Confucianism was officially recognised by the government, Buddhists are still welcomed at the temple.
Statues of Buddha sit alongside those of Chinese deities and figures inside the temple, placed at a special altar at one end of the white-painted building.
There are also shrines and altars built around the sacred rocks, which is why the temple also attracts non-Chinese locals who wish to visit places of historical significance to the Sundanese people.
"This is a place where everyone is welcomed," Kusuma said.
For Indonesians of Chinese descent in Bogor, the temple holds a special place in their hearts. 
"I have been to many temples but I like to come here the most because of its history. This is the oldest temple in Bogor. The way the Chinese community in Bogor has grown and flourished. It all started here," said 60-year-old Fendy Thee.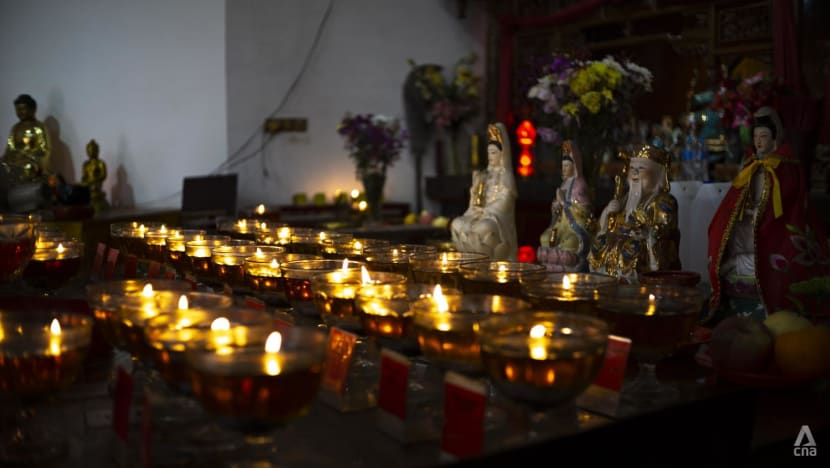 BUSY PERIOD BEFORE CHINESE NEW YEAR
With Chinese New Year coming, the temple's decorations have been spruced up.
The ceilings were decorated with gold, metal, tubular-shaped lanterns. Attached to the lanterns' tassels, written in black and golden ink on red pieces of paper, were people's wishes for the coming Year of the Tiger and names of their respective sponsors.
The temple usually closes at 5pm. But during this period, it will be open well into the night.
Worshipers congregate at the temple everyday, bowing and sometimes kneeling before the altars of different gods and goddesses with burning incense sandwiched between their palms and eyes closed.
Some in the Chinese community prefer to visit the oldest temple in the area or travel from one ancient temple to the next to pray.
It is customary for temples to be closed to worshipers for several days before the Chinese New Year, during which workers will remove the incense ashes which have accumulated over the last one year from the burner bowls. At this time, they will also clean the various statues and carved placards at the altars.
Temples like Pan Kho Bio will welcome worshipers once more on the first day of Chinese New Year, during which they would bring candles of various sizes which remain lit over the next fifteen days in the hope that the new year would be filled with prosperity and joy.      
While the candles can be lit at any temple, there are some like Tan Soe An who would only bring hers to Pan Kho Bio.
"All temples have altars. All observe the same tradition and customs. But there is always one temple that is close to your heart. For me, that is this temple," she said.