Indonesia's coordinating minister orders investigation into alleged Constitutional Court leak on parliamentary election
A former deputy justice minister claimed that the Constitutional Court had allegedly repealed the "open-list proportional representation" system for Indonesia's parliamentary election.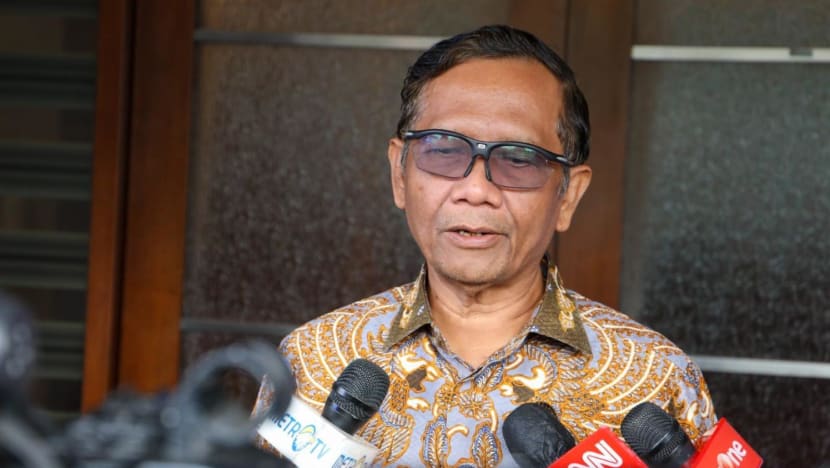 JAKARTA: Indonesia's coordinating minister for politics, legal and security Mohammad Mahfud Mahmodin urged the police to investigate a possible leak involving a Constitutional Court verdict that could potentially change the way the country runs its parliamentary election.
Mr Mahfud was responding to claims made by former deputy justice minister, Mr Denny Indrayana, who on Sunday (May 28) said that the court has allegedly repealed the so-called "open-list proportional representation" system for Indonesia's parliamentary election.
The system allows Indonesians to directly vote for a particular candidate. It was adopted in 2009, replacing the highly critcised "closed proportional system" where voters can only vote for a political party at the polls.
"This morning I received important information. The MK will rule for the legislative election to return to the closed proportional system, back to picking a party logo (on the ballot papers)," Mr Indrayana said in a statement referring to the Constitutional Court by its Indonesian initials.
The former deputy minister claimed that the information came from "a person whose credibility I trust greatly", adding that only three of the nine Constitutional Court judges purportedly agreed to keep the more transparent system in place.
The Constitutional Court has been hearing the case since November after six individuals questioned the constitutionality of the current system and motioned for the Constitutional Court to reinstate the old system.
Constitutional Court spokesman Fajar Laksono said that the judges had not started deliberating what their final verdict will be on the case, adding that they will do so on May 31 after the plaintiffs and the government submitted their closing arguments.
"How can (a verdict) get leaked if (the verdict) itself has not been deliberated," Mr Laksono told local media Detik on Monday.
The Constitutional Court, Mr Laksono said, is still mulling on whether to take legal action against Mr Indrayana.
Meanwhile, coordinating minister Mahfud said that police must investigate Mr Indrayana's claims.
"No matter what, a Constitutional Court verdict must not be leaked before it's made public. The information from Denny could set a bad precedent and amount to the leak of classified state documents," Mr Mahfud, himself a former Constitutional Court judge, wrote on Twitter on Sunday evening.
National Police chief Listyo Sigit Prabowo said police will immediately follow up on Mr Mahfud's instruction.
"We are discussing steps that we can take in order to make everything clear. Of course, if there is a crime involved, we will take further steps," the police general told reporters on Monday.
Indonesians are scheduled to hit the polls on Feb 14 next year when they will simultaneously cast their vote to elect the country's next president, members of parliament and several regional leaders.