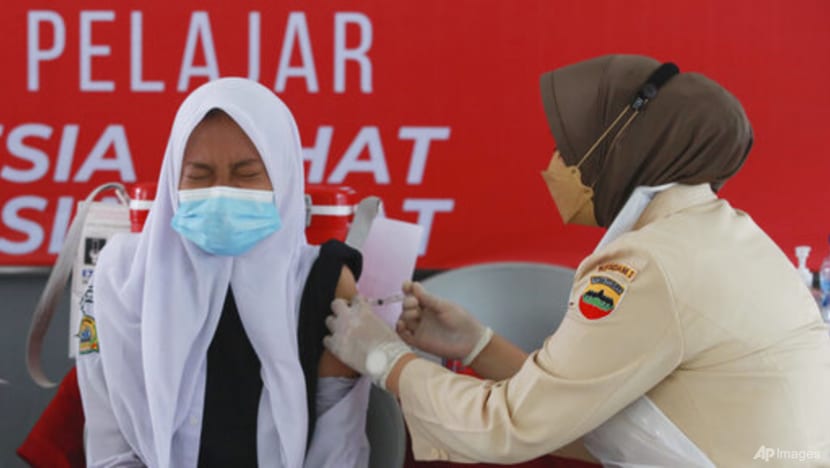 JAKARTA: Indonesian Hatimene Hura, 24, has yet to be vaccinated against COVID-19, seven months after Indonesia's inoculation programme kicked off.
The farmer living in Sisobahili Iranohura village on Nias island in North Sumatra knew how dangerous COVID-19 can be and he wanted to get vaccinated.
He went to the local health clinic in Idanogawo district last month to inquire about vaccination and was told it was only accepting people who needed to get their second jab.
Mr Hura's friends told him that he could try his luck at another walk-in vaccination centre. Hence he decided to travel 40km on his motorbike to Gunungsitoli, the biggest town on the island.
"I live at the foot of a mountain. I needed to pass some damaged roads, which are steep and winding," he recounted to CNA.
But after a one-and-a-half-hour ride, he was disappointed as the vaccination centre also catered only to people who already had their first jab.
Indonesia has set the target to inoculate about 208 million people of its 270 million population by early next year. To meet that goal, President Joko Widodo had initially set the target of 2 million doses to be administered daily in August.
However, due to the country's geographical vastness as well as limited vaccine supply, not everyone can be jabbed quickly. Living in a remote area further dampens the chance of getting vaccinated.
A survey released in mid-August by political think-tank Charta Politika showed that 72.4 per cent of Indonesians wished to be vaccinated.
Nationally, only 65 million people have been jabbed with the first dose. This works out to be around 24 per cent of the total population.
Dr Siti Nadia Tarmizi, the central government's spokeswoman for COVID-19 handling and vaccination, said the daily vaccination rate in August was about 1.2 million to 1.4 million. This fell short of the initial 2 million daily target.
The government later added a new target and stated that 100 million doses of vaccines must be administered by the end of last month. This goal has been achieved.
Dr Tarmizi said that the government is now aiming to hit the 2 million target this month.
LONG ROUTE TO VACCINE
For some Indonesians, finding a vaccination centre near them and securing a slot are no easy tasks.
Dion Alpandy, 18, had to ride his motorcycle to a centre 20km away from his hometown to get his first shot, and then another 30km away for his second shot.
The university student and two of his friends in Rantepao, North Toraja regency in South Sulawesi province had to resort to this because the only vaccination centre near their homes was full.
Despite heading to the nearby regency for their first vaccination appointment before 7am, a large crowd had already gathered at the centre when they arrived. They finally got vaccinated at 1pm and rode home soaking wet as it was raining.
They went back to the same centre for the second appointment last month, riding their motorbikes through the same damaged asphalt roads.
"We woke up early again and rode there again but when we arrived we were told that there were no vaccines," he said, adding that the centre was closed.
They headed home to search for another vaccination centre online. They found another centre further away and rode 30km there the next day.
Despite the obstacles, Mr Alpandy said it was important to get vaccinated as the vaccine certificate is a requirement for various activities these days. He would need the certificate to return to his university in South Sulawesi's capital Makassar when in-class learning resumes one day.
Jenifer May Ata Mbaru, 17, also experienced first-hand that getting vaccinated is not as easy as she thought it would be.
She was excited when Mr Widodo announced at the end of June that teenagers aged 12 to 17 could be vaccinated, and she subsequently received a WhatsApp message informing her that her first appointment would be on Jul 12 at the regency capital of Waingapu in East Sumba, East Nusa Tenggara province, about 15km from her village Kiritana.
However, when she arrived at the venue, she was rejected as her name was not on the vaccination list. The centre was also not accepting walk-ins since it had limited supply, she said.
She was disappointed, but she has decided to reapply and is hoping for better luck next time. 
DISPARITY ACROSS PROVINCES
Head of East Sumba parliament Ali Oemar Fadaq said that the vaccine supply in his region has been limited and vaccinators only work two days a week. By the third day, they would run out of stock, he said.
Out of 200,000 eligible people in the regency, only 42,000 have received their first dose and 17,000 their second.
He expressed regret at the situation, as East Sumba is one of the three regencies in East Nusa Tenggara province that have been classified as a red zone. This is defined by the government as an area with a high number of COVID-19 cases.
"Mr Jokowi himself warned that East Nusa Tenggara must be careful," Mr Fadaq told CNA, adding that East Sumba only has one hospital with a capacity of 100 patients.
He does not know the reason for the limited supply but revealed that the vaccines come in small batches, such as 100 vials for 500 to 1,000 people.
"The local government has done its best (to contain COVID-19), but there are many limitations," said Mr Fadaq, who contracted COVID-19 in July.
"Here in villages, people have to go tens or hundreds of kilometres to a health centre which is located in the regency's capital. Some people ride a horse because the roads are not connected," he said.
As of Friday (Sep 3), about 802,419 people in the East Nusa Tenggara province or 20.9 per cent of the provincial target have received their first dose.
It is far behind capital Jakarta, which has achieved its initial target of 7.5 million doses in July. A total of 9.7 million people have received their first dose as of Sep 3. 
Dr Tarmizi, the central government's COVID-19 vaccination spokeswoman, acknowledged that there have been cases where people had to travel far to get vaccinated. This was despite the government mobilising the military and police to do door-to-door vaccination in many areas, especially the outermost islands, she said. 
"There are definitely such cases because there are only 160 million vaccine doses when 426 million vaccine doses are needed. How to distribute the vaccines well? 
"We can't distribute the vaccines to all villages because then one village will only get one vial. So we ask people who haven't had the chance to be vaccinated to be patient," Dr Tarmizi told CNA in August.
As of Friday, Indonesia has received about 190 million doses of vaccines, which is 44 per cent of the supply needed to inoculate 208 million people. 
Among the vaccines approved to be used in Indonesia are Sinovac, AstraZeneca, Sinopharm, Moderna and Pfizer.
The vaccines were firstly prioritised for medical and other essential workers as well as senior citizens. Regions such as Jakarta, Java and Bali which had the highest numbers of COVID-19 cases were also given priority over other areas.
When more vaccines became available, they were sent to capital provinces, and from there, disseminated to other regencies, districts and towns.
Mr Bambang Heriyanto, secretary and spokesman of Bio Farma, the country's state-owned vaccine producer and distributor of the COVID-19 vaccines, said it encountered limited storage and distribution capacity on the ground.
The existing vaccine distribution channels have to accommodate routine non-COVID-19 vaccines as well as large numbers of COVID-19 vaccines, he said in a press conference on Aug 24. 
"That is why we collaborate with many parties including local governments regarding storage facilities and vaccine distribution. We hope that every part of Indonesia will soon get enough vaccines," said Mr Heriyanto.
Health Minister Budi Gunadi also said on Aug 24 that about 80.7 million doses of vaccines would arrive in September.
"Therefore, people of Indonesia, local governments do not have to worry, we will definitely send enough (vaccines) to the regions,'' he said in a press conference.
Despite the long wait, Mr Hura, the farmer in Nias, said he would continue searching for vaccination opportunities. He said he was willing to go the extra mile, especially since he wanted to fly to the provincial capital Medan in October to apply for a job.
Current requirements only allow people who have received their first dose to fly. 
"I beg the authorities to add more vaccines and inform the people about the vaccination schedule in a timely manner because we do want to get vaccinated."