'My bosses are taking COVID-19 lightly': Some Jakarta employees told to work in office despite COVID-19 curbs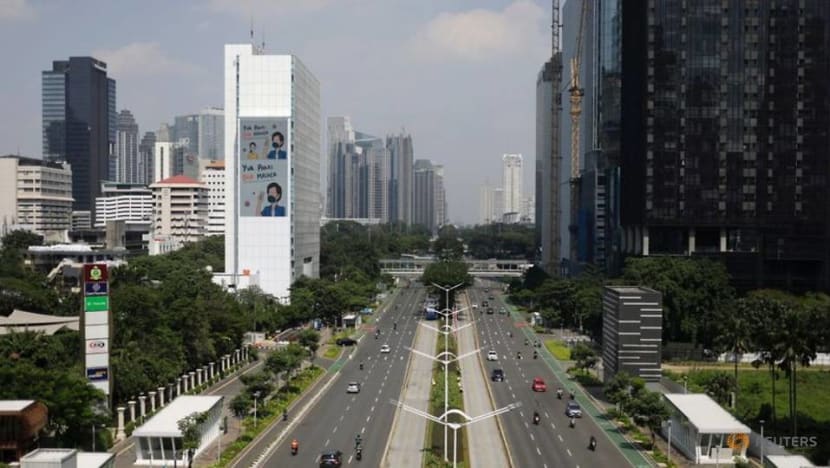 JAKARTA: The normally clogged streets running through Jakarta's main business districts have been largely deserted for the past one month, deprived of their usual hustle and bustle.
Since Jul 3, officials have erected barricades and checkpoints at every corner of the main thoroughfares, stopping non-essential workers from travelling to their respective offices in a bid to curb the spread of COVID-19, which had been on the rise thanks to the presence of the more transmissible Delta variant.
However, the rows of high rise buildings are far from empty. 
Several companies chose to ignore the Level 4 Enforcement of Public Activity Restrictions – known by its Indonesian acronym PPKM – which is currently in place. They have been playing a cat and mouse game with city officials who occasionally conduct raids and inspections.
"In my company, all workers have been required to come to the office. The company argued that it has spent a lot of money renting the office space and it doesn't want it to go to waste. There are two pregnant women in my division. They too are told to come to the office," a marketing executive, Aldi (not his real name) told CNA.
The regulation states that all non-essential workers must work from home. As for essential sectors, no more than 50 per cent of employees are allowed to come to the office
The Jakarta Manpower Agency said that they have taken action against more than 1,000 companies for violating the PPKM regulation since the policy was enacted last month.
Several workers interviewed by CNA said their offices have been running at full capacity during the PPKM, adding that the various checkpoints and restrictions in place only meant that they had to travel via back roads and alleyways to get to work.
Experts have expressed concern over this phenomenon and have urged stricter enforcement of the PPKM regulation.
"The pandemic will never be over if people's mobility and interaction in workplaces remains high," epidemiologist Windhu Purnomo told CNA.
"MY BOSSES ARE TAKING COVID-19 LIGHTLY"
Aldi works in a technology company, which falls under the essential sector. At the beginning, his employer agreed to follow the PPKM rule by having half of its workforce work from home.
"As a marketing executive, I don't really need to come to the office. I feel that our productivity remained the same whether we are working from the office or from home. But one advantage to working from home is that we feel a lot safer and we don't have to worry about the chance of contracting (COVID-19) at work or on our way to work," he said.
Subsequently, the company reversed its decision and said all employees must return to work in the office starting Jul 26.
"I feel that my bosses are taking COVID-19 lightly. One of our bosses contracted COVID-19 last year but he recovered quickly. Since then, the company has been using his experience as an example. They told us: 'see, COVID-19 is not all that bad. Stop worrying about returning to the office'," he said.
He claimed that there are virtually no health protocols and safe distancing measures being implemented.
"Whenever an employee tested positive, all they did was spray some disinfectant fluid at our desks for a few minutes and tell everyone to get back to work once they are done," he said.
"The company doesn't even make the effort to perform contact tracing. If we worry about getting infected, we had to get ourselves tested out of our own pocket and the company wouldn't reimburse us."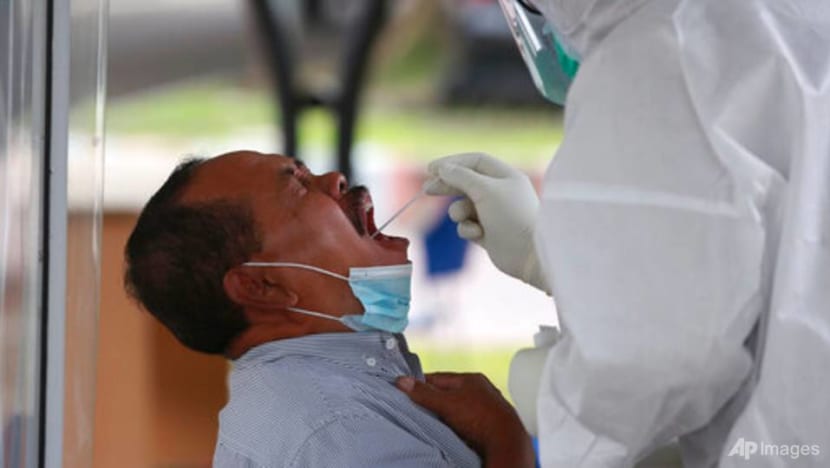 Budi, not his real name, said his technology company has been running at full capacity since Aug 2.
"Our company is a (mobile) app provider and all of our work is done via our computers. There has never been any need for face-to-face interaction to meet any of our KPIs (key performance indicators). Furthermore, I am a digital marketer," he told CNA.
"I'm so frustrated by the fact that we have to come to the office, just to open the same laptop, do the same exact things we've been doing just fine at home. Except we're risking our health and well-being."
Budi said he is sharing a tiny office space with seven other people which makes it hard to practice social distancing.
When he tried to raise the issue with his boss, the latter replied that working in the office would allow for more collaboration and that Budi should be thankful to still have a job when many companies around Indonesia had been forced to downsize their workforce.
OVER 1,000 COMPANIES ORDERED TO CLOSE TEMPORARILY
Chief of the Jakarta Manpower and Energy Agency Andri Yansyah said his office has so far ordered 1,057 companies to temporarily close for various PPKM violations ranging from implementing sub-par health protocols to having too many employees work in the office.
"There were even cases when they made employees who contracted COVID-19 come to work," he told CNA.
Mr Yansyah said the city has deployed hundreds of officers to conduct routine inspections and make sure that offices adhere to the regulations.
"We realise that we don't have enough resources to monitor every office in Jakarta, which is why we rely on public reporting. Ninety per cent of the raids conducted came from public reports which anyone can make anonymously through our website, mobile app and WhatsApp," he said.
Marketing executive Aldi said several of his peers had reported his company for violating the activity restriction regulations.
"My company was actually raided twice before and both times officials temporarily closed our office," he said.
However, even after the raids, the company continued to ask all employees to come to the office. 
"Perhaps the penalty is just too small," Aldi said. "Besides, what officials failed to notice is that we occupy several floors in the same building. So all my company had to do was move people around whenever one floor was shuttered."
By law, violators could have their offices closed for three days as well as pay a fine of up to 50 million rupiah (US$3,480).
WHISTLEBLOWERS FEAR REPRISAL
Jakarta deputy governor Ahmad Riza Patria earlier promised that the identity of whistle blowers would be protected. Mr Patria also pledged to revoke a company's business permit if it takes punitive action against a whistleblower.
Jakarta currently uses an app called JAKI to file such complaints as well as various other health protocol violations. Although the app claims that it allows a user to make an anonymous report, the user's identity will still be recorded in the system.
Last month, a social media post went viral. It said that despite using the anonymous feature, the identity of a user who filed a complaint against a health protocol violation was leaked by an inspection officer in the field.
The Jakarta government later said that the identity of whistleblowers would be withheld from officers who are conducting inspections.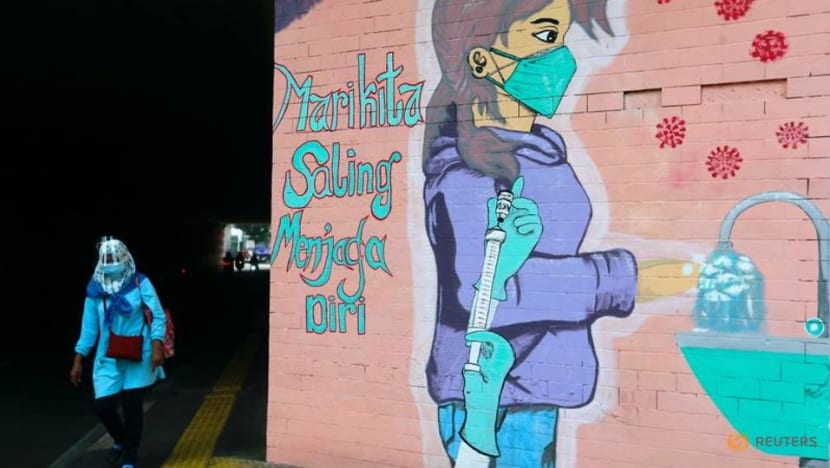 But Rini (not her real name), a secretary who works for a clothing company, said she remained skeptical that the city will protect her identity.
"Ever since the pandemic began my company never told its workers to work from home. There have already been five people who contracted COVID-19 but they never closed the office," she told CNA.
"Last month, I thought of reporting this using the app provided by the city but I was worried that the city would not protect my identity and I would be sanctioned for turning against my own company. I felt so conflicted."
Marketing executive, Aldi said many of his peers are also reluctant to file a complaint to the city for the same reason. "We wouldn't file a complaint ourselves. To add another layer of security we get our family members to file the complaint for us," he said.
EXPERTS URGE STRICTER ENFORCEMENT AND HEALTH PROTOCOLS
Mr Trubus Rahardiansyah, a public policy analyst from Jakarta's Trisakti University said the government has not been firm in upholding the PPKM regulation. He also opined that the regulation has not been well thought through.
"The PPKM regulation is in place to curb the spread of COVID-19. That is the ultimate goal. But to achieve this, you need to be firm and consistent in enforcing the regulation. You need to set up a secure system for whistleblowers and right now there is little public trust towards it," he said.
"The private sector also feels that there is no compensation or reward if they follow the policy. Companies need to think about their cash flow and need to think about rent, expenses, salaries and loans. The government must intervene and offer incentives, tax breaks and soft loans. Without them, infractions and disobedience will be rampant."
Mr Purnomo, the epidemiologist, said the government must ensure that everyone follows strict health protocols even after the PPKM is over.
"The government should consistently conduct inspections and make sure health protocols are in place. Is there enough space for people to maintain safe distancing? Is the room well ventilated?"
He added: "It is not as simple as determining which companies are in the essential sector, which are in the critical sector and which ones are neither."
"The virus does not care whether you are an essential sector worker or not. As long as the health protocols imposed do not match the health risk involved, companies are putting their workers at risk."
The Airlangga University lecturer said the government can assess this by the number of COVID-19 cases that emerge from a particular company. "That is a possible indication that the health protocols are insufficient or not implemented correctly," he said.
Manpower agency chief, Mr Yansyah said the Jakarta government is trying to improve health protocols in the workplace by issuing a new decree on Jul 26, which states that only those who are vaccinated can work in the office.
"Although the regulation is already in effect, it will be implemented gradually. We are still communicating to the public about this new requirement," he said.
"Perhaps later when we have vaccinated about 90 per cent of (Jakarta's) population, we will formulate what would be the best sanctions for violators. But we can start by issuing a written reprimand for violators," he said.
According to the Health Ministry 80 per cent of Jakarta residents have received their first jabs. Around 35 per cent of Jakartans have been fully vaccinated.
Marketing executive Aldi is skeptical over whether his employer will comply with the latest regulation.
"The company does not care about its employees' well being and health. One by one, my colleagues are submitting their resignations," he said. "I myself am looking for another job."