BOGOR, Indonesia: In between roaming about a dog shelter - her new home since she was rescued from a truck bound for a slaughterhouse - Sasha occasionally checked out her newborn puppies sleeping soundly in a pet bed. 
Lying on a white and turquoise blanket, the five puppies were only a few weeks old, still unable to open their eyes, let alone walk. 
Upon waking up, the puppies squeaked and crawled in search of their mother. Sasha dutifully tended to them.
The mongrel, estimated to be just over one year old, appeared to be relishing her new role as a mother, a life which would have been impossible without the help of the police and animal rights activists.
Just after midnight on Nov 24, Sasha and 53 other dogs were rescued from a truck heading to a makeshift slaughterhouse in Sukoharjo regency in Indonesia's Central Java province.
"The dogs were incredibly emaciated. Many of them had wounds from where they had been caught and mishandled. They were severely dehydrated and … incredibly traumatised psychologically from the ordeal," Lola Webber of non-for-profit group Humane Society International (HSI) told CNA.
Webber, who was there in Sukoharjo to assist authorities in caring for the confiscated canines, said the dogs had their legs and mouth tied while their bodies were wrapped in hessian sacks.
"I've been rescuing dogs from the dog meat trade for nearly 15 years, but it was still incredibly shocking to see them," the campaign director continued, estimating that the dogs must have spent around 10 hours from West Java, where they were captured, to Sukoharjo. 
"It was so hot and humid in that truck. I don't know how the dogs survived (the journey)."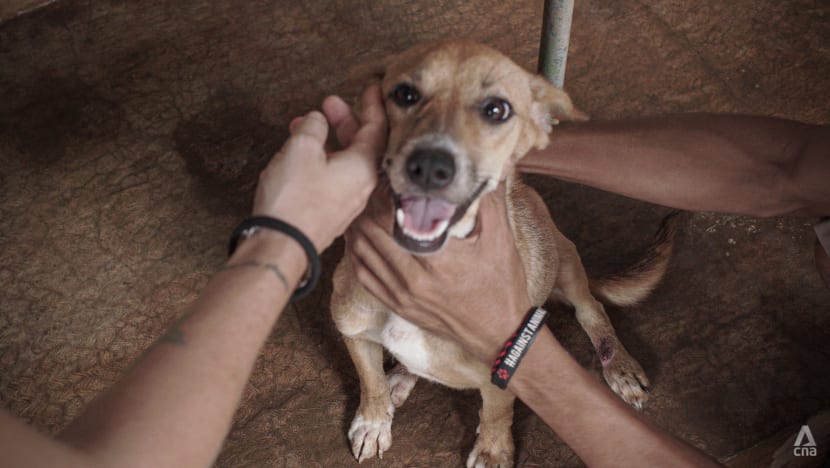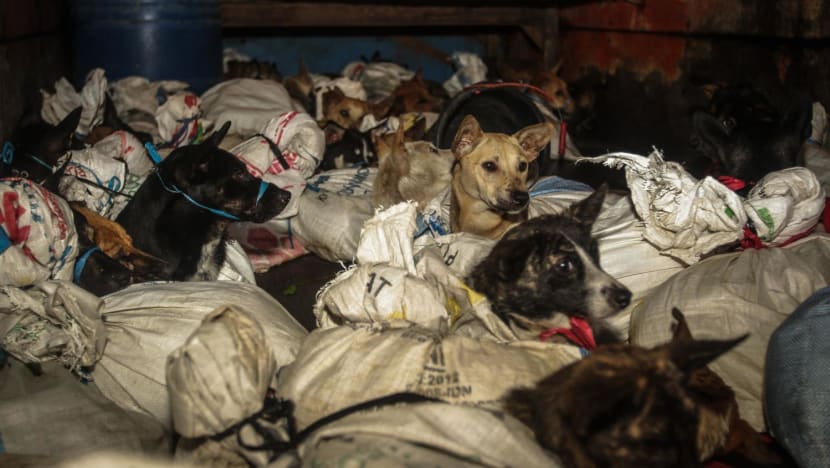 One female dog was already dead when authorities raided the truck.
"You'd wonder when was the last time these dogs had eaten. I've never seen dogs so emaciated. Honestly, I can't believe that she was the only one (that died) because the condition on that truck was so horrific," she said.
Dog meat is consumed in some parts of the country where people believe that it has medicinal properties – which has never been scientifically proven. 
In some places like Central Java, where the majority of the population are Muslims who viewed dog meat as "haram" or forbidden, dog meat consumption is viewed as a tradition.  
Dog Meat Free Indonesia Coalition estimated that at least 1 million dogs are killed each year for consumption in Indonesia.  
However, there have been growing calls for such practices to end. A survey conducted by the coalition, released in August 2021, suggested that 93 per cent of Indonesians supported the ban on the dog meat trade.
Fear of health effects, concerns for animal welfare or cruelty and dogs being "haram" were among the reasons given.  
A MAJOR PROBLEM
Mariana Ferdinandez, a veterinarian with the Jakarta Animal Aid Network who also participated in the Sukoharjo raid, suspected that the same truck had made a number of stops, dropping off dogs to various slaughterhouses and restaurants along the way to the Central Java regency.
"Based on our investigation, a truck like that can easily carry between 200 and 250 dogs," she told CNA.
Dog Meat Free Indonesia Coalition activist Adrianus Hane said hundreds of dogs are slaughtered each month in the Central Java city of Solo and its surrounding regencies Sukoharjo and Karanganyar.
"There are at least 84 restaurants which openly sell dog meat in these areas," he told CNA, adding that the figure excludes roadside stalls and street vendors operating on quiet roads and back alleys. 
Selling dog meat is not illegal in much of Central Java, but since dog meat is not considered food in Indonesia, these vendors and slaughterhouses operate without the necessary permits. 
The demand for dog meat from these areas is so high that traffickers had to source their dogs from the neighbouring province of West Java, where dog meat is not widely consumed. To meet the demand, traffickers are said to have become less picky about the type of dogs they supply.
Ferdinandez said that among the 53 dogs rescued from the November sting were puppies and adolescent dogs, some only three or four months old.
"There were also old dogs which were stricken with heart problems and tumours. There were many who had dog collars on them, suggesting that they might have been stolen," she said.
Then there were pregnant dogs like Sasha. "We learned later that at least 10 of the dogs were pregnant at the time they were rescued," the veterinarian added.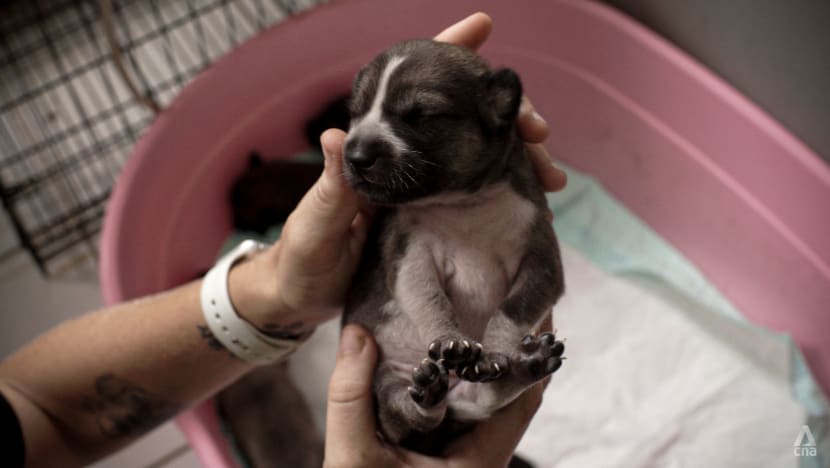 Sasha, which gave birth to her five puppies just two weeks after she was rescued, was lucky. Two other dogs gave birth to stillborn, most probably due to the physical and psychological trauma that they sustained from the ordeal, according to the shelter. 
WEAK REGULATIONS
In September 2018, the Ministry of Agriculture issued a directive calling for regional governments to stop issuing permits and health certificates to dog meat products and slaughterhouses and ban the dog meat sale. The ministry stated that the directive was issued out of concern for animal welfare and the spread of zoonotic diseases.
To date, only a handful of regencies and cities have complied with the directive.  
Sukoharjo officially banned the sale of dog meat in April 2021 but the regency is still giving time for vendors to switch jobs.
"Violators can face up to three months in prison or a fine of up to 50 million rupiah (US$3,472)," Heru Indarjo, chief of the Sukoharjo Public Order Agency, told CNA about the regulation, adding that there were around 30 dog meat vendors operating in the regency.
"We are giving them time for them to switch jobs. We are conducting inspections and we are constantly asking them to sell something else," he continued. "We have to find a solution for them first so they can still provide for their families, before we start enforcing the regulation."
The neighbouring regency of Karanganyar has been banning the sale of dog meat since 2019, providing cash incentive to dog meat sellers to take up another trade.
Meanwhile, cities like Solo and Yogyakarta said they were still studying whether they should enact a ban on the sale of dog meat. Those in support of dog meat trade insisted that such consumption is part of their culinary tradition, while some believed that dog meat can cure illnesses such as malaria and asthma.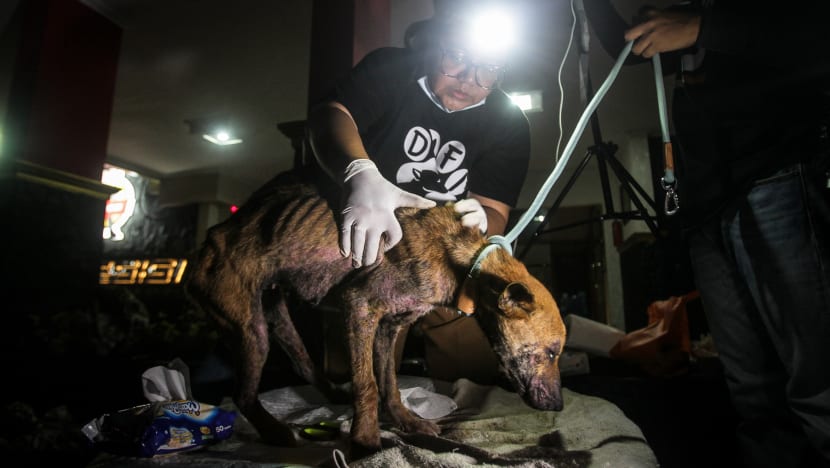 Activists are calling on the central government to enact a nationwide ban on dog meat, saying that the differing regulations and stances adopted by various regional governments is making enforcement difficult.
Although there have been a number of small-scale raids and interception over the years, Webber said the first major interception of a dog meat trafficker occurred in May 2021 in Kulonprogo regency, Yogyakarta, which led to the rescue of 78 dogs.
"It was the first time a shipment of that size was intercepted, which led to the first ever conviction of a dog meat trafficker," she said.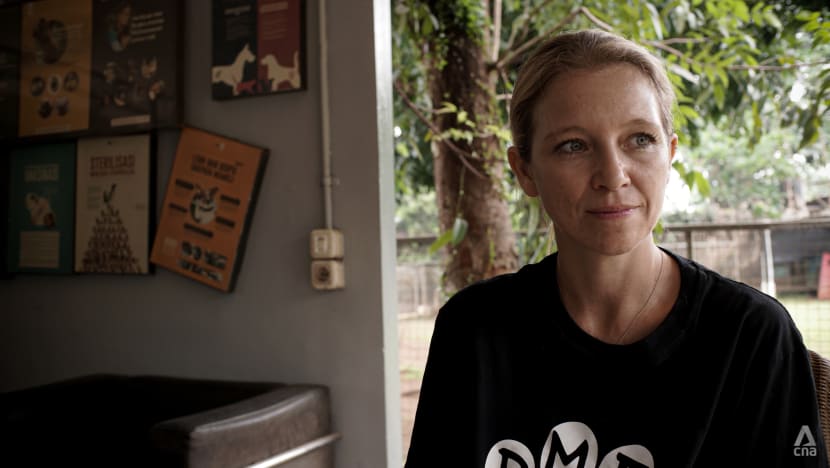 With the absence of a national law which explicitly prohibits the sale and trafficking of dog meat, police were only able to charge the trafficker in the Kulonprogo case with transporting animals without a permit. In October, the trafficker was sentenced to 10 months in prison and a 150 million rupiah (US$10,403) fine.
"There are a number of laws and regulations in Indonesia that can and should be applied to the dog meat traders. But enforcement is incredibly rare and for the most part (the trade) is left entirely unchallenged by the authorities," Webber said.
"That's why authority-led actions are so important and so celebrated … to show that there are laws and that they can and should be implemented. This (case) sets a precedent and a chance for change."
Police in Sukoharjo also charged the trafficker who was involved in transporting Sasha and the other dogs. So far, only the truck driver has been criminally charged with transporting animals without a permit, while other suspects have not due to lack of evidence.
LONG ROAD AHEAD
The dogs in the Sukoharjo case have since been housed at a shelter about an hour drive from the Indonesian capital Jakarta.
"Psychologically, the dogs are doing much better than when they first came to the shelter. At first, they were terrified. They didn't want people touching them. They fight among themselves. They are now calmer and interact well with workers and vets," Azis Ilham Mahendra, a veterinarian at the shelter, told CNA.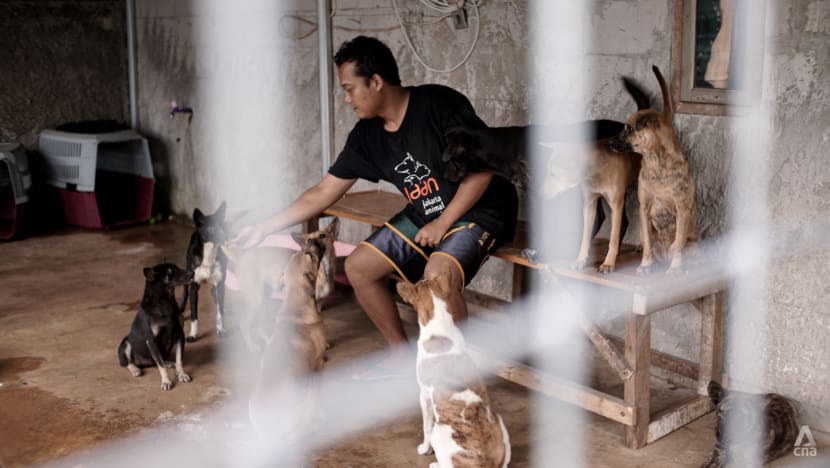 Their wounds have started to heal. The dogs, Mahendra said, were no longer malnourished.
But several were still traumatised from the ordeal, barking and howling at the sight of strangers. One dog, Mahendra said, would immediately scream in horror if anyone pets its belly.
It would take time, he said, before those dogs could heal.
But for every dog saved, thousands more die in the dog meat trade. Which is why activists are continuously advocating for a ban on the sale and consumption of dog meat and lobbying various regional administrations to adhere to the Agriculture Ministry directive.
"(The dog meat trade) relies on illegal activities. It relies on dog theft. It relies on illegal trafficking. It relies on animal cruelty laws being violated," said Webber.