Indonesia's new extramarital sex laws will encourage 'revenge' reporting, says researcher
Under the revised law, people who have sex outside of marriage or cohabit can be reported to the police - but only by immediate family members.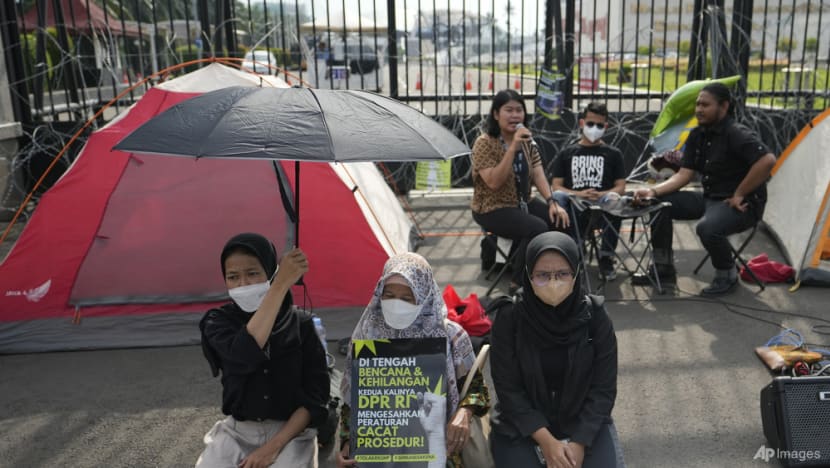 SINGAPORE: Indonesia's new laws criminalising premarital sex and cohabitation cannot be broadly enforced due to the sheer population size of the world's third largest democracy, said an analyst.
The "toxic" revised bill however provides an avenue for extortion and revenge by family members who disagree with a person's lifestyle or choice of partner, researcher Andreas Harsono said on Friday (Dec 9).
Under the new law, people who have sex outside of marriage or cohabit can be reported to the police - but only by immediate family members, such as parents, spouses and children.
"This law provides an avenue for extortion, for ... parents with LGBT (lesbian, gay, bisexual, transgender) children (who) want them to be so-called normal. They can use this (law) in revenge or to raise their anger against their own children," he said.
"This is the danger of this law, it is toxic. If you have problems, then this is a mechanism to bring a very private matter into the public domain," Mr Harsono told CNA's Asia Now.
The law applies to both Indonesians and foreigners alike, and will come into effect in three years' time.
The punishment for premarital sex will be a maximum of one year in jail or a fine of 10 million rupiah (US$640). Cohabitation will bring six months' imprisonment or a fine of 10 million rupiah.
LAW NOT EXPECTED TO BE BROADLY ENFORCED
Some marriages are not recognised in the eyes of the law, such as customary marriages or other unions facing bureaucratic or religious issues, Mr Harsono said.
Many of these couples across the country live together, and it would be tough for authorities to make arrests across the board, he added.
"It is impossible to enforce this law broadly. There are millions of Indonesian couples who live together without legal marriage certificates. The authorities and police cannot arrest (all of them)," said Mr Harsono, a researcher at international non-governmental organisation Human Rights Watch.
Indonesia's tourism hotspot of Bali has already made a statement to calm tourist jitters, promising to maintain the status quo.
The resort island's tourism chief said hotels will ensure visitors' privacy, and not ask for documentation of marital status.
"A SAD DAY" FOR INDONESIA
The move by Indonesia's parliament came amid a sweeping overhaul of its criminal code, which introduced a host of laws slammed by critics as a step backward for human rights and civil liberties.
Apart from outlawing sex outside of marriage, the revised code will also ban insulting the president and state institutions and update offences related to blasphemy.
"It was a sad day. Really sad," said Mr Harsono. "(Indonesia is) failing. I feel like (we're) failing the children … and maybe the future generations."
The United Nations (UN) on Thursday slammed the revised code for being "incompatible" with fundamental freedoms and human rights.
The intergovernmental organisation said articles in the code discriminate against women and minorities while aggravating violence based on gender, gender identity, sexual orientation and religious belief.
LGBT communities have also voiced their fears and frustration over the legislation, which would make it riskier for gay couples to live together in a country where they already face widespread discrimination.
GROWING CONSERVATISM
Mr Harsono pointed to growing conservatism as the underlying issue propelling the legislative changes, with increasing intolerance of religions and practices outside of Islam.
"Over the last 20 years, we are seeing more and more Syariah-inspired regulations that discriminate against women, LGBT people, as well as religious minorities in Indonesia. This is simply because of growing religious conservatism," he said.
Mr Harsono added that he had stressed to Indonesia's Law and Human Rights Minister Yasonna Laoly the importance of Indonesia adhering to international standards.
"There are not many countries in the world that are not multicultural (and) multi-ethnic ... The key is not accommodating all of these ethnic groups, the key is to meet international human rights standards," he said.
"This criminal code fails to meet international human rights standards."