There was tear gas everywhere, say survivors of Indonesia's football match stampede
At least 125 people died in one of the world's deadliest football disasters, after police fired tear gas as fans stormed the pitch in Malang, East Java.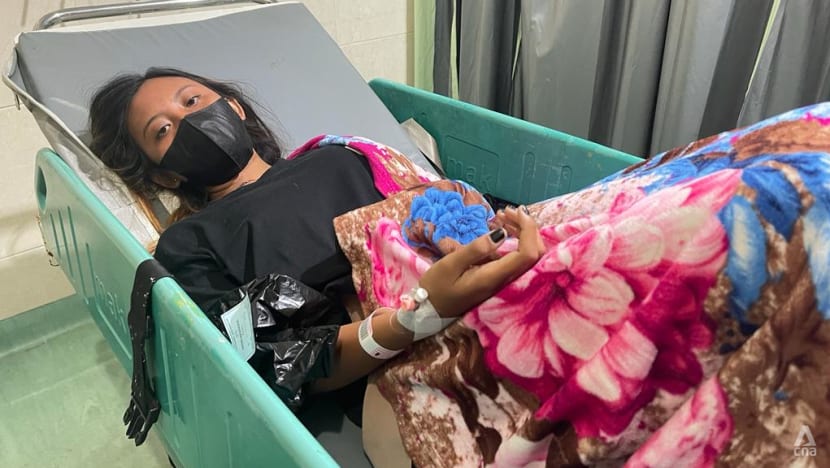 MALANG, Indonesia: Football fan Firari Vilallah never imagined a football match of his favourite club Arema FC would claim the lives of at least 125 people. 
Playing on home soil, Arema FC lost the match 3-2 with rival Persebaya Surabaya on Saturday (Oct 1) night. 
But as Vilallah was about to leave the Kanjuruhan Stadium in the city of Malang in East Java, he was stuck at the exit with thousands of others who were trying to run out. 
"There was tear gas everywhere, so the supporters ran frantically. 
"And people pushed each other, so many couldn't even move," the 22-year-old told CNA.   
Vilallah and his brother eventually managed to escape the stadium alive. 
But then he saw his friend Evi Syaila, who was laying near the exit gate. 
He brought the 18-year-old back to her house thinking she did not suffer from any serious injuries. 
However, when Syaila woke up on Sunday morning, she couldn't eat or drink.
"Everything hurts. My stomach hurts," she said. Syaila was brought to a local hospital in Malang and doctors told her she needed to be hospitalised.
She believed someone stepped on her during the stampede but added that she could not remember what exactly happened. 
"It happened so sudden. I was shocked," said Syaila who is in her final year of secondary school.
While both of them managed to survive the tragedy, Vilalllah lost four of his friends. 
"I only learnt about it afterwards at about 3am. A man and three women," he told CNA.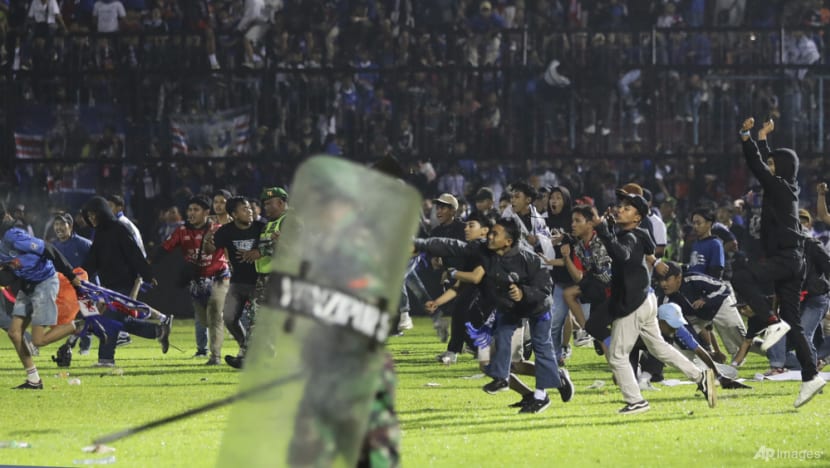 NEVER AGAIN
Both Vilallah and Syaila have watched live matches of Arema FC multiple times. 
But Saturday's disaster is the worst they both have witnessed. 
After the match, thousands of angry fans stormed the football pitch and police fired with tear gas into the crowd, triggering a stampede and cases of suffocation, East Java police chief Nico Afinta told reporters. 
At least 125 people died, including a 5-year-old child, while about 320 people were injured. 
"People were running to the pitch when Arema lost but why did they fire tear gas everywhere? I was at the tribune, why was there also tear gas at the tribune?" said Vilallah.
"I personally will never watch a game at a stadium again. Because it is very dangerous."
Vilallah and Syaila have urged authorities to stop football riots from happening in Indonesia once and for all, adding that they also hope the organisers and the police will be held accountable.
Speaking on Sunday morning, President Joko Widodo said authorities must thoroughly evaluate security at matches and said that it should be "the last soccer tragedy in the nation".
Jokowi, as the president is known, also ordered the Football Association of Indonesia (PSSI) to suspend all games in the Indonesian top league BRI Liga 1 until an investigation had been completed.
Football's world governing body FIFA specifies in its safety regulations that no firearms or "crowd control gas" should be carried or used by stewards or the police. 
THOROUGH INVESTIGATION
Indonesian General Listyo Sigit Prabowo visited Kanjuruhan Malang's stadium with sports minister Zainudin Amali and East Java governor Khofifah Indar Parawansa on Sunday night (Oct 2). 
Mr Prabowo said they would conduct a thorough investigation of the tragedy. 
"Because of the high death toll, we will investigate how (the match) was organised and its security." 
"We have already collected data from the crime scene. What is clear is that we will seriously investigate to the very end," he added.
Indonesia has often been marred by football accidents but Saturday's was the country's deadliest. 
Last June, two people died in a football match between Persebaya Surabaya and Bandung's Persib in the latter's home ground.