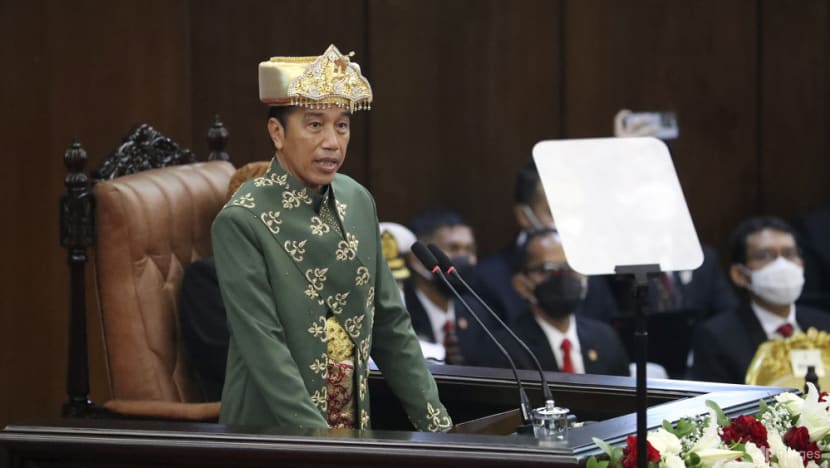 JAKARTA: Indonesian President Joko Widodo on Tuesday (Aug 16) tabled a 3,041.7 trillion rupiah (US$206 billion) budget for 2023, while reminding the nation to remain cautious amid global uncertainties.
He said in parliament: "In the future, we must continue to maintain our prudence and vigilance."
"The risk from global economic turbulence remains high," he added, referring to how the Russia-Ukraine war and geopolitical tensions have resulted in supply chain disruptions.
Mr Widodo also predicted that next year's economic growth will be around 5.3 per cent since the country has managed to weather the COVID-19 pandemic.
Indonesia's economic growth was up 5.44 per cent year-on-year in the second quarter. It was the fastest growth rate in a year.
The 2023 budget is less than this year's budget, which stands at 3,106 trillion rupiah. This year's budget has been adjusted upwards from the original 2,714 trillion rupiah figure.
As of last month, the government forecasted this year's budget deficit to be at 3.92 per cent of GDP. 
Mr Widodo said that next year's budget deficit would be a maximum of 3 per cent in order for it to be financially sustainable for Indonesia. He said that the aim is around 2.8 per cent. 
The 2023 budget would comprise 2,230 trillion rupiah for central government expenditure and 811.7 trillion rupiah for regional government expenditure.
Some key priorities include the health sector, which would get 169.8 trillion rupiah and the social protection sector, which would get 479.1 trillion rupiah. 
To improve human resources, Jokowi, as the president is popularly known, wants to set aside 608.3 trillion rupiah for education.
"We must be able to capitalise on our demographic bonus and be ready to face technology disruptions," said Jokowi.
The development of infrastructure also remains a priority next year and 392 trillion rupiah is allocated for this.
Mr Widodo forecasted next year's inflation rate to be around 3.3 per cent. It currently stands at around 4.9 per cent. 
He also predicted the unemployment rate next year to be between 5.3 per cent to 6 per cent, and the poverty rate to be between 7.5 per cent to 8.5 per cent. 
Earlier on Tuesday, Mr Widodo said during his annual State of the Nation Address that Indonesia has successfully controlled the COVID-19 pandemic while growing its economy. 
He added that Indonesia has managed to exercise global leadership amid geopolitical tensions.