Indonesia stadium tragedy: Lawyers representing victims call for fresh charges against police officers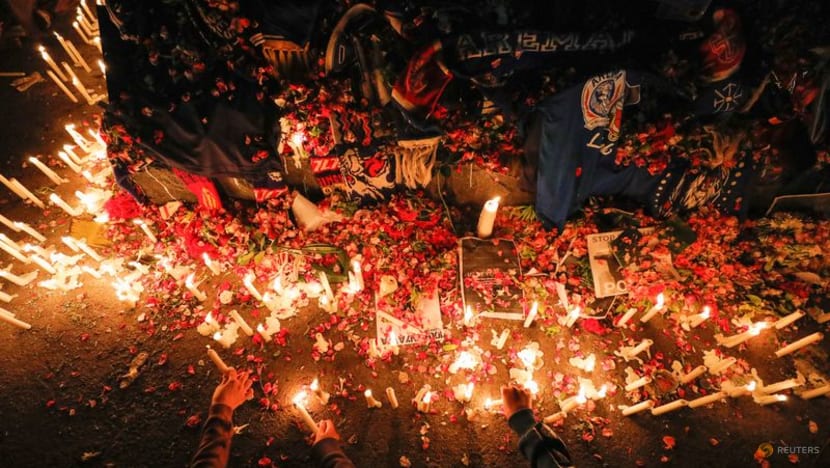 JAKARTA: Lawyers representing some of the victims of a deadly stadium stampede in Indonesia are calling for new charges against police officers on duty when 135 people died in one of the world's worst football disasters.
This comes days after an Indonesian district court acquitted two senior police officers while another officer was given an 18-month prison sentence for his involvement in the Oct 1, 2002 incident at Kanjuruhan Stadium in the city of Malang.
The Attorney General's Office has vowed to appeal the not-guilty verdict. "For those acquitted, (the prosecutors) will appeal," AGO spokesman Agung Ketut Sumedana told local media on Saturday (Mar 18). "For the lenient (verdict), we will study the legal considerations first."
Mr Imam Hidayat, a lawyer representing some of the families of those who died, told CNA: "The case was riddled with inconsistencies from the start. Our only hope is to get law enforcers to lay new charges against those responsible."
Against the wishes of some victims' families, prosecutors decided to charge the defendants with negligence which resulted in fatalities.
"They should have been charged with murder or even premeditated murder because they were fully aware of the consequences of their actions," Mr Hidayat said.
The lawyer said he is confident that the defendants can be charged with murder, which carries a much heftier sentence than the current charge of negligence. This, he said, would yield a different outcome.
The three officers were accused of instructing their subordinates to fire tear gas canisters during a football match between Arema Malang and Persebaya Surabaya. The home team lost to their bitter rival that evening, prompting several dissatisfied Arema supporters to invade the pitch.
The use of tear gas canisters inside an enclosed stadium is banned by the world's football governing body FIFA, due to its potential to create chaos.
The same court had earlier sentenced the head of the match's organising committee, Abdul Haris, and the organiser's security official Suko Sutrisno to 18 months and one year in prison respectively.
The former director of the company that runs Indonesia's premier league, Akhmad Hadian Lukita has also been named as a suspect. His case is still being investigated by the police and has not moved to trial.
"INDICATIONS OF MISTRIAL"
Mr Muhammad Isnur, chairman of the Indonesian Legal Aid Foundation, an organisation which is representing a different group of victims' families, also called for fresh charges against the defendants.
"We saw that throughout the court hearing process, there were indications of a mistrial," Mr Isnur told CNA.
The lawyer highlighted that the majority of the witnesses who testified at the trials were police officers, leaving little room for victims and their families to present their side of the story.
There is also the issue of differences in the verdicts involving the three defendants, despite their trials virtually hearing the same witnesses.
Hasdarmawan, a field commander for East Java police's mobile brigade unit, was jailed for 18 months while Bambang Sidik Achmadi, chief of the Malang police riot control task force was acquitted of all charges despite both ordering their men to fire tear gas toward the supporters.
The third officer was Wahyu Setyo Pranoto, the Malang Police operational chief. Mr Pranoto was the most senior officer in charge of securing the Oct 1 match. He too was acquitted.
Mr Andi Irfan, another lawyer representing the victims of Kanjuruhan tragedy called the verdict "a tragedy to (Indonesia's) justice system."
"We will conduct a public examination and get law academics to weigh in on these verdicts, whether they are legally credible or not," he told CNA.
Mr Irfan also said a fresh investigation should be conducted against the three defendants. He urged the police to name more suspects.
"There are many officers who must also be held accountable," he said.
"MY DAUGHTERS DIED IN VAIN"
Despite his anger, Mr Devi Athok Yulfitri, whose two teenage daughters were killed in the stampede, said the verdicts did not come as a surprise for him.
"I had my suspicions that the trials would be a mere formality but deep down I was praying that I was wrong. The verdicts were heartbreaking. It felt like my daughters died in vain," Mr Yulfitri told CNA.
The 43-year-old questioned the decision to hold the trials in Surabaya instead of Malang, where the tragedy took place. The decision made it hard for the majority of victims' families to attend the proceedings, as it involved a round trip of more than 4 hours.
Despite this, Mr Yulfitri attended several court hearings, determined to seek justice for his daughters.
"The courthouse was heavily guarded by cops. Many victims and their families were reluctant to come (to the hearings) because they felt they were not safe there," he said.
Several victims' families have said that they were threatened into silence and warned against speaking in court or to the press. They have since sought refuge from Indonesia's Witness and Victim Protection Agency (LPSK).
"Some of us, families of the deceased, have been receiving anonymous phone calls and threatening messages," a man who lost his son in the tragedy told CNA under the condition of anonymity.
"That's why not many are willing to openly criticise the verdicts. But I know, deep down, everyone felt the same way. No parent wants to see their child's murderers walk free."
Mr Yulfitri said he too had received threats.
"I will not be silenced. All I want is justice for my daughters. All I want is for the people responsible to be punished as hard as possible," he said.
Read this story in Bahasa Indonesia here.