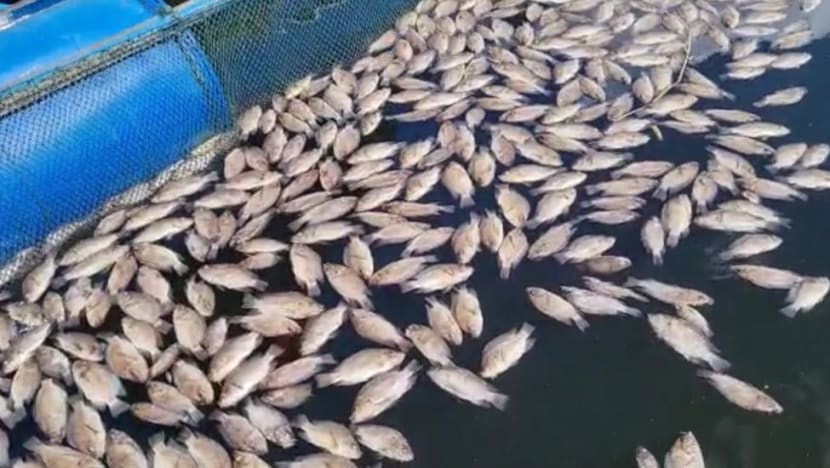 JAKARTA: Thousands of fish have died in the past few weeks in Indonesia's Lake Maninjau, West Sumatra, highlighting both the environmental as well as human factors in contributing to the decade-old problem.
In December, more than 1,700 tonnes of fish were found dead in the lake located about 115 km from West Sumatra's provincial capital of Padang, said authorities.
Mr Handria Asmi, head of Tanjung Raya sub-district where the picturesque lake lies said that unexpected extreme weather due to climate change could be one of the causes of the mass fish deaths.
"From November to February we always experience extreme weather in Tanjung Raya,  namely strong winds and heavy rainfalls which cause occasional landslides and fish deaths.
"The death of this fish occurs if the wind reaches the lake, reversing the mass of the water," Mr Asmi told CNA. When the mass of the water is reversed, denser water rises to the top.
However, Mr Asmi said that recent research conducted by the Indonesian Institute of Sciences shows that extreme weather may not be the main reason for the phenomenon.
He said that human activities including overfishing and overfeeding in the lake causing water pollution, could also contribute to the fish deaths.
"Today, our lake is polluted, one of which is because it is contaminated with fish food. When the wind is strong, the fish food is turned upside down, so the oxygen in the water is reduced and the fish of course lacks oxygen," said Mr Asmi.
Besides, Lake Maninjau is also a volcanic lake and the presence of sulphur contributes to the fish deaths as well, he added.
Local authorities had taken steps to prevent the recurrence of the problem, including by coming up with stricter regulations on fishing activities in the lake.
Experts who spoke to CNA believed that if no immediate concrete action is taken to resolve the problem, incidents of mass fish death would continue and cause damage to the environment.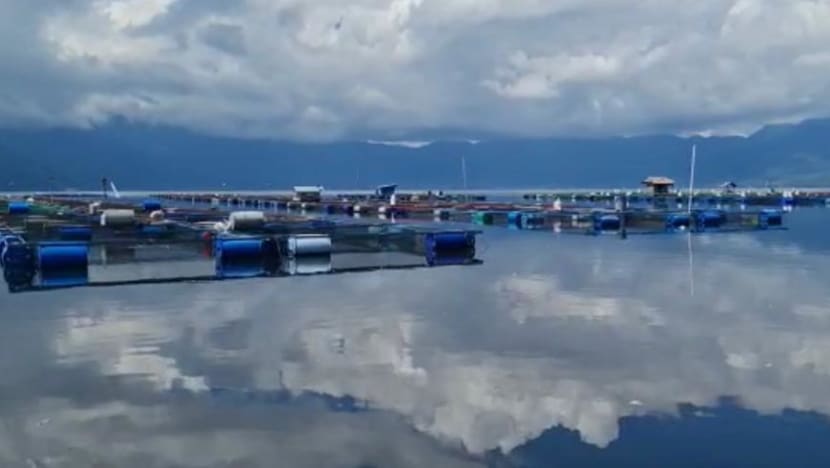 EXTREME WEATHER AND OVERFISHING
Mass fish deaths became a recurring problem in Lake Maninjau more than a decade ago when there was an increase in fishing activities, especially fish farming involving floating net cages.   
Mr Tommy Adam, head of advocacy of WALHI, an environmental non-governmental organisation for West Sumatra, said that locals living near Lake Maninjau who used to be rice farmers switched to fishing in the early 1990s.
Many of them used floating net cages to grow and harvest their fish. 
"They were quite successful because they could catch massive numbers of Nile tilapia and other tilapia fish," said Mr Adam.
He noted that there are about 27,000 fish cages on the lake while the standard regulation allows for about 7,000 cages only given the size of Lake Maninjau is 99.5 sq km.
Attempts by the local authorities to regulate the use of this method of fish farming have not been successful as many locals depend on fishing for their livelihood.
Among the regulations often flouted by the fish farmers is the need for them to restrict the number of floating net cages they can use per fishing zone. This is to prevent them from flocking in one particular area and hence avoid overfishing there. 
Mr Adam said that Lake Maninjau is also a caldera lake formed by volcanic eruption and contains sulphur which is toxic to fish which can worsen the problem of overfishing. 
"The marine climate in Lake Maninjau where the wind is quite strong at night, causes the water mass to rise to the top which in oceanography is called upwelling.
"When that happens sulphur and fish waste will go up as a result of massive fishing and suffocate the fishes due to a lack of oxygen," he added.  
"Upwelling and downwelling are common there but the situation is exacerbated by climate change. Now we cannot predict the weather, suddenly there is heavy rain, suddenly there are strong winds," noted Mr Adam.
According to Mr Adam, in the past the authorities could predict the weather, so they could alert the fish farmers when to harvest their fish before the strong winds occur.
 "There used to be boards with such signs alerting them but now I think climate change has affected the local weather, so we cannot predict it anymore," he said.
With overfishing, it further aggravated the whole situation, he added.
Professor Hafrijal Syandri, a fisheries expert from Padang's Bung Hatta University agrees.
He believes that apart from overfishing, mass fish deaths only happen if there is extremely bad weather.
Prof Syandri last visited the lake earlier January this year and found no mass fish death, presumably because the weather has been good.
"I went there a few days ago, and there were people who were already spreading new seeds.
"So, to them, the mass fish death is not a problem. They already know there will be mass fish death from November onwards, it is only us who make a fuss," he said.
Prof Syandri noted that although the local people there do not think they suffered a major loss from the mass fish deaths, it is still a problem.
"When more than 1,000 tonnes of fish die, where should the carcasses be disposed of," he asked. 
But leaving the dead fish in the lake would also affect the environment as it harmed the water quality and left a bad smell there. 
"The lake used to be a tourist destination, nowadays not anymore because it stinks," added Prof Syandri who said that when he last visited the lake the carcasses of the dead fish were still left floating on the surface.
ECONOMIC IMPACTS 
Fish farmer Fajri, who goes by one name, told CNA that he did not suffer major losses overall and that the mass fish death is not a problem from his perspective. 
The 31-year-old explained that he has about 12 floating net cages and what he needed to spend on was to buy fish seeds and fish food some time back. 
It usually takes about three and a half months to breed and harvest the fish.
However, he admitted that there were minor losses on the days when the fish died as this affected his daily income.
"This is a natural law. If there is fish left, that is our fortune," said Mr Fajri who has been in fish farming for six years.
He pointed out that fish farms play an important role in the local economic chain as many are dependent on them.
The local community head acknowledges that while there is environmental impact arising from such incidents, the economic aspect of the problem should not be neglected too.
"Without the economy, the environment also cannot be saved," Mr Fajri claimed.
He added that this issue is all the more significant as 70 per cent of the people in Tanjung Raya who live near Lake Maninjau are economically dependent on the lake.
Mr Edi Netrial, head of fishery cultivation in the fishery and food security department of Agam district, the district overseeing Lake Maninjau told CNA that incidents of mass fish deaths have been happening almost every year since 2011.
"But usually it's not as much as this time. Sometimes it was 50 tonnes, while now it is  even over 1,000 tonnes," said Mr Netrial, adding that the losses could amount to billions of rupiah.
He said local authorities have tried to put an end to the problem by introducing regulations to reduce overfishing and also by encouraging fish farmers to switch to other sources of livelihood.
So far the efforts have not been successful.
"They are not responsive to our requests. They think what they are doing is not a problem since they are not complaining," Mr Netrial said.
Mr Tommy Adam, the environmentalist with WALHI, said the local government needs to help the fish farmers change to other jobs. 
"There must be an alternative economy for the people because the regulations are there already. What is now important is for the government to help those who want to switch jobs, by providing them jobs in agriculture, plantation or non-timber forestry," said Mr Adam.