Indonesia has announced an ambitious mangrove rehabilitation plan, but it could be an uphill climb
JAKARTA: Treading carefully on bamboo walkways perched above the swamp, several top Indonesian officials arrived at Jakarta's nature park Angke Kapuk on Oct 13, ready to plant mangrove shrubs to launch the 2021 National Mangrove Map. 
They clapped, and then lowered the shrubs into the water. 
Along Indonesia's coastline lies more than 3.3 million ha of mangrove forests. This accounts for about 23 per cent of all mangrove ecosystems in the world.
Out of this, around 600,000 ha of them have been damaged. Earlier this year, the government set an ambitious target to rehabilitate all of the damaged mangroves by 2024.  
The national mangrove map, which was launched by Coordinating Minister for Maritime Affairs and Investment Luhut Pandjaitan, Environment and Forestry Minister Siti Nurbaya Bakar, and Head of the Peatland and Mangrove Restoration Agency (BRGM) Hartono during the October event, will be the database and reference for mangrove restoration in the country.
"This one mangrove map is the right step to continue working to rehabilitate mangroves according to the president's agenda," said Mr Pandjaitan.
Signalling a sound of optimism, Mdm Bakar added: "We have many experiences from the late 1990s and 2003 on how to transform fish ponds and rehabilitate them into mangrove ecosystems."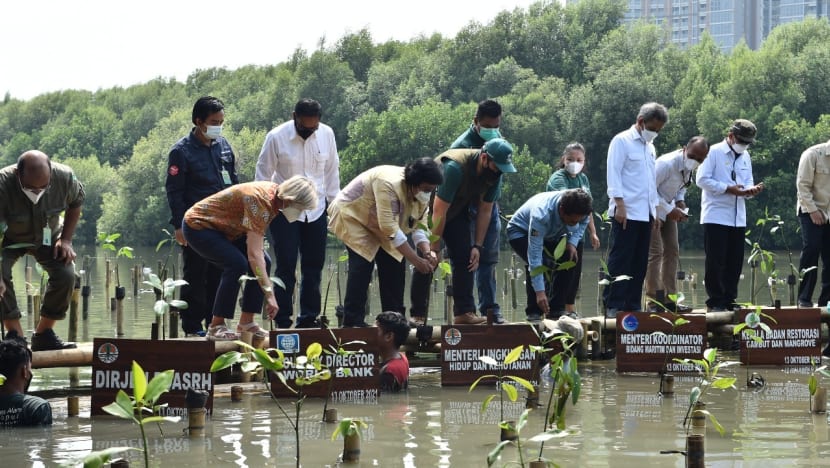 While those interviewed by CNA noted the importance of restoring damaged mangroves in Indonesia, they are also well aware of the multiple challenges that lie ahead. 
The country's success depends on the mangroves' regeneration period after replanting, availability of funding and public education, among other factors.
WHY MANGROVES MATTER AND WHY THEY ARE DAMAGED
Mangroves can absorb up to five times more carbon emission than a tree in an upland area. Hence, they are important especially in fighting climate change.
Various studies have shown that mangroves and the soil beneath them can store up to 89 tonnes of carbon per ha. Under carbon emission trading schemes, which is an approach to tackle climate change by creating a market with limited allowances for emissions, the stored carbon can be traded. 
Mangrove trees in Indonesia can grow as high as 50m. During high tide, they are usually flooded. Nevertheless, mangroves can withstand large waves and act as a barrier against tsunamis, protecting residents in coastal areas.
They can also be processed for consumption or sale, not to mention the potential for ecotourism.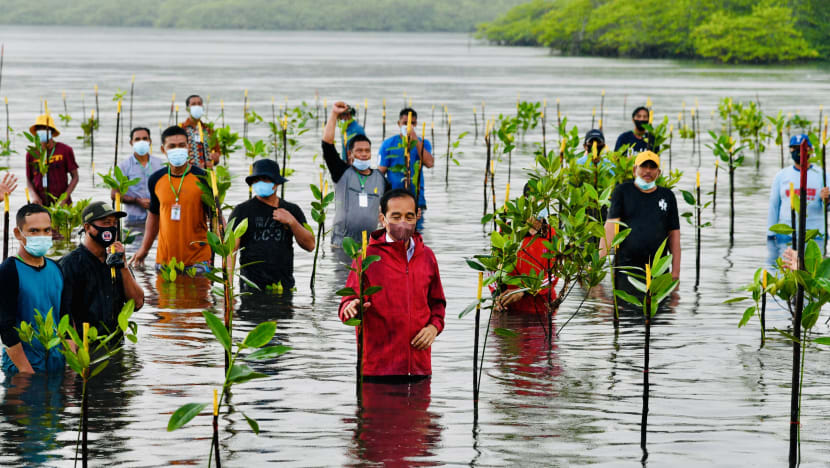 However, many mangroves have been damaged due to natural reasons or human behaviour, said Ms Khesyia Abigail Makhas, a climate analyst with non-governmental organisation World Resources Institute (WRI) Indonesia and her colleague Mr Arief Wijaya, senior manager for climate and ocean issues when interviewed by CNA.
"Naturally, they could be damaged due to high waves, for example when sea level rises, or there are storms that can damage them," said Ms Makhas.
Additionally, Ms Makhas said that WRI Indonesia has found that the biggest contributor to mangrove destruction in Indonesia is the establishment of ponds as mangroves trees must be cleared to make way for their construction. 
The United Nations Food and Agriculture Organization (FAO) said in 2007 that Indonesia had lost 40 per cent of its mangroves in the last 30 years mainly due to conversion of land for shrimp farms, excessive logging, conversion of land to agriculture or salt pans, oil spills and pollution. 
Another problem is plastic waste. "Mangroves' roots are for breathing and if they are covered with plastic, they can't breathe," Ms Makhas explained.
Industrial waste is also another factor. "Even though one of the tasks of mangroves is to neutralise substances … they have their limits," said Ms Makhas.
Meanwhile, Greenpeace Indonesia forest campaigner Iqbal Damanik said some other causes of mangrove destruction are the establishment of settlements, plantations, as well as infrastructure in coastal areas such as reclamation, roads and ports.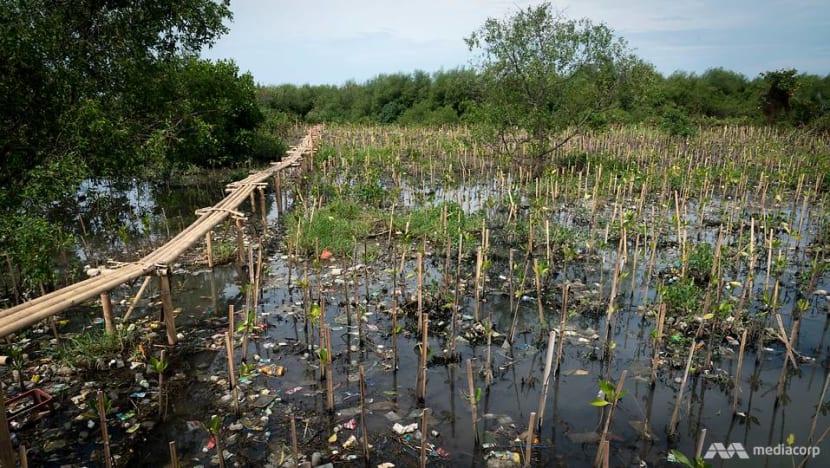 AMBITIOUS PLANS
The Indonesian government has pledged to slash 29 per cent of carbon emissions by 2030, or 41 per cent with international help.
The rehabilitation of mangroves is part of the effort to meet the target, said government officials.
Earlier this month, President Joko Widodo mentioned the 600,000 ha rehabilitation target in his speech at the World Leaders Summit held at the global climate change conference COP26 in Glasgow.
Also in Glasgow, Mr Pandjaitan, the coordinating minister, said that Indonesia's mangrove restoration programme is the largest in the world, while vice environment and forestry minister Alue Dohong stated that Indonesia is very serious about conserving its mangrove forests.
In a panel discussion held at the sidelines of COP26 on Nov 5, Mr Dohong said that Indonesia is initiating the development of a World Mangrove Centre (WMC) with the support of the German government.
"The WMC will bridge, coordinate and strengthen the collaboration among all stakeholders at all levels in various countries to support mangrove forest management," he said, while calling for the international community to cooperate and share knowledge and experiences in sustainable mangrove management.
Mr Yaya Ihya Ulumuddin, a researcher with the Oceanographic Research Centre of the National Innovation Research Agency (BRIN) who is involved in the establishment of the 2021 national mangrove map, said that Indonesia's target to restore mangroves is extraordinary.
"Because it is big and in previous years it only managed to restore dozens of thousand ha, not hundreds of thousand ha, this is very huge," said Mr Ulumuddin.
CHALLENGES TO OVERCOME
Despite the level of ambition, Mr Ulumuddin said whether Indonesia will ultimately meet the target depends on how it defines restoration or rehabilitation of mangroves.
"Rehabilitation means that after an activity, the forest must exist. But if the definition is the number of mangroves being planted or the planted area, I think that is achievable by 2024."
"For mangroves to be forests again, that would need at least five years after replanting. That's the fastest rate," he said.
Funding is a real challenge. Mdm Ayu Dewi Utari, secretary of the BRGM, said that initially, the agency was given the target to restore 83,000 ha of mangroves this year. But due to rising COVID-19 cases which lead to budget constraints, the target for this year was lowered to 33,000 ha in 32 provinces.
"So far we have replanted about 30,000 ha. The budget is not only from the state revenue budget, but also from corporate social responsibilities programmes, philanthropies, and loans or grants," she said.
"In 2021, we hope we can at least restore 53,000 from various sources of funds," Mdm Utari told CNA.
There are other impediments, she said. For instance, when mangrove areas have been converted to ponds, the authorities cannot simply replant them. They will need to engage the fishermen, who do not necessarily understand the function of mangroves, in the replanting process.
Thus, the BRGM needs to educate fishermen on the importance of mangroves. It has introduced silvofishery, a form of low input aquaculture integrating mangrove trees with brackish water aquaculture, she highlighted.
She added that when the mangroves that are to be rehabilitated are situated on the coast, this makes the trees vulnerable to waves and pollution. There are also times when seawater conditions do not support growth and end up encouraging the growth of pests.
Given the various challenges, Mr Damanik from Greenpeace Indonesia said there must be clear indicators of success while protecting the remaining mangroves.
"The rehabilitation figures are not a guarantee for trees to grow. To become a mature tree, according to forest ecology, there are four stages.
"The process takes 15 to 20 years. From what we know, forest rehabilitation is only the first stage, the rest is left to natural processes. So one way to ensure this is to continue to protect the environment," said Mr Damanik.