Hot rocks, smouldering ash: Community radio a vital source of information around Indonesia's Mount Merapi
YOGYAKARTA, Indonesia: With a soft, soothing voice, Mujianto greeted his listeners before reading out an important update from the volcanologists at Indonesia's Center for Geological Disaster Research and Technology Development (BPPTKG).
Mount Merapi, located just 4km from Mujianto's village in Boyolali Regency, Central Java province, continued to show signs of heightened activity, he warned.
Since 2019, the mountain has been hurling glowing hot rocks from deep inside its magma chamber. Occasionally, Merapi erupted, spewing a column of smouldering ash high into the air and blanketing nearby villages in black and grey soot.
"People are advised not to conduct any activity in potentially hazardous areas," Mujianto, who like many Indonesians goes with one name, told his listeners, concluding his announcement.
A farmer by day and an amateur radio DJ by night, Mujianto and six others at MMC FM have been providing residents of Samiran village with information about the dangers posed by Merapi, Indonesia's most active volcano, as well as educating them on disaster mitigation since 2002.
MMC stands for Merapi Merbabu Community, with Merbabu being another volcano north of Merapi. Mujianto's MMC FM is one of eight community radios run by people living on the slopes of Merapi, which straddles along the border of the Central Java and Yogyakarta provinces. 
During eruptions, these radios become a vital – sometimes only – source of information for their respective communities, providing them with updates from local observation posts, volcanology centres and disaster mitigation agencies.
"Before we had this radio station, it was hard for residents to get accurate information on Merapi. Sometimes, residents would receive news and hearsays from people outside of Merapi that were not accurate and caused panic," Mujianto told CNA.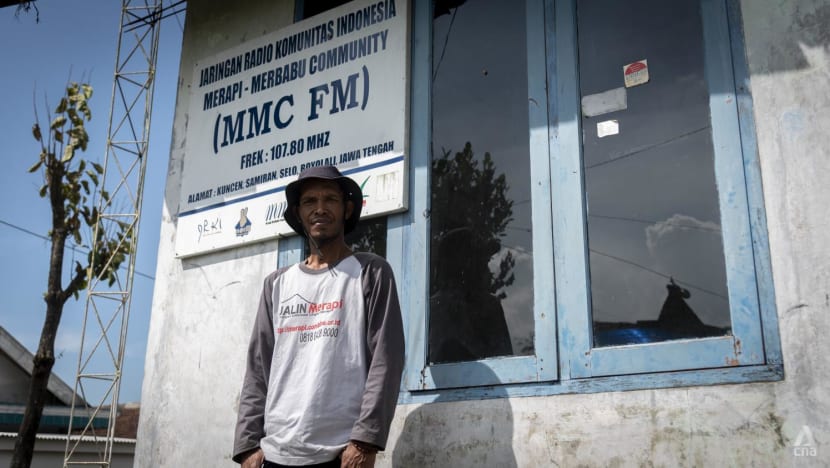 Remon, a 42-year-old amateur DJ with another community radio Gema Merapi (Echo of Merapi) in Wukirsari village, Yogyakarta, said radios can also be used to educate people to be better prepared during eruptions.
"There are people who wouldn't evacuate and think: 'There is no way my village would be affected (by an eruption)'. 
"There are also those who would say: 'People in a neighbouring village are not evacuating, so why should we?' We had to educate them that different areas have different threats and risk levels," Remon, who also goes with one name, told CNA.
Community radios in Merapi have been so vital in emergency response and disaster preparedness that government officials, academics and activists are looking to establish a similar network of radios in other disaster-prone areas.
FILLING INFORMATION GAP
Located just 4km from the crater of Merapi and overlooking a deep scar on its south eastern slopes where lava often flows, Sidorejo village in Klaten Regency, Central Java, is under a constant threat of danger.
The government has installed sirens at various parts of the village to warn residents of potential eruptions.
"But the sirens would set off when it was not supposed to because it short circuited and so on. Conversely, the sirens would stay quiet during an eruption because of some technical issues," local resident Sukiman Mohtar Pratomo told CNA.
"It made us think: 'There must be a way that we can communicate quickly and efficiently to many people all at once'. In 2002, we finally came up with an answer: 'Why not radio?'"
The 52-year-old and several others then established Lintas Merapi FM. Lintas is the Indonesian word for cross. 
People in Sidorejo were initially indifferent about the community radio but the 24-hour Lintas Merapi FM proved its worth when Merapi erupted four years later.
"We also evacuated and we broadcasted from an evacuation shelter. We provided evacuees with information on what is happening at the mountaintop. We were constantly relaying information from the BPPTKG," Pratomo said, referring to the geological disaster agency.
"The radio can be heard 15km away, so people at numerous evacuation centres could listen to our broadcast. We would pass on information about volunteering opportunities, aid shortages and so on as well as provide entertainment for the evacuees and a way for them to express themselves."
Seventy per cent of homes there still have radios, either plug-in or battery-powered, and people also tune in with the radio function on their mobile phones, Pratomo added. 
In another part of Merapi, K FM, which started in 2004 as a radio club at an Islamic boarding school, was also proving its worth for the people of Dukun village, Central Java. K represents Komunitas, or community in English. 
"Before (the 2006 eruption) we focused mostly on education and youth topics because our DJs were school kids. We didn't focus specifically on disaster preparedness," Shadiq Asnawi, a teacher at the boarding school and founder of the radio told CNA.
When Merapi erupted in 2006, the school served as an evacuation shelter and aid distribution centre.
"People soon reached out to us, asking where other evacuation shelters were located and whether those shelters might host people from their village because they were separated from their loved ones, or because their children were at school when they evacuated," he continued.
The radio became a place where people came to provide or ask for information. "We soon formed a team to receive and process information from the public and another team to verify that information," Asnawi said.
K FM is live after school hours, while MMC and Gema Merapi run from 6pm until midnight.
STRONGER TOGETHER
The 2006 eruption, which killed two people and forced more than 100,000 people to evacuate, compelled the three radio stations - Lintas Merapi FM, MMC FM and K FM - to form Jaringan Lintas Merapi (Jalin Merapi), a network of community radios located along the slopes of Mt Merapi.
Pratomo said the network allows them to share ideas, knowledge, information, contacts and resources.
"We produce public service announcements and jingles and share them with the others. We take turns interviewing volcanologists and disaster mitigation officials. 
"We participate in disaster mitigation training staged by government agencies or non-for-profit groups and pass on what we learn to our respective communities," he said.
Jalin Merapi also inspired locals to establish their own community radios, but the number of members in the network fluctuated over time.
"It is easy to establish a radio. You only need around 20 million rupiah (US$1,393) and you have a radio. The real work is filling that frequency with insightful programmes that are engaging for your listeners," he said.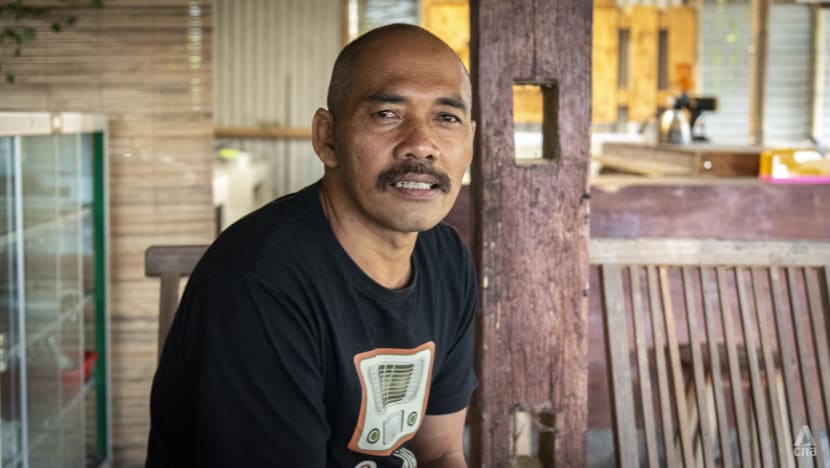 Hanik Humaida, chief of BPPTKG, said her agency has been working closely with Jalin Merapi.
"Every information that we have, we immediately spread it to the public. (Jalin Merapi) volunteers can get their information directly from us. They can also contact us for discussions and interviews," she told CNA.
In turn, the network also provides the BPPTKG with information on the ground.
"They are very helpful in gathering data on the field. Volunteers provide us with information on certain events like ash fall, allowing us to know which direction the ash is falling and how far. 
"They also provide us information about lahar," she said, referring to the violent outflow of pyroclastic mud and debris triggered by rain.
MAINTAINING RELEVANCE
Jalin Merapi volunteers think that radio still has its place in the age of social media and online streaming services.
Early on, Jalin Merapi also built a strong social media presence to expand its reach. But Jalin Merapi chairman Pratomo said the two should coexist and one can never replace the other.
"They (social media and radio) serve two different purposes. We disseminate information that we receive from official sources to the people living in Merapi through radio. We gather information taken by the people of Merapi and spread it to the rest of the world through social media," he said.   
MMC radio DJ Mujianto said his community radio is now serving another purpose in the age of social media - fact checking the plethora of information and misinformation proliferating online.
"Our mission from the very beginning is to provide accurate information about Merapi, which is why people trust us and they come to us whenever they see stuff about Merapi online. 
"We verify such information with the BPPTKG or other members of the network and educate people which are hoaxes and which are facts," he said.
Eko Teguh Paripurno, director of the Disaster Mitigation Study Centre at Yogyakarta's National Development University, said although some radios are seeing a decline in the number of listeners, that is not the case for Jalin Merapi members, particularly when disaster strikes.
"In times of emergency, radio still plays an important tool. During a disaster, not everyone has access to social media, power might be out as is the case with mobile reception. Under normal circumstances, social media might have better reach but in an emergency, radio might be the better option to communicate," he told CNA.
"The presence of Jalin Merapi has inspired many people in disaster-prone areas to start their own network of community radios such as those living on the slopes of Sinabung, Semeru, Kelud and Agung," Paripurno said, referring to a number of active volcanoes which have erupted in recent years.
"Establishing a radio is easy. But consistently gathering accurate information and spreading it in a timely manner is the hard part. However, if they can get it right, the information that they spread might just save lives."
Read this story in Bahasa Indonesia here.