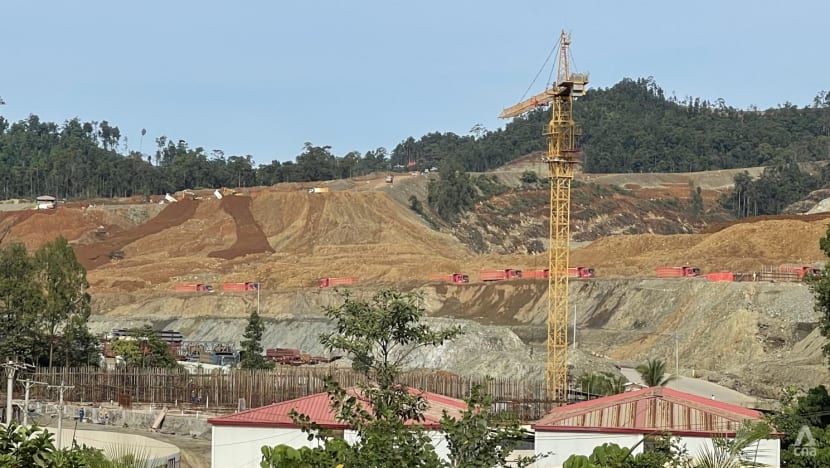 NORTH MALUKU, Indonesia: It was a quarter past eight in the evening but Mdm Imah Fatmalati still had a job to complete before calling it a day. 
The 39-year-old Indonesian was busy sewing a shirt in a little dwelling in Weda district on Halmahera island. 
The new tailor, who was just two weeks into the job, told CNA: "The money is not bad. I can get about 200 thousand rupiah (US$13.20) per day." 
In search of better wages, she moved to North Maluku from Gorontalo province in Sulawesi where she had worked as an administrative staff in a hospital.
"The money is better here. I was a contract staff at a hospital earning 800,000 rupiah per month," she said.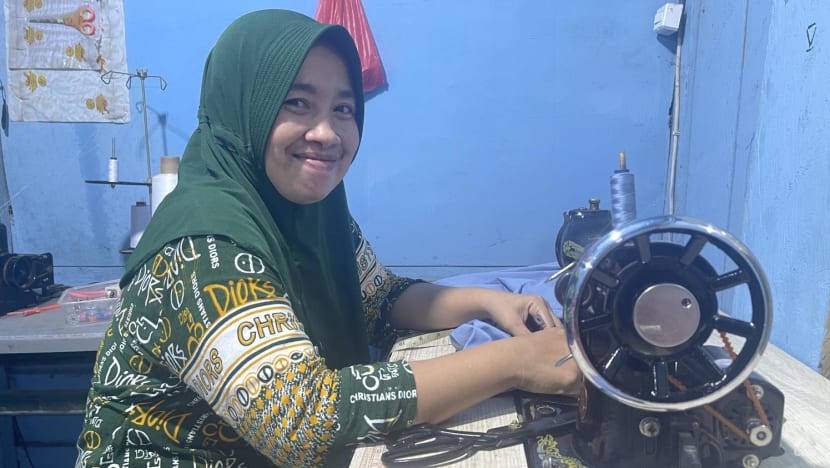 So far, her customers are mostly workers who work at PT Indonesia Weda Bay Industrial Park (IWIP), an industrial area in Central Halmahera.
Established in 2018, IWIP is an integrated industrial area which facilitates nickel smelting for stainless steel and components of electric vehicle batteries.
It is a national priority project for the country as Indonesia aims to be a global player in the electric vehicle (EV) industry since it is the world's top nickel producer. Nickel is a key component of EV batteries. Currently, about 22 per cent of the world's known nickel reserves are in Indonesia.
And according to Indonesia's ministry of energy and mineral resources, about 30 per cent of the country's nickel ore output is from North Maluku.
Eventually, Indonesia aims to manufacture EVs locally. But for now, the government is focused on developing nickel smelter hubs.
They are mainly in an industrial park called Indonesia Morowali Industrial Park (IMIP) in Central Sulawesi, in North Maluku's IWIP as well as in Southeast Sulawesi province. These are also the main nickel-producing regions.
IWIP claims to be the first integrated industrial estate to facilitate mineral smelting and to produce components of electric vehicle batteries in Indonesia, and the second biggest after IMIP.
IWIP's tenants include joint venture firms with Chinese companies' such as Huayou Group and Tsingshan Group. The latter is the world's largest stainless steel producer.
With the injection of Chinese capital, North Maluku's economy has been growing exponentially.
Its economic growth was about 6 per cent in 2019, but climbed to 23 per cent last year.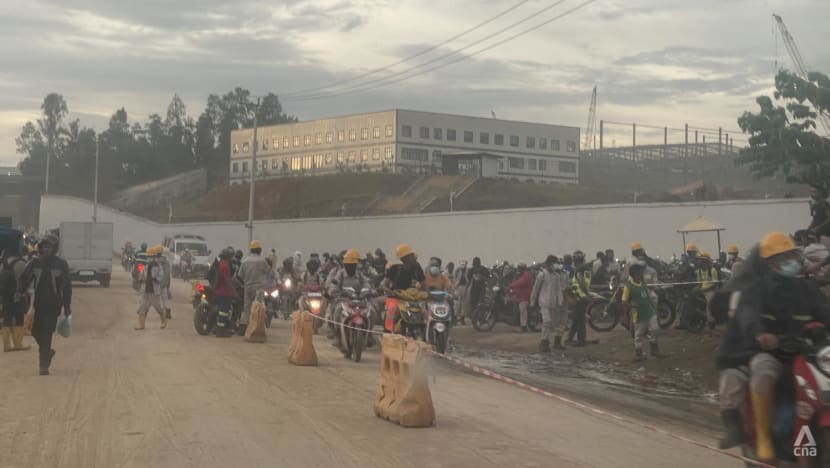 President Joko Widodo has claimed North Maluku's economic growth was the highest globally. He attributed it to the downstream nickel industry, where the raw material is processed locally until it becomes a ready-to-use product. 
Indonesia is rich in natural resources but for years it was just an exporter of raw materials and an importer of finished products. Mr Widodo is trying to change this by growing the downstream industry to create higher-value products. 
"There is a smelter industry there which will grow further if there are more smelters. All those derivatives industries of nickel can be done in North Maluku," he said at an event last November.
The new industries mentioned by Jokowi, as the president is popularly known, are primarily in Weda where Mdm Fatmalati is now calling her new home.
Still, despite its growing economic prosperity, some say that the wealth generated from the industries has yet to trickle down. 
RICHES YET TO TRANSLATE TO DEVELOPMENT 
Before Indonesia's independence in 1945, North Maluku used to be ruled by several sultanates such as the sultanates of Tidore and Ternate.
Weda falls under the territory of the Tidore sultanate which still exists today. The sultan does not have any political power but is a member of the country's Regional Representative Council that works on drafting law proposals.
Tidore's Sultan Husain Alting Sjah told CNA that only a small portion of North Maluku's 1.3 million population has benefitted from the province's economic boom. 
"The source (of riches) is here, but it does not end here … what we see is only smelters and people coming. We really like investments but it is far more important that people (here) have a decent life," he said. 
In 2022, about 6.2 per cent of North Maluku's population was considered poor by North Maluku's statistics agency. This is a slight decrease from 6.9 in 2021. 
The provincial poverty rate has been constant at around 6 per cent for the past few years, despite the investments.  
While the province may enjoy high economic growth, lack of infrastructural development means that certain services, such as Internet reception, are lacking.
Mr Reynald Manggis, who owns a small bubble tea stall outside of IWIP, said that telecommunication connectivity is lacking.
"The reception here is bad, especially when you want to use the Internet.
"If the reception here is good, where there is proper Internet … perhaps people here would be more prosperous," he said, adding that this will make it easier to do business including for the small companies.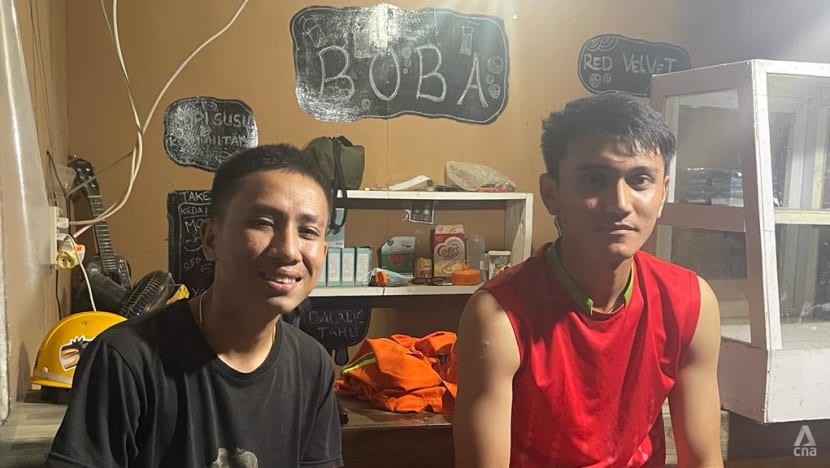 Besides issues about unequal wealth distribution, residents of North Maluku also have to contend with environmental degradation as a result of the smelters. 
Tidore's Sultan Husain Alting Sjah believes that the downstream industry in Weda would lead to further environmental degradation, just as it did in other parts of the province.
He said that when state-owned enterprise ANTAM used to mine on Gebe island in North Maluku, the environmental damage there was apparent.
"The nature there was destroyed," he said.
When contacted by CNA, ANTAM's general manager for North Maluku's nickel mining business unit Ery Budiman said that the firm used to mine there between 1997 and 2005.
He said they now mine nickel in three different areas in North Maluku and send the output to the smelters in Weda, Central Sulawesi and Southeast Sulawesi.
The firm, said Mr Budiman, tries to minimise its environmental impacts.
"The environment is very important to us. Do not let the mining damage the environment here," he said.
The company runs programmes to restore the land damaged by the mining. They also monitor the health of the surrounding waters and replant mangroves, he said.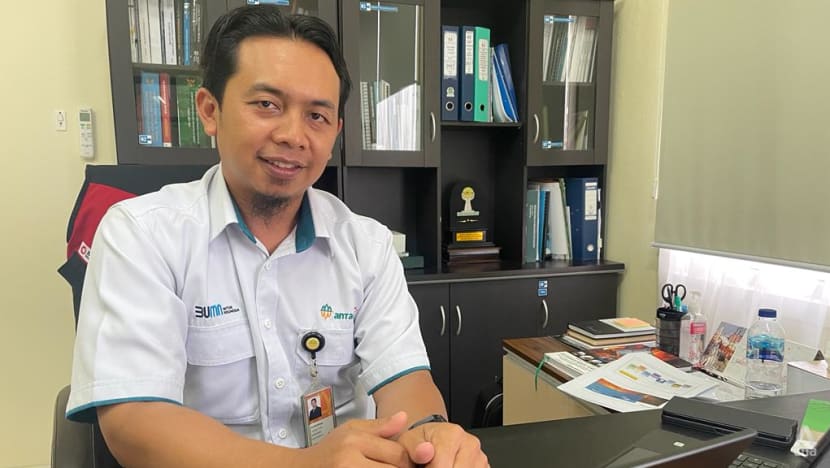 LIFTING OF EXPORT BAN ON NICKEL MAY IMPACT REGIONAL GROWTH 
North Maluku's economic growth can be attributed, in part, to Jokowi's efforts to develop the downstream capabilities of certain industries - in particular, the mining and mineral sectors. 
Indonesia has also imposed an export ban on nickel ore since January 2020, in a bid to support its downstream industries. The downstreaming means that commodities have a higher added value when eventually sold. 
The European Union, however, has disputed Indonesia's nickel ore export ban. It filed a lawsuit against Indonesia at the World Trade Organization (WTO). The bloc argued that Indonesia's export restrictions harmed its own stainless steel industry. 
The WTO panel ruled in favour of the EU but Indonesia filed an appeal in December last year. 
Should Indonesia lose its appeal, the country will lose a sizable investment realisation, said Jakarta-based economist Bhima Yudhistira from the Center of Economic and Law Studies (CELIOS).
This means that foreign companies which have invested in smelter hubs like IWIP and IMIP may pull out and decide to just import raw material.
"For example, China will tend to import raw ore compared to having to expand nickel smelter factories in Indonesia," said Mr Yudhistira.
Mr Mohammad Faisal, executive director of Center of Reform on Economics (CORE) Indonesia, a think tank which focuses on research in economy and industry, shared the same view. 
"This will disrupt the development of the smelter process and its derivatives, and affect areas that have boosted investment in downstream mines such as in North Maluku, Central Sulawesi and Southeast Sulawesi."
The potential implication is that North Maluku's economic growth - touted by Jokowi as the highest globally - may not be sustainable in the long run. 
Head of North Maluku's statistics agency Aidil Adha told CNA that high economic growth last year was due to the volume of ferronickel export and mining. Ferronickel is an alloy containing about 25 to 40 per cent nickel and about 60 per cent iron.
"A new product will always lead to high economic growth. But when the production has stabilised, the economic growth will stabilise," said Mr Adha. When that happens, he predicted that the province's economic growth may hover between 10 and 15 per cent.
Mr Adha noted that a similar situation had occurred in Morowali, Central Sulawesi where the downstream industry helped spur the economy there by up to 20 per cent initially. It is now at a stable growth rate of between 10 and 14 per cent, he said.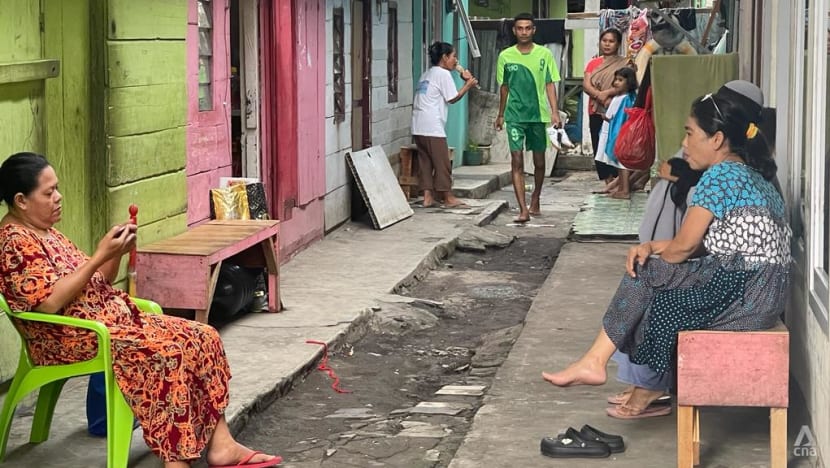 For locals in North Maluku to benefit from the industrialisation of the province, Mr Yudhistira from CELIOS said they should be recruited into higher positions. 
"Even if there are foreign workers there, they should only serve to transfer knowledge to local workers in North Maluku," he said, noting that Chinese workers tend to hold upper management positions in areas such as IWIP.
Educational institutions should also build their curriculum in accordance with industry needs, said Mr Yudhistira.
Meanwhile, Mr Faisal from CORE Indonesia said that local businesses and communities must be involved in the region's development. 
"There should be a local supply chain either within the framework of the industry or supporting it, such as supplying food (to the workers at the industrial complexes). 
"(This is) so that the food and fishery industries will also be in demand. This could have a massive impact (on the locals)," said Mr Faisal. 
Agreeing, head of the North Maluku mining agency Suriyanto Andili said that agriculture and fishery are still the main industries in the province.
"We hope there is a synergy (between the industries). So with the presence of the big companies, our farmers and fishermen will also be prosperous … they can sell their catch or products to them."
Read this story in Bahasa Indonesia here.