Shine comes off Indonesia's booming pearl industry as new challenges emerge
It's a lucrative, secretive and fiercely competitive industry for farmers in Indonesia's remote far east. Channel NewsAsia's Jack Board travels to the Kei islands in Maluku to look at the challenges facing pearl farmers there.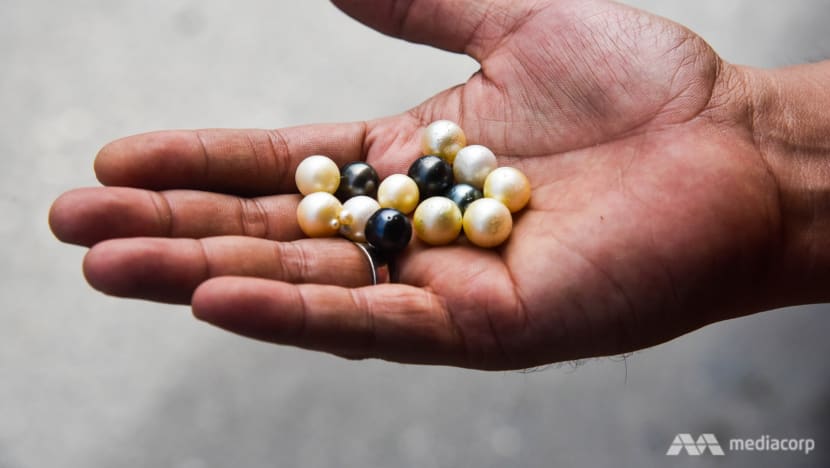 KEI KECIL, Indonesia: When the global fashion industry speaks, its judgements on style slowly ripple throughout the world. When it comes to pearls, the impact is felt in the seas around some of Indonesia's most remote islands.

The Kei islands in Maluku in the country's far east, some 3,000 kilometres from Jakarta, are a growing centre for the production of the highly valued spheres, which can only be harvested once per year.

"If they tell us to produce more gold pearls, we do it. If it's black ones this year, we follow," said the manager of one of Kei's biggest pearl farms, who asked to remain anonymous.

​​​​​​​The pearl industry here is a secretive one. Its methods and techniques are fiercely guarded and the businesses themselves are reluctant to discuss the size of their operations or how much money is being made.

Indonesia has long been a powerhouse of the pearl industry, alongside Australia, China and India. Ethnic Chinese Indonesians typically dominate the domestic sector.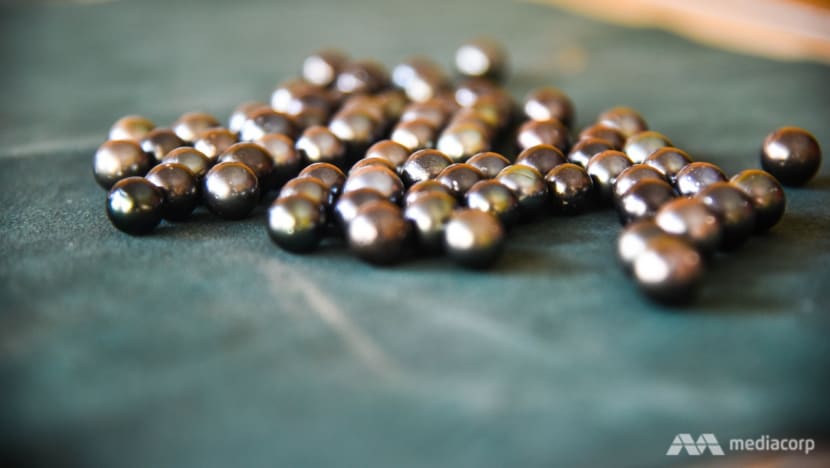 In Kei, pearl farms have been operating since the early 1990s, and with the maturing of the farms, it is clear that local expertise levels are on the rise. One owner explained that in the past, professional technicians had to be flown in from China or Japan to assist with the complex matter of injecting each oyster with a bead implant that causes it to form a pearl, of a certain colour and quality. The oyster then forms calcium carbonate to protect itself from the foreign irritant, which over time becomes a round pearl.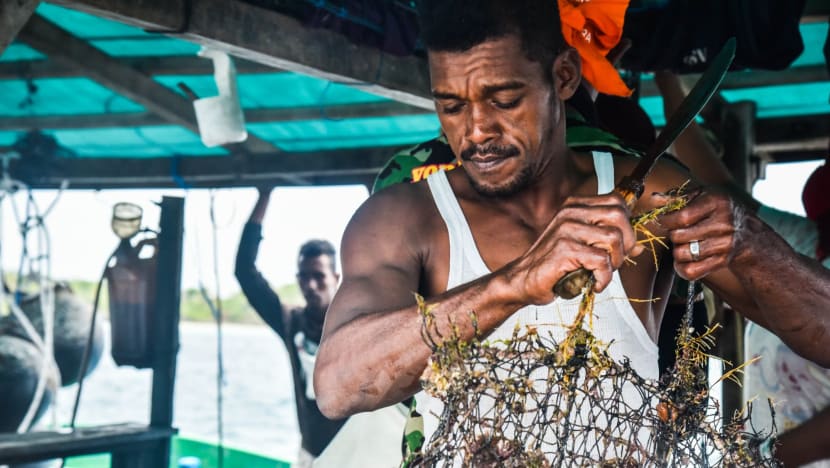 Now, Maluku locals have developed their knowledge and are driving this process themselves. It also means that competition is fervent and rivals do what they must to hide the reasons for their successes, or demise.

One operator was downcast as he explained that his business is on its knees. Unexplained levels of water contamination have destroyed this season's batch of oysters. The dead mother oysters lay in a teeming pile alongside dozens of cages hauled up out of the Banda Sea, rendered useless in the wake of these mass casualties.

His workers are idle. He is losing face and is hesitant to discuss what will be an uncertain future.

Climate and water quality are constant determinants of fortunes for Kei's pearl farmers. Oysters are delicate, sensitive and vulnerable to any changes, as they grow up to 75 metres below the surface. Pollution is toxic and a slight drop or increase in water temperature can be fatal.
"Taking care of living things is like nurturing a baby," said Amran Iskandar, an oyster farm operator in Kei Kecil. He leads a team of local workers who haul nets of crustaceans in and out of the sea on a daily basis, to monitor their growth and clean their environment.
"If we're late to clean the oysters they will be covered with algae and other stuff, so the oysters can't absorb the food from the water."

Illegal fishing is also a threat. The pearl businesses uses armed guards - some also pay local police officers - to patrol for intruders. "They use bombs which contain potassium. It could harm and kill a lot of the oysters instantly," Amran said.
Across the country, these factors are having an impact. Jakarta-based jewellery maker and exporter Mery Rogan says worsening water quality is resulting in less desirable pearls.

It makes it more difficult for Indonesia to compete at the upper echelons of the pearl market and attract premium buyers from the Middle East, India and China.

All of Indonesia's best pearls are used for export. And Rogan says the selling opportunities have been more limited in recent years due to wider economic conditions.
"My concern is not necessarily the quality but the market in Indonesia. It's going down. The oil price crisis is affecting prices and it's resulting in overall less demand in Indonesia."
In Kei, there is still room for growing profits, for now.

"The price is going up, but it's not as by much as gold. The supply is increasing in Kei, which affects the price growth a little. But of course the price depends on how perfect the pearl is," said Awi, a local pearl merchant.

His local pearl range starts as low as IDR50,000 (US$3.30) for small, imperfect examples, up to IDR800,000 (US$52). At a nearby store, a pair of shimmering silver pearls from the Aru Islands in Maluku are for sale for IDR3.5 million (US$230). That is still a fraction of the cost of the best pearls to be sold overseas.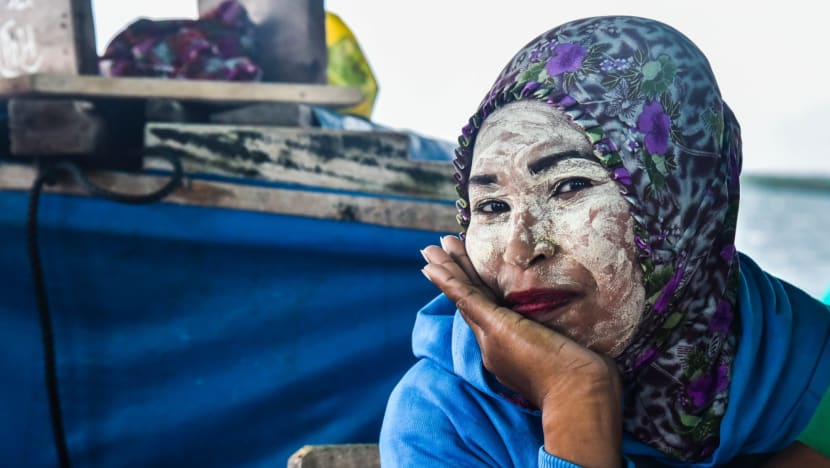 Meanwhile, Amran says Lombok, traditionally a hub for pearl production in Indonesia, is suffering because of a saturation of operators.

"The quality of pearls from Lombok is decreasing is because there are too many people are doing the pearl business, so the amount of plankton is not sufficient to feed the oysters," he said.

"I think the quality is better here, because here there is no big factory that could throw away waste into the sea. As you can see, we still have corals on the seabed. That means the stock of plankton is going to be sufficient to feed the oysters."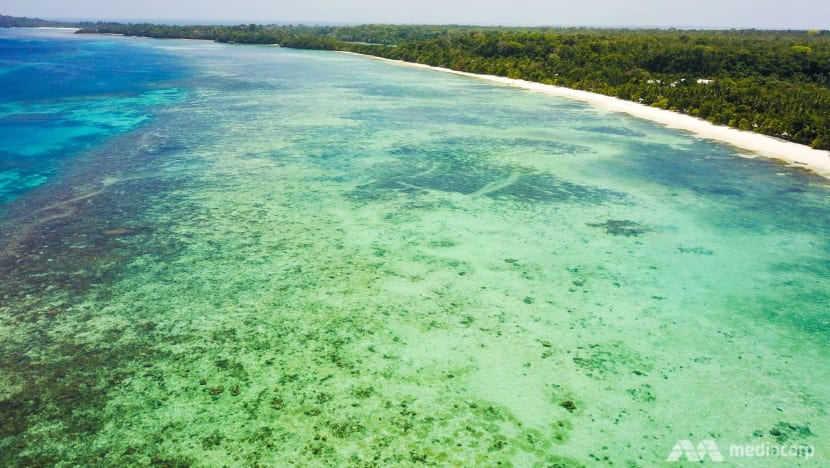 The pearl operators are keen to explain how their practices are good for the environment and local economy.

Local women in particular, many of them young, are being given work opportunities for the first time in their lives. Astrid, 22, lives in a small coastal village and says she is happy to help her family without needing to move away from the island.

"I didn't have any working experience before I work here. This is my first job," she said. Her job is menial and tiring, working on the shells of hundreds of oysters each day to maintain their health before the harvest season.

"I can help my family and give them money to buy our daily needs. I can also help my siblings to buy their uniform for their school," she said.

Amran says women, who would otherwise have no income sources, have also proven to be essential on the pearl production line. "Women tend to be more determined in their work. While the men are only using their power, the women are not only using their strength, but they also have finesse," he said.

And like millions of people around the world, from fashion executives to royalty and jewellery loves, even the Kei workers themselves covet these treasures of the sea.

Astrid was in awe from the first time she ever saw a pearl.  
"It looked like a marble. It was so clean, white and shiny. It was beautiful."