Political dynasties in Indonesia: Familiar last name may hold sway in upcoming elections
Examples of prominent political families include those led by Megawati Soekarnoputri, Joko Widodo and Susilo Bambang Yudhoyono.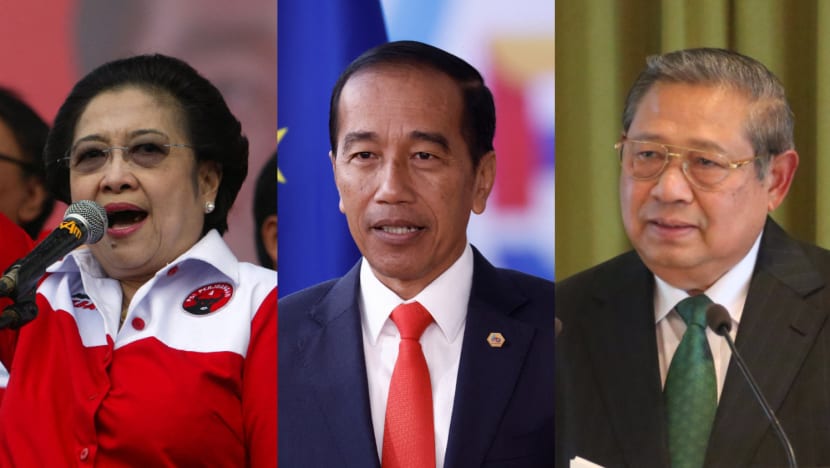 JAKARTA: Indonesia is heading to the polls in February next year to elect a new president, with political parties starting to rev up their machinery to prepare for a showdown.
President Joko Widodo is constitutionally barred from a third term in office. This means that Indonesians will be electing a new head of state to lead the world's third-largest democracy.
Among names that have surfaced in local media for the presidency and vice-presidency include Puan Maharani from the ruling Indonesian Democratic Party of Struggle (PDI-P). She is the daughter of former president and party chair Megawati Soekarnoputri. 
Others include leader of the Democrat Party Agus Harimurti Yudhoyono - the son of the sixth president of Indonesia Susilo Bambang Yudhoyono.
Mr Agus is said to be in the running to serve as a vice-presidential candidate to former Jakarta governor Anies Baswedan in the upcoming presidential election on Feb 14, 2024. Mr Anies is the presidential pick for Nasdem, the country's fourth biggest political party.
Compared with Mdm Maharani and Mr Agus, Mr Widodo - who is a member of PDI-P - started his political career as an outsider. Prior to becoming mayor of Solo city in Central Java in 2005, Mr Widodo was a businessman.
Mr Widodo, or Jokowi as he is popularly known, became Indonesia's president in October 2014.
His eldest son, Mr Gibran Rakabuming Raka, followed in Jokowi's footsteps when he became mayor of Solo in 2021. This led to speculation that the president may be laying the foundation for his own political dynasty – generally defined by experts as a situation where multiple members of a family are involved in politics. 
Mr Raka, 35, has said that he is ready to run in the next gubernatorial race, sparking speculation that he is aiming for the Central Java governor post.
In addition to the presidential race in February next year, voters will be simultaneously picking the vice-president, parliamentarians and members of local legislative bodies.
Political analyst Ray Rangkuti from Jakarta-based think tank Lingkar Madani said there are several characteristics of a political dynasty.
Chief among them is whether a politician comes into power when a family member is in office.
"First, the person comes to power when the parent or relative is still in office. Second, the person doesn't start off as a politician and has no political background.
"And lastly, they are blood-related," he told CNA.
With Jokowi's son expressing interest in running for regional elections, attention has once again turned to political dynasties in the country and how they may impact the leadership transition.
PROMINENT POLITICAL FAMILIES
What are some of the prominent political families in Indonesia?
Mdm Megawati Soekarnoputri, 76, is head of the PDI-P and also Indonesia's fifth president. She is the country's only female president and vice-president to date.
Notably, she is the daughter of the country's first president and founding father Soekarno.
Her daughter Mdm Maharani is also a member of PDI-P. Mdm Maharani's political career took off in 2009 when she became a member of parliament at the age of 36. From 2014 to 2019, she was a coordinating minister for human development and culture during Jokowi's first term.
She is now the current Speaker of Parliament, the first female to have ever held the post. There is speculation that Mdm Soekarnoputri may nominate her daughter as the party's presidential candidate at next year's election.
Mdm Soekarnoputri had previously appeared to criticise other political parties that have backed politicians who are not their own cadres as a presidential candidate for the 2024 election.
Besides Mdm Maharani, Mdm Soekarnoputri's son as well as her grandchildren are members of PDI-P.
Another notable political dynasty is that of Indonesia's sixth president Susilo Bambang Yudhoyono. Mr Yudhoyono, a retired army general, founded the Democratic Party in 2001.
During Mr Yudhoyono's presidency, his younger son Edhie Baskoro Yudhoyono became a parliament member for the Democratic Party. Mr Yudhoyono has two children.
The party is now led by his elder son Agus Harimurti Yudhoyono, who retired from the military in 2016 to run in the 2017 Jakarta gubernatorial election.
Mr Agus lost the election but has remained active in politics. According to local media, he is being touted as a running mate of Mr Baswedan in next year's polls. The latter defeated Mr Agus in the 2017 Jakarta gubernatorial race.
Additionally, observers said there have been signs that Jokowi is building his own political dynasty, when his elder son became mayor of Solo city in 2021.
Mr Jokowi's son-in-law Bobby Nasution is now also mayor, leading Sumatra's biggest city Medan. He is married to Mr Widodo's daughter Kahiyang Ayu.
Recently, Mr Jokowi's third and youngest child Kaesang Pangarep, 28, told his family that he wants to enter politics. His older brother – Mr Raka, the current mayor of Solo first told local media about the plan.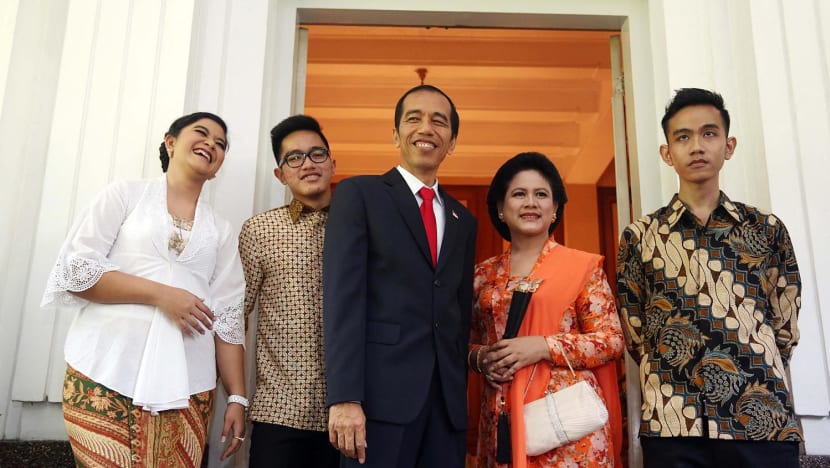 Mr Pangarep is more widely known as an entrepreneur and a YouTuber.
When asked by reporters, Jokowi said that his Singapore-educated younger son had already told him of his plans to enter politics.
"He has already told me, but I always give freedom to them (to choose what to do).
"I don't influence them, I don't decide because they already have their own family. They need to be responsible, they need to be able to decide for themselves, and I won't intervene," Jokowi said.
POLITICAL DYNASTIES CAN BE "PROBLEMATIC": ANALYST
Political dynasties are not a new phenomenon in Indonesia. Aside from BJ Habibie, the country's third president, every Indonesian president so far has had at least one immediate family member who entered politics.
However, Mr Yoes Kenawas, who specialises in dynasty politics told CNA that such political dynasties can be problematic.
Mr Kenawas said that the presence of a political dynasty in a party discourages the development of other politicians who do not have strong connections.
It discourages the party members' development as someone with connections could bypass another who has worked hard within the party ranks, said Mr Kenawas, who graduated from Singapore's Nanyang Technological University. 
"Political dynasties could erode party institutionalisation. So in the long run, it discourages the party from developing capable members because those with connections can easily bypass the rest," said Mr Kenawas. 
This is especially so when a member of a political dynasty is being groomed for senior leadership roles. 
Mr Kenawas said that he recognised that political dynasties exist as top leaders want "someone to continue their legacy".
"We need to understand why politicians choose their own people and that's because there are trust issues. That's why they choose people they trust who could handle what they want to be executed, and sometimes that's unavoidable. 
"They need their programmes to be executed or there are certain goals they want to reach," said Mr Kenawas.
He opined that reforms can be pushed in the form of a party law to prevent a situation when members of a political dynasty are immediately put forth as election candidates.
"For example, if someone wants to be nominated by a political party, that person must have been a member of that political party for at least five years. This way, newbies can first learn," said Mr Kenawas, who is currently pursuing his doctoral degree at Northwestern University.
While the Indonesian constitution does not prohibit family members of top leaders to run for elections, Mr Rangkuti from Lingkar Madani claims it is not a fair process.
"It is not fair. There could be an abuse of power in play," he said.
"Using the family member's popularity to win votes is not fair."
He also said that it could lead to corruption, a practice that Indonesia has seen in regional political dynasties such as in Banten province and in Kalimantan. 
Banten has been ruled for years by members of the same family, some of whom have been embroiled in corruption cases. Notably, former governor Ratu Atut Chosiyah was sentenced to prison in 2014 for corruption but her family continues to lead the province. 
In East Kalimantan province, the former regent of Kutai Kartanegara Syaukani Hasan Rais created his own political dynasty. Kutai Kartanegara was considered Indonesia's richest regency at that time. 
However, Rais was embroiled in a corruption case in 2006. His daughter Rita Widyasari, who in 2010 also became regent of Kutai Kartanegara, was sentenced to 10 years jail in 2018 for corruption. 
Mr Kenawas, the other analyst, said that politicians should be mindful of their image, even if Indonesian law does not prevent different family members to run in an election.
"Jokowi for example is already a brand. There is hope that because of the brand, in the long run, there is a certain quality of Jokowi's dynasty which his brand can represent."
The image or brand is mainly based on what the person has done while in office, noted Mr Kenawas.
"For example, if you choose someone from Jokowi's family, most likely we would have a nationalist, a pluralist, someone who is focused on infrastructure.
"And if you choose from Gus Dur's (Indonesia's fourth president) family, you will have people who are pluralists, concerned about religious diversity. We hope that other brands would have such qualities too, not just negative ones like corruption," he said.