Indonesia's Jokowi to meet Xi Jinping during upcoming visit to Beijing
The Indonesian president will also visit Tokyo and Seoul as part of a three-day regional tour to Northeast Asia.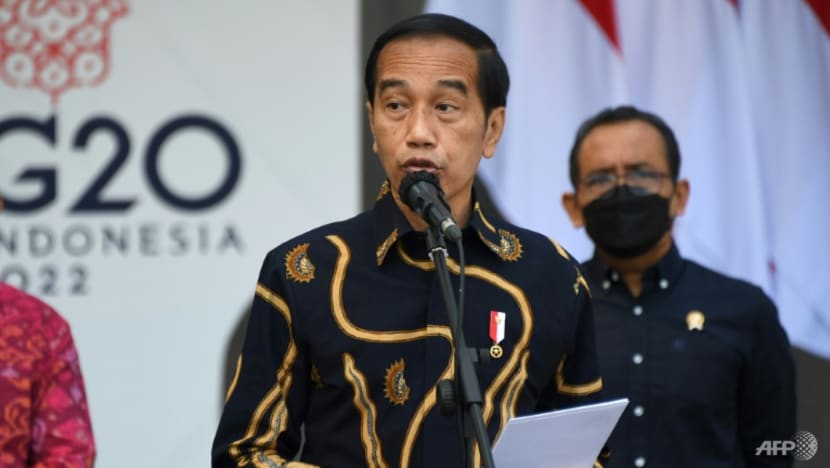 JAKARTA: Indonesian President Joko Widodo will meet with his Chinese counterpart Xi Jinping when he visits Beijing on Tuesday (Jul 26).
Indonesian Foreign Minister Retno Marsudi said that Mr Widodo will also meet Premier Li Keqiang during his one-day visit to China. 
China is Indonesia's largest trading partner with a total trade value of US$110 billion last year, said Mdm Marsudi. 
"For investment, China is the third largest investor with a total investment value of around US$3.2 billion in 2021," she said to reporters during an online briefing on Thursday (Jul 21).  
Mr Widodo will be one of the first leaders Mr Xi receives during this pandemic, she added. 
After Beijing, Jokowi, as the president is popularly known, will visit Tokyo on Jul 27 and then Seoul on Jul 28. 
"As we know, these three countries are Indonesia's strategic partners in the economic field. And these three countries are also strategic partners of Indonesia and ASEAN when we talk about regional issues," said Mdm Marsudi. 
"The focus of the visit is to discuss strengthening economic cooperation, particularly in the areas of trade and investment," she added.
While in Japan, Jokowi will meet Prime Minister Fumio Kishida and some business people in Tokyo on Wednesday. 
Trade between Indonesia and Japan increased to more than US$32 billion last year with Japanese investment in Indonesia reaching US$2.26 billion.
From Tokyo, the president will visit Seoul on Thursday where he is scheduled to meet President Yoon Suk-yeol and the business community. 
Last year, trade between the two countries reached US$18.41 billion.
According to Mdm Marsudi, apart from strengthening bilateral cooperation, Mr Widodo and the leaders of the three countries will also discuss the latest regional and international developments. 
"We appreciate the strong support of all G20 member countries, including the support of the three countries," she said, referring to the group of 20 major economies. 
Indonesia is currently the rotating president of the G20 and its leader's summit will be held in Bali this November. 
Mdm Marsudi said that as the largest economy in Southeast Asia, Indonesia has a responsibility to continue contributing to the efforts to make the Indo-Pacific Region a peaceful, stable and prosperous region.
"In the midst of a world situation filled with unhealthy rivalries and the diminishing value of multilateralism, Indonesia will actually be more active in establishing the spirit of cooperation,  solidarity and peace," she added.