'Karate is a part of my life': Afghan champion keeps hope alive for refugees stranded in Indonesia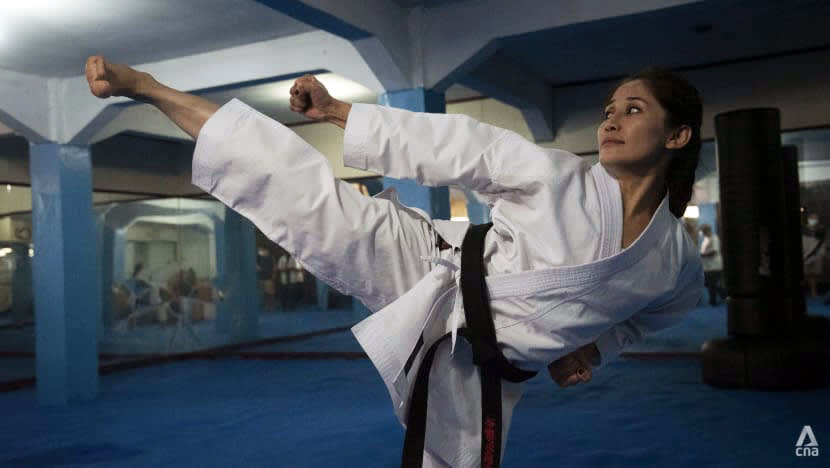 BOGOR, INDONESIA: As soon as the dojo was open, some 30 students of the Cisarua Refugee Shotokan Karate Club hurried their way to the second floor of a rundown gym on a small alleyway of Cisarua, a hilly town just outside of Jakarta.
Already in their white karate uniform, several students immediately headed to the punching bag to practise their roundhouse kicks. Others warmed up by doing splits on the mouldy carpet as well as leapfrogging over each other.
The blue painted room, walls of which were covered with faded and broken mirrors, was buzzing with grunts, yells and laughs from students aged between six and 37.
Training three times a week for two hours each, they run dozens of laps, practice their stances, punches, kicks and blocks as well as spar together. 
During these sessions, they seem to forget the fact that each one of them was either born in countries in conflict like Afghanistan or Iraq or in refugee camps around the world.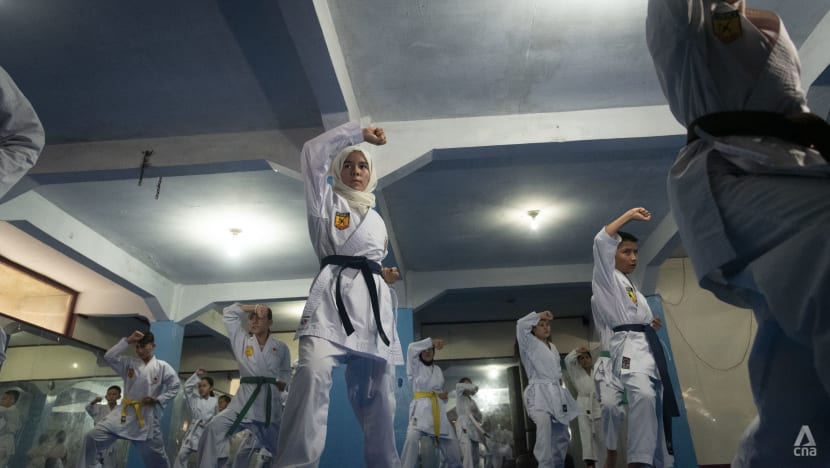 Life as a stateless refugee in a foreign country can be hard for children and adults alike. Indonesia only acts as a transit country and does not grant citizenship to refugees. It also bars them from working and until 2017, prohibited children who are refugees from attending public schools.
According to the United Nations High Commissioner for Refugees (UNHCR), there were more than 13,000 registered refugees in Indonesia as of December 2020. There are many more asylum seekers who are in the process of having their refugee status verified by the UN body.
Meanwhile, other countries are tightening their borders because of the COVID-19 pandemic as well as strong anti-immigrant sentiments, dimming the refugees' chances of being resettled permanently elsewhere.
In Indonesia, refugees could spend at least three years before the UNHCR finds a country willing to accept them. There are people who have waited more than ten years and still find themselves in limbo.  
No one knows the plight these karate students are going through better than the club's founder, Afghan born karate champion Meena Asadi. The 28-year-old spent six years living in a refugee camp in Pakistan and nearly six more stranded in Indonesia, waiting for UN-sponsored resettlement.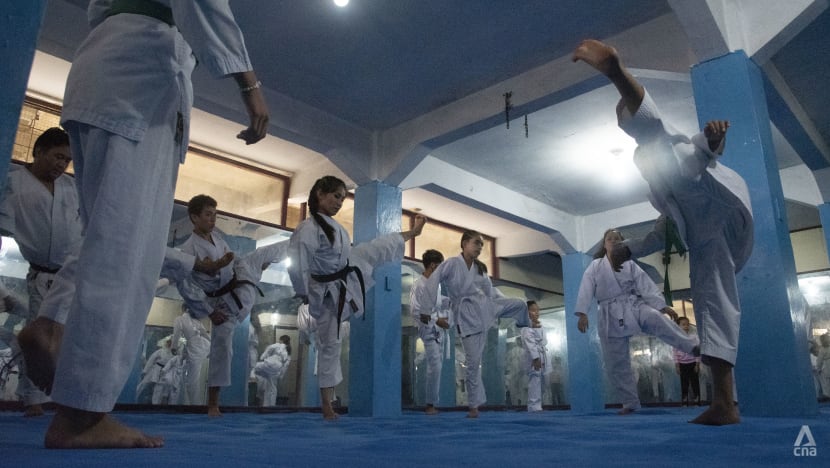 But being a refugee also led her to discover karate. She first learned the Japanese martial art at the age of 13 during her time in Pakistan.
Karate not only provided her a break from the monotony of refugee life but also gave her the confidence and motivation that she needed as a teenager in a foreign land. The martial art also provided her a career as a professional athlete who raked in numerous medals and accolades.
She hoped to pass the lessons she learnt from karate to her pupils when she founded the Cisarua Refugee Shotokan Karate club in January 2016.
"The thing which motivated me to open a karate club was to help the refugees. Because they (are) always alone at home. They don't have activities. That's why I opened this club," Asadi told CNA.
BREAKING DOWN GENDER BARRIERS
A civil war between various Afghan militias had already begun when Asadi was born in 1992. Among these militias, the Taliban eventually emerged as the strongest force and rapidly took control of many cities, including Asadi's hometown Ghazni.
By 1996, the Taliban managed to control virtually all of Afghanistan and instilled a strict and conservative form of Islamic law and code. They banned music and film and prohibited women from working, getting higher education and practicing sports.
"I don't have any good memories from my childhood," she said.
The country eventually became a dangerous place to live when a bloody war broke out between the Taliban and the United States-led coalition in 2001. After three years of being surrounded by bombings, airstrikes and gun fires, Asadi's family fled to Pakistan.
Asadi was 13-years-old when she first learned karate in 2005 at a club near the refugee camp where she lived. She was driven by her motivation to do sports as well as her male counterparts.
"I saw the boys doing sports without any obstacles. This made me wonder: 'why I could not do sports freely? Why should being a girl hinder me from doing sports or other activities?'," she recounted. "This motivated me to break down the gender barriers and do sports professionally."
Asadi eventually got her black belt and won virtually every competition she entered. Asadi proved to be so good in karate, she caught the eye of the Pakistan Karate Federation which at the time was scouting for potential athletes to compete in the 2010 South Asian Games in Bangladesh.
The federation, she recounted, made arrangements so she could obtain a Pakistani passport in order to compete at the games. Asadi won two medals for Pakistan.
Meena Asad is one of more than 6,500 Afghan refugees in Indonesia awaiting resettlement in western countries. She is also a karate champion who now conducts classes in Bogor for refugees, including those from Iraq. Chandni Vatvani reports.
EQUAL OPPORTUNITY
Upon returning to Afghanistan in 2011, Asadi quickly set up her own dojo in Afghan capital Kabul.
Asadi, a member of the Hazara ethnic Shia minority group often persecuted under the Taliban, insisted that her dojo would be a place where girls and boys could train together as equals.
This did not bode well with conservative Muslims in Afghanistan.
"At the time, karate was also new in Afghanistan. Some narrow-minded people thought that it was a foreign sport. They also didn't think that girls (should be) allowed to do sport," Asadi's husband Ashraf Jawadi told CNA.
The media exposure that Asadi was receiving as an accomplished female athlete and a champion for gender equality also made her a prime target in the eyes of the Taliban and its network of supporters.
"They disturbed the students, especially the girls after they left the dojo. Sometimes they threw stones at the dojo," Jawadi continued.
"There were many disturbances. But Meena did not want to close the club and (chose to) deal with the challenges. She wanted to promote women in sports. But day-by-day, the challenges, the problems, the difficulties (were) getting more and more crazy."
The final straw came when the Taliban launched a bomb attack against a nearby sports club in 2015.
"We thought if we continued, maybe they (would) throw a bomb (at our dojo) someday. There wasn't anything from the government to protect us. So, we (thought) enough was enough. We have to save our lives," Jawadi said.
With their then one-year-old daughter Setayesh, the trio fled Afghanistan in 2015. Some of their friends suggested that they make their way to Indonesia, and they have remained in the Southeast Asian country since then.
UNBREAKABLE SPIRIT  
So much was Asadi's love for karate that as soon as she arrived in Indonesia, Asadi immediately sought ways for her to teach the martial art.
"Karate is my passion. Karate is a part of my life. I love to teach others karate," she said.
But starting her own dojo in a country a world apart from her own was very challenging.
"It was very very difficult, because I didn't have friends here. I cannot (speak) Bahasa (Indonesia). I didn't know the way. Where should I go? How should I (talk to) other people?" Asadi recounted.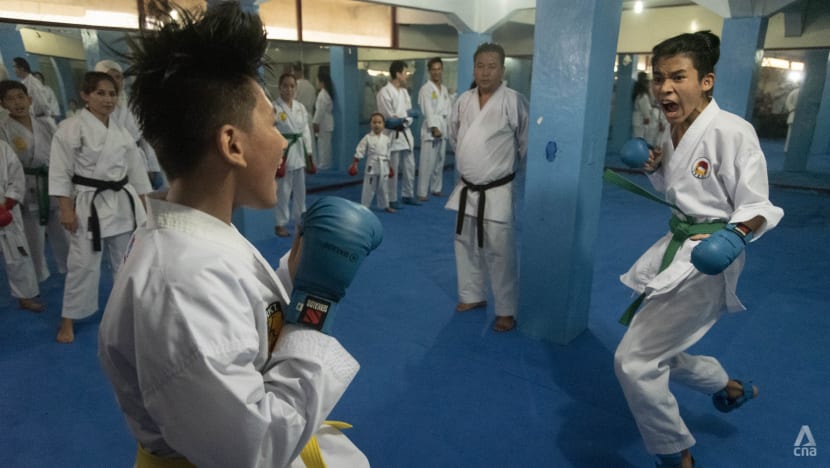 The refugees in Cisarua, a town where a strong community of asylum seekers from the Middle East had developed over the years, pointed her to the town's only sports centre. The centre had a badminton court, a rundown gym and an even more dilapidated aerobics studio on the second floor.
The gym owner was only using the studio four times a week and agreed to let her use the space every Monday, Wednesday and Friday for a small monthly fee of 50,000 rupiah (US$3.50) per student. Asadi also looked for donors who could provide uniforms and equipment.
Two months after Asadi arrived in Indonesia, the karate club was opened, maintaining the same inclusivity that her old dojo in Afghanistan was known for, a place where boys and girls from Afghanistan, Iraq and other countries can train together. 
UNCERTAIN FUTURE
Asadi said she feared for the future of her country after the Taliban regained control of Afghanistan following the US military withdrawal.
"I don't have many hopes for my country. I don't know what will happen (to) my country," she said, adding she is also worried about her parents and siblings who are still in Afghanistan.  
Some of her former students, she said, had also fled the country, fearing that the Taliban might target female athletes for defying the group's interpretation of Islam that women should not participate in sports. "I don't know where they are now," she said of her former pupils.
The Taliban's return to power had dashed all hopes for her of ever returning to her birth country. The only option now is to wait for a third country which is willing to grant her and her family asylum.
"I (want to) go to (a) third country. Here, we don't have the right to work. I have lived here (for) six years. I wish this (uncertain) situation (will be over) soon and I can practice karate professionally," she said.
Yet she also felt conflicted about leaving, wondering who will continue her work at the karate club in Cisarua, which heavily relies on donations to pay for rent, equipment, students' competition fees and belt exam tests.
But she might not have to look far to find a successor, for Asadi had inspired a generation of young athletes.
"I want to be like my sensei," said 12-year-old Shahram Haidari referring to the Japanese word for teacher. Haidari had been learning karate since the club first opened in 2016 and aspires to be a professional karate athlete just like Asadi. The boy will be taking his black belt exam in November.
"A lot of people told me, if I get my black belt then I should finish (learning karate). But I will just ignore them. My dream is to be like my sensei and when I go to a third country I want to continue (karate)," he said.