CIANJUR, Indonesia: Traffic on the snaking, narrow country roads of Cianjur, Indonesia ground to a halt on Wednesday (Nov 23), holding up much-needed aid for victims of Monday's 5.6 magnitude earthquake.
Ambulances, trucks carrying aid and other emergency vehicles struggled to reach affected areas.
Ambulance driver, Mulyana, told CNA it took him two hours to cover a distance of just 7.5km on Wednesday. "It was gridlocked on Tuesday but today was much worse," said the 24-year-old driver, who like many Indonesians goes by one name.
"Perhaps it is more congested because there are now more rescue workers and volunteers deployed to Cianjur."
In Gasol village, one of the worst-hit areas, emergency vehicles had to negotiate winding roads that contained sections barely wide enough to accommodate one-way traffic.
Emergency vehicles often found themselves competing for space with large trucks carrying rescue and military personnel or logistics, as well as private vehicles belonging to locals and volunteers on their way to the affected areas.
To make matters worse, the village, located just around 5km from the quake's epicentre, was riddled with collapsed houses and buildings on either side of the roads, the concrete and wooden rubble further narrowing the tight thoroughfares.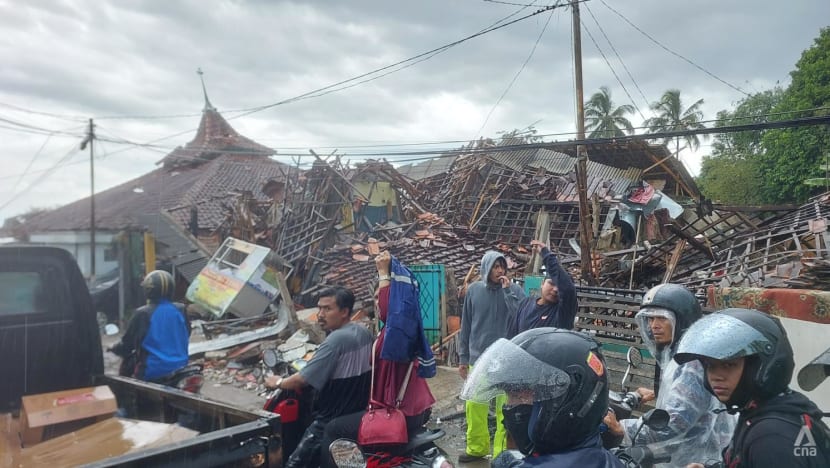 Traffic at intersections was even worse.
"I decided to kill off my siren. What's the use? Even though we have the right of way, there are probably three or four more ambulances stuck in traffic coming from the opposite direction,"  another ambulance driver, Yani Idris told CNA.
The 35-year-old Idris had no choice but to wait out the congestion. Other routes, he said, were equally congested by the influx of emergency vehicles, logistics trucks and regular vehicles carrying volunteers, while some roads were cut off because of landslides triggered by the quake.
Rescue worker Hino Apriliano, 44, decided to rent a motorcycle. "It's just more practical this way," he said.
The congestion has made life hard for quake victims. "We need food, we need clothes, we need proper tents, we need medicines. But help is not coming fast enough," Gasol resident Syahroni told CNA.
Suharyanto, the chief of the National Disaster Mitigation Agency, acknowledged the problem, saying that the congestion is being caused by organisations and individuals wishing to deliver aid directly to people in affected areas.
He instead urged donors to distribute their goods and money through the government. 
"Don't go there on your own. Most of these disaster-stricken areas have small roads, which is why there were congestion and gridlock," Suharyanto told a press conference on Wednesday. 
"(As a result), thousands of rescue officials were unable to move freely because they got stuck (in traffic) on their way to their destinations."
As of Wednesday evening, the quake had claimed the lives of more than 270 people and displaced more than 5,000 residents. At least 2,000 people were injured while 40 are still missing. 
Officials are also warning about the threat of landslides and flash floods as collateral hazards of Monday's quake.