Indonesian tofu seller who dropped out of school makes it his life mission to spread love for reading
Rudiat started off by giving children free tofu and lending them books at the same time. These days, he serves dozens of keen readers.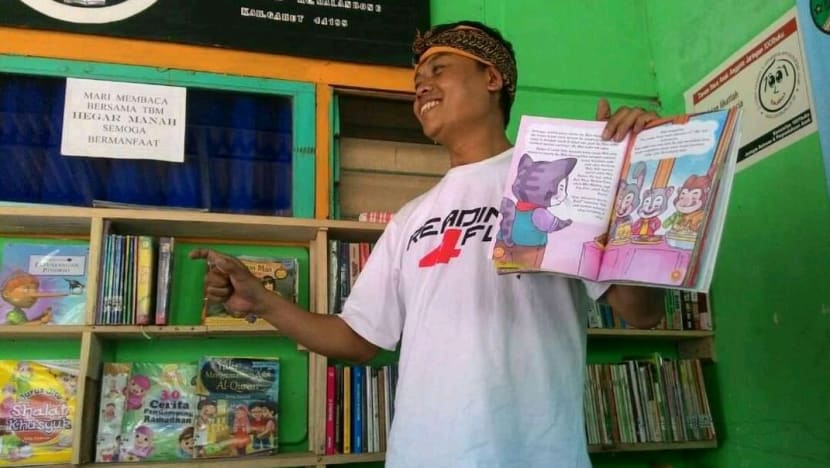 JAKARTA: It was 6am and the sun had just risen in Pasirhuni village, West Java, but Rudiat was already busy sorting out many books.
The tofu seller placed dozens of books in two boxes at the back of his motorbike, along with another box containing bundles of tofu. He then headed off to several villages in the rural Cimaung district.
Selling tofu has been Rudiat's main source of income for the past decade or so. However, he regards spreading literacy as his life mission.
When he visits his customers in the villages, the 43-year-old also lends them books. 
"I bring books which suit them. If I go to a village where the majority of my tofu customers are farmers, I will bring along books about farming like how to raise ducks.
"But if the villagers are mostly housewives, I will lend them books about parenting and topics like child rearing," he told CNA. 
Although he earns about 1.5 million rupiah (US$105) per month, lower than West Java's minimum wage of about 1.8 million rupiah, he has always set aside 2.5 per cent of his income to buy books.  
Rudiat, who goes by one name, has bought around 3,500 books since he started working 25 years ago. He also has about 2,500 books from donors who learned about his volunteer work.
"I call them tofu books. If there is tofu, there are books. Books make you smart and tofu makes you healthy,"  he said, adding that he does not mind even if the books are not returned.
Initially started as a small personal initiative, Rudiat's efforts have since won him a group of loyal readers. These days, a few dozen people would convey their reading preferences via text messages daily, before he is scheduled to visit their village the next day.
He even visits tea plantations in Pangalengan about 20km to 30km away from his home to bring tofu and books to villagers. The feather in his cap was a meeting with President Joko Widodo to share his experience.
TAUNTED FOR DROPPING OUT OF SCHOOL
Rudiat was raised by his single mother who worked odd jobs. After finishing fourth grade, he had to drop out of school due to financial difficulties. 
"Children in my neighbourhood would bully me. "They said I'm the dropout kid and called me mean names," he recounted.
However, Rudiat refused to be demoralised. "I vowed to myself that I can still make it in life even though I didn't finish school," he said.
At the age of 19, he started working at a tofu factory and decided to set aside 2.5 per cent of his salary to buy books, inspired by the Islamic obligation of zakat.
Rudiat would bring them to work and read in his spare time. "I wanted to show that by reading, I can develop myself."
A year later, Rudiat found the love of his life, a junior high school graduate who was also fond of books.
They tied the knot and each brought along three books when they moved in together.
He said when he was out of a job in early 2000, his wife did not mind spending 2.5 per cent of her monthly income from working at a paper recycling factory to buy books.
He later got a job at a garment factory but decided to quit in 2008 to make and sell tofu since he had the know-how from his previous job.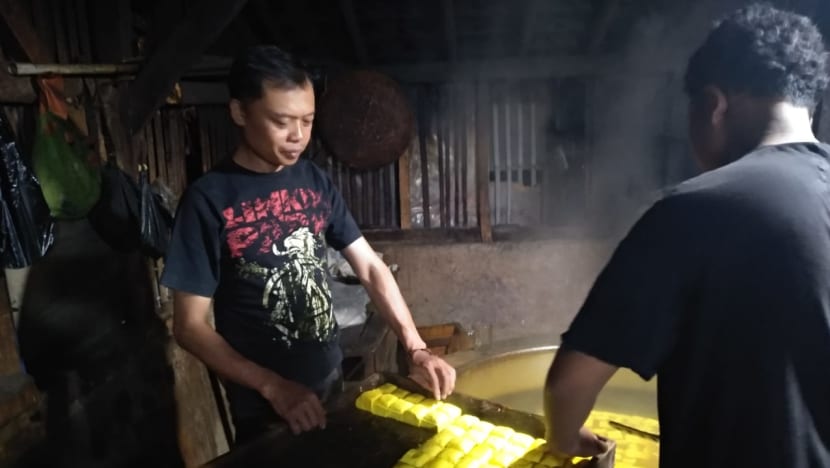 By then, Rudiat already had a collection of books and his neighbours would frequently borrow them.
Convinced that other villagers would have a love for reading - and especially since there is almost 100 per cent literacy rate in West Java province - he would fill his bag with five to 10 books daily for his tofu customers.
Initially, they were not that enthusiastic. He decided to approach the children first by giving them free tofu and lending them children books at the same time.
Slowly, the other villagers became aware of his gesture. He observed that people do have the desire to read, if the books are in line with their interests. 
Thus, he decided to bring along books that dovetail with the professions or demographics of the villagers.
It took Rudiat about two years to cultivate a group of loyal readers. In 2010, he decided to install three boxes at the back of his motorbike so he could bring along more books daily and cater to their requests.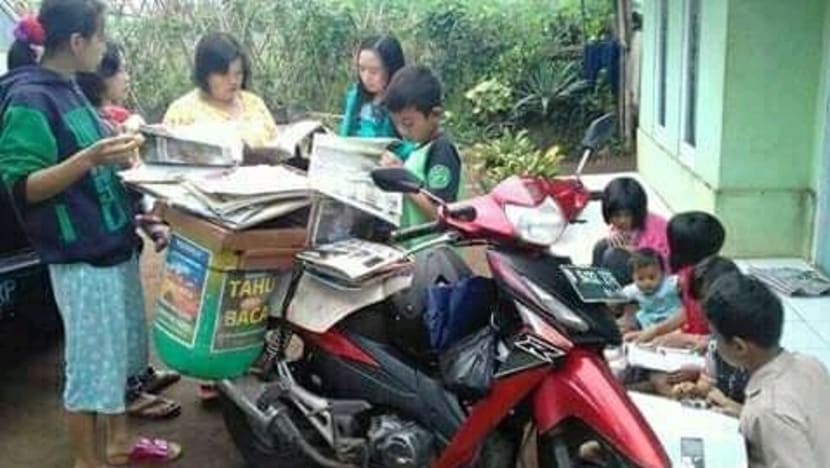 RECOGNITION FROM THE PRESIDENT
Over time, some officials in Bandung regency, West Java invited Rudiat to spread literacy to children in a few villages.
He was even tasked to educate youngsters in a village where there was a lower literacy rate and some instances of delinquency.
Local authorities also helped Rudiat to set up a small library next to his house and even a foundation. 
Meanwhile, education ministry officials also learned about his initiative. In 2016, they offered him a scholarship to travel to Singapore and later write about what he had observed.
Unfortunately, as Rudiat went to the immigration office to apply for a passport, he fell from his motorbike and injured his arm and chest. 
Due to his injuries, he lost some of his strength and can no longer make toufu personally. Subsequently, he decided to purchase tofu from a manufacturer and resell them as he brought his books to the other villages. 
The accident also forced him to cancel his trip to Singapore.
In 2017, Rudiat got another surprise. A man claiming to be the president's assistant called him and said he was invited to the palace in Jakarta to celebrate National Education Day with Mr Widodo and a few other literacy activists.
"I first thought it was a prank," Rudiat recounted.
"When I saw the president, I thought I was dreaming. Is this real?"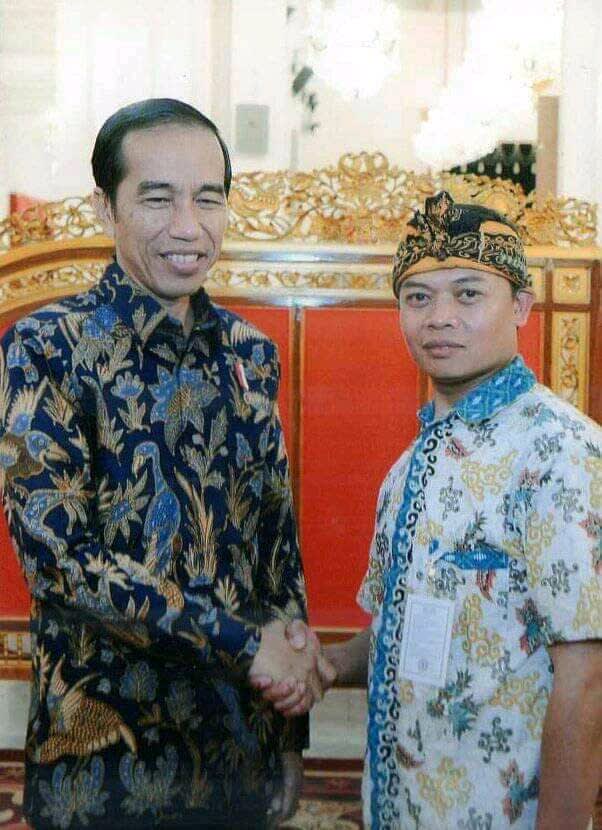 The father of three said he never imagined being invited by the president. "When I decided to focus on literacy, I never imagined it would open doors. I have been invited to go to Singapore and to meet the (Indonesian) president and minister," he said.
"This is beyond my expectation because my dream was buried when I had to drop out of school."
Rudiat revealed he is working towards a loftier goal. "I want to build a free school which can benefit a lot of people."
Read this story in Bahasa Indonesia here.