Indonesia's most wanted terrorist Santoso may not be dead: Police
A photograph showing the body of an alleged militant, which some speculated to be Indonesia's most-wanted terror suspect Santoso, was widely circulated in the country over the weekend.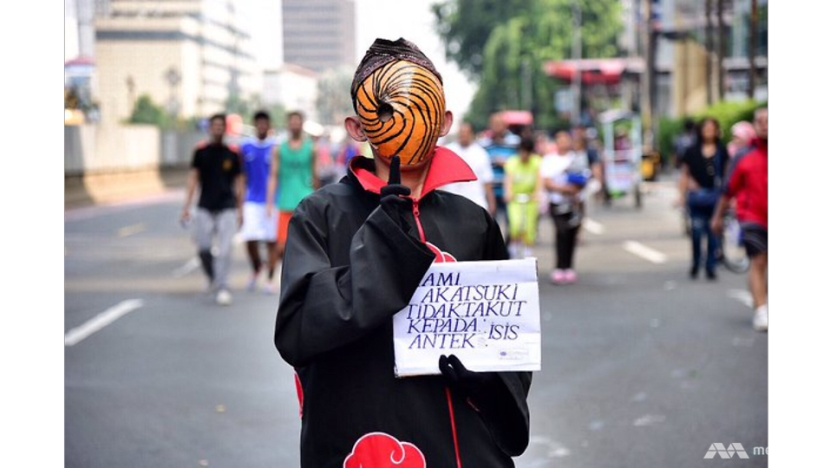 JAKARTA: An alleged militant who was reportedly killed during a shootout with Indonesian police and military forces on Friday morning in Poso, central Sulawesi - a day after Jakarta was rocked by deadly bomb blasts - may not be the country's most-wanted terror suspect Santoso, National Police spokesman Suharsono told reporters on Sunday (Jan 17).
His comment came amid speculation that a corpse, seen in a photograph that has been widely circulating in Indonesia, belonged to Santoso.
Santoso is the first Indonesian to publicly pledge loyalty to the Islamic State militant group, according to Reuters. He also leads the Eastern Indonesia Mujahideen militant group, which hides out in the jungles on central Sulawesi.
In a separate media briefing on Sunday, National Police spokesman Maj Gen Anton Charliyan confirmed "one perpetrator" was shot dead in Poso, but stopped short of linking the deceased with the militant leader.
"We still can't determine if he is Santoso, despite the photo. The investigation showed there are some differences between the person in the photo and Santoso," he said.
"According to the analysis by those who know what Santoso looks like, the corpse is not Santoso's. Still, we can't confirm it before the postmortem examination and identification process are complete."

FOUR PERPETRATORS
On Thursday, a series of bomb blasts and gunfire ended seven lives in central Jakarta, including four perpetrators, one suspected assailant named Sugito, and two civilians of Indonesian and Canadian nationalities.

The four perpetrators were later identified as Dian Joni Kurniad, Mohammad Ali, Ahmad Muhazan Bin Saron, and Afif, who was also known as Sunakin. Their family members have been allowed to collect the bodies.
As for Sugito, investigations revealed he was not one of the assailants but in fact an innocent civilian.
"Yesterday, we said there are five perpetrators because he (Sugito) is one of our suspected terrorists," Mr Anton explained. "After our probes, however, this Sugito isn't the one we have been looking for."
TWELVE DETAINED
Meanwhile, the death toll from the terror attack climbed to eight on Saturday night after a bystander, Indonesian Rais Karna, died at Abdi Waluyo Hospital from a severe head injury after he was struck by a bullet in the head.
Mr Rais was one of the 27 people injured on Thursday. Currently, 16 victims are being treated in various hospitals across the capital city, according to Mr Suharsono.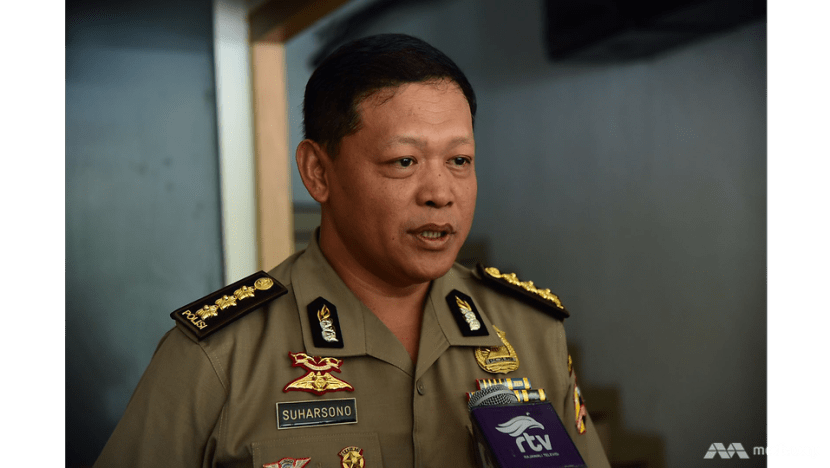 Indonesia's National Police spokesman Suharsono.
(Photo: Pichayada Promchertchoo)
Following the blasts, Indonesia has stepped up their counter-terrorism operations nationwide, with at least 12 suspects currently detained for interrogation by the country's counter-terrorism squad Densus 88.
The detainees come from various parts of Indonesia, including Cirebon, Indramayu, Bekasi, Jawa Tengah, Kalimantan Timur and the capital Jakarta. Most of them have ties to the Islamic extremist network in Aceh, said Mr Anton.
"Many of the detainees participated in militant training in Aceh in 2012. One of the perpetrators who died also had a connection with this group. A team is probing into the relations between the 12 suspects and the bomb blasts."
BAHRUN NAIM

Three days after the attack, police are still unable to take action against Bahrun Naim, an alleged Islamic State member in Syria and suspected masterminded behind a series of explosions and gunfire in central Jakarta.
"Bahrun Naim communicates (with the perpetrators) via a middleman," Mr Anton explained. He also admitted the authorities had known of a possible threat before Thursday's attack but were unable to arrest anyone who had not committed a crime.

Mr Anton also revealed that funds had been transferred several times from Syria to the perpetrators prior to the deadly blasts, "some were sent directly from Bahrun Naim, others were indirectly transferred through different people."

"We're coordinating with all our networks to try to catch Bahrun Naim."