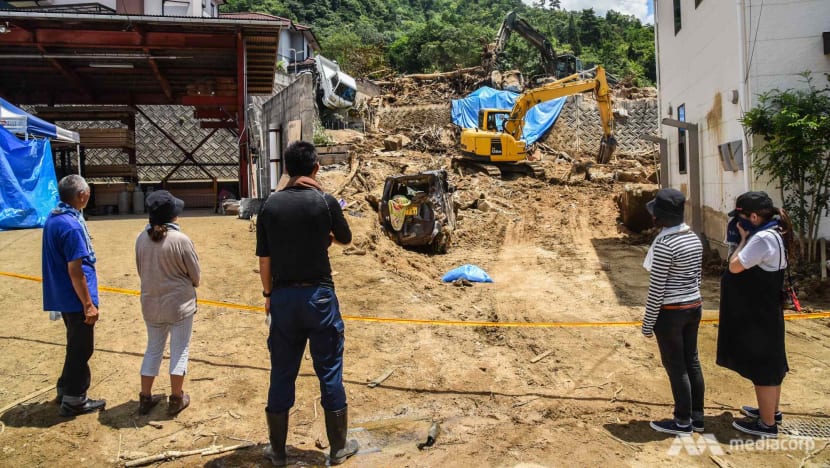 HIROSHIMA, Japan: Rika Oka is recounting a day of confusion and despair when her brother appears next to her, cutting her story short.

Last Friday, as torrential rain fell over western Japan, she had been trying to rush back to her home in Kumano-cho, a small town outside Hiroshima. She had received a desperate phone call from her mother, who said that the wife of Oka's brother had been swept away in her car by rushing floodwaters.

"She told me to go and check what had happened but I couldn't get back because of the traffic," she said.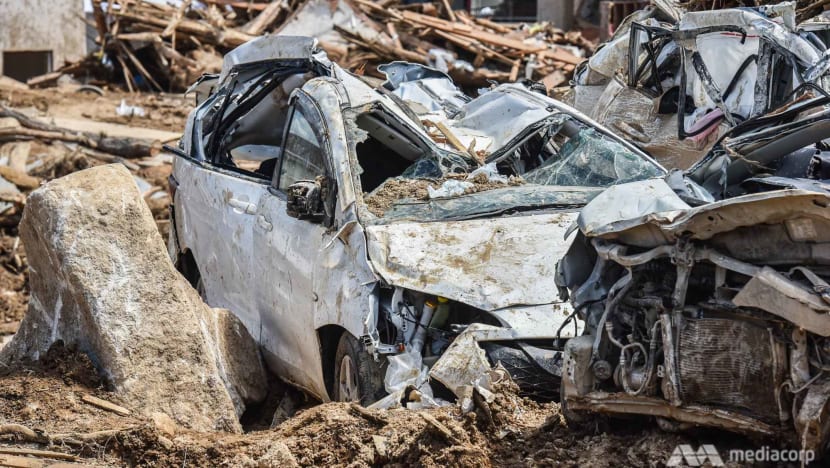 "My brother was also on the way back to Kumano-cho but he was also stuck. His wife was luckily found alive and ok. But their two sons - my nephews - are still missing."

It is the fate of the two boys that urgently brought the family together outside a makeshift evacuation centre in the town.

A male body had been uncovered by emergency workers amid thick mud and debris in the nearby disaster zone. They needed to go in and check if it is one of their missing boys.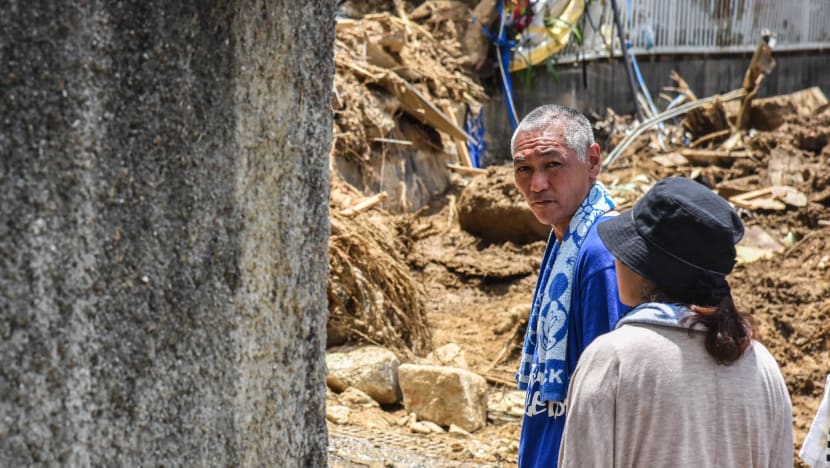 A powerful landslide, caused by unprecedented rainfall last Friday and Saturday totalling 593 millimetres, has ripped a devastating tear right through the heart of this close community. Where one street remains clean and unscathed, the next is shattered.  

Vehicles have been thrown onto their roofs and left as twisted metal. Around the rubble, dozens of personnel - from Self-Defence, police and fire services, are still trying to access homes half entombed by mud.

Six people from this community have been confirmed as dead and six remain unaccounted for. It's part of an ever rising toll across western Japan - the latest figure on Thursday was at least 199 people dead.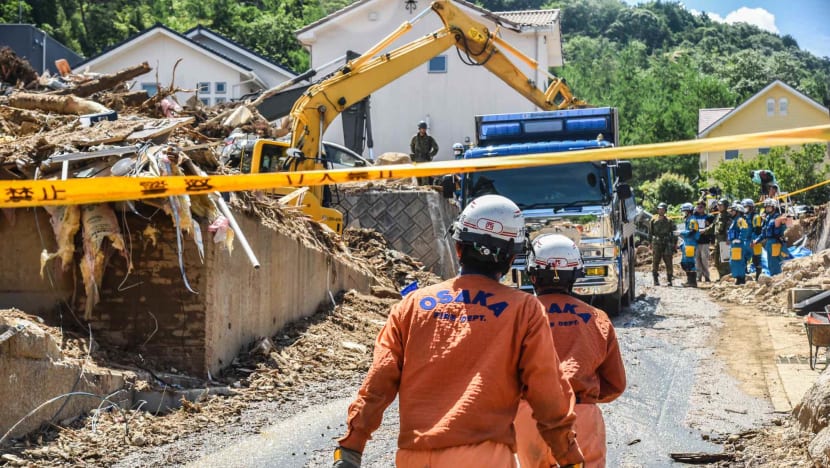 Around the Hiroshima area, about 10,000 people are isolated due to severe damage to access roads and are relying on the city government and Self-Defense force to deliver food and water. The number of missing people escalated sharply in Okayama prefecture as more detailed information was centrally gathered.

It is Japan's worst disaster since the Fukushima incident in 2011.

In Kumano-cho, the mission of emergency personnel has transitioned from a search for survivors to body retrieval. Amid the rubble and debris they are striking a delicate balance between force and finesse.
Using heavy machinery, the teams clear fallen boulders and broken concrete, while at the same time moving with precision with chainsaws and hand tools to gain entry to badly damaged houses.

Nearly one week on from the worst of the downpours that caused the flooding and landslides, no-one expects a miracle breakthrough now.
It is not a miracle but an answer that Rika Oka and her family seek as they stand in the hot sun below a damaged retaining wall, upon which a team with a digger is carefully attempting to extract a body.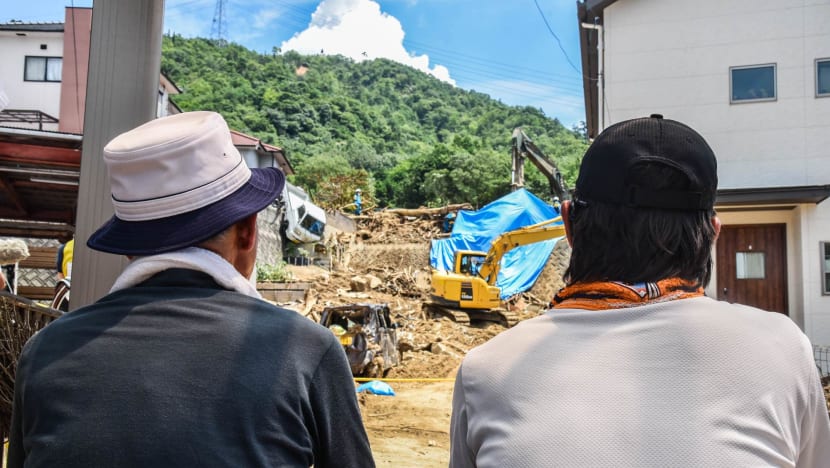 Besides Oka's family, another group of locals has gathered. They are seated, still and quiet.

Stoicism is a long known trait of the Japanese people and in the wake of another shocking tragedy here, it is on display once more.

Each set of eyes is fixed upon the movements some 50 metres away. There are no tears yet but a look of brave focus tinged with the sadness of inevitable loss. One man, almost reluctantly, videos the excavation with his phone, perhaps fearful of what it may capture.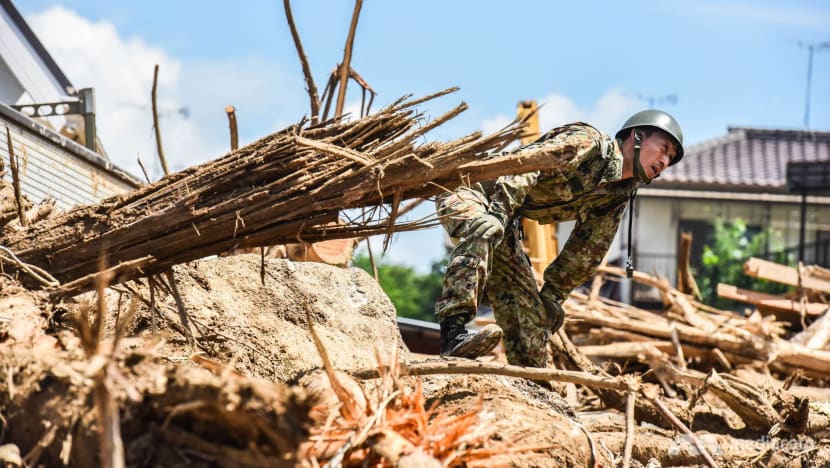 A blue tarpaulin is lifted, blocking the view of the residents and the media and behind it, eventually, men usher a body away on a stretcher.

The identity remains unclear as it is taken into a vehicle and slowly driven away, members of the rescue team bowing deeply as it passes.

But it becomes apparent that today it is an older man's body that has been found. As one family's uncertainty ends, for Rika Oka's a most painful search must continue.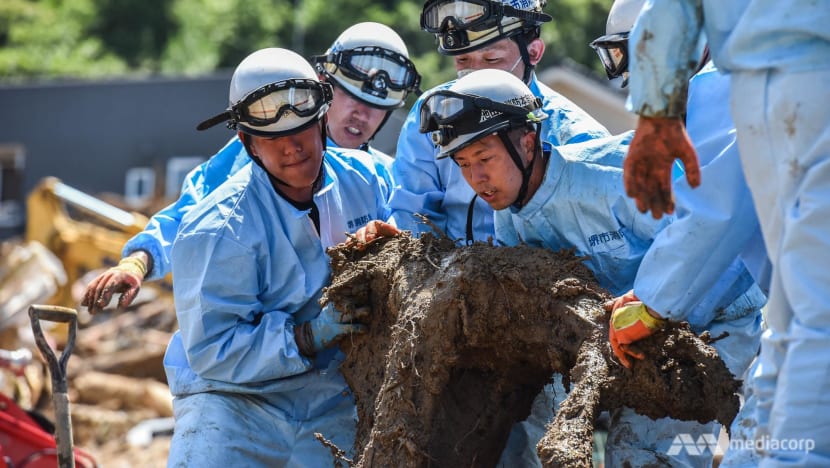 "My brother and his wife just keep looking at the photos of their sons," she said. "They are talking about their memories and old stories with their boys. And they cry.

"I couldn't believe this could happen in Hiroshima. I never expected a disaster like this."